Puma announces full year sales jump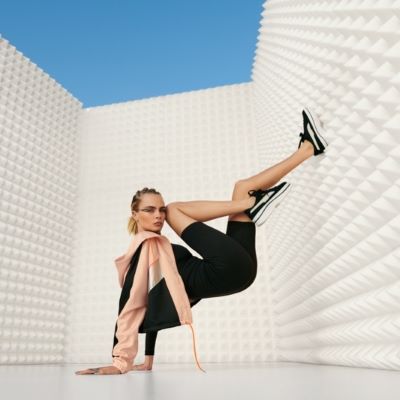 In 2021, the German sportswear giant's revenue grew by 32% over 2020, reaching 6.81 billion euros, driven by the Americas region's performance. Puma also reported achieving a record EBIT
"2021 was a very successful year for us. Despite all the issues and obstacles related to COVID- 19 and political tensions around the world, we had the best year in PUMA's history. The sales growth of 32% to 6,805 million euros and an EBIT growth of 166% to 557 million euros are results that we are proud of. Compared to the pre-pandemic level in 2019, our sales even increased by 30%. Our continued brand momentum combined with high operational flexibility are the main reasons for these achievements. Our strategy of working closely together with our suppliers and retail partners to manoeuvre through all the short-term issues and obstacles without hindering our mid-term momentum paid off. I am extremely thankful and proud of our PUMA family. Many of our employees did far more than a company can normally expect from them and a lot of our external partners supported us in an extraordinary way", commented Bjørn Guld, Chief Executive Officer of Puma.



Fourth Quarter Results
In the fourth quarter of financial 2021, Puma's sales increased by 14.3%, totalling 1.77 billion euros (by 16.2% as reported), as compared to the fourth quarter of 2020.





The Americas region reported growth of 31.3%, driven by continued high demand for the Puma brand in North America and Latin America markets. Sales in the EMEA* region rose by 14.9%, thanks to the performance in Europe, but also in emerging markets, such as Russia, South Africa and Turkey. In Asia-Pacific, sales declined by 5.4%, mostly due to the environment in Greater China "resulting from COVID-19 related restrictions and geopolitical tensions", while almost all other markets in the region reported double-digit growth rates.





Concerning product segments, in this period, footwear sales were up by 15.6%, apparel sales by 11.7% and accessories by 17.4%, as compared to the same period of the fourth quarter of 2020.





In the fourth quarter of 2021, the company's Wholesale business grew by 16.5%, reaching 1.21 billion euros, and Direct-to-Consumer business increased by 9.7%, amounting to 559.0 million euros, as compared to similar period of the prior year. While sales in owned & operated retail stores increased by 21.5% , e-commerce sales decreased by 6.8%, solely driven by the current environment in China.





Net earnings declined to 7.9 million euros in this period (Q4 2020: 24.7 million euros; Q4 2019: 17.8 million euros). Earnings per share decreased accordingly to 0.05 euros (Q4 2020: 0.16 euros; Q4 2019: 0.12 euros).




Full Year 2021 Results
Over 2021, Puma's sales increased by 31.7% and by 29.8%, reaching 6.81 billion euros (by 30.0% as reported), as compared to the prior two years, which underlined a "high demand for PUMA products and a continued brand momentum".





The Americas region performance stood out, with sales up by 53.9%, totalling 2.64 million euros, "thereby exceeding for the first time the 2 billion euros mark". In the EMEA region, sales grew by 28.6%, thanks to a double-digit increase from almost all countries. Sales in the Asia/Pacific region were up 10.6%, "as strong growth in markets such as India, Japan and Oceania more than compensated for the current market environment in Greater China".




In 2021, the Wholesale business rose by 35.0%, adding up to 5.08 billion euros and the Direct-to-Consumer (DTC) sales increased by 22.8%, totalling 1.72 billion euros, with growth in both owned & operated retail stores (up by 30.3%) and e-commerce (up by 11.3%).





In the past year, Puma's gross profit margin widened by 90 basis to 47.9%, thanks to "better sell-through and less promotional activity, while geographical and channel mix effects, currency as well as higher freight rates had a negative impact".





Operating result (EBIT) surged to 557.1 million euros last year from 209.2 million euros in 2020 and 440.2 million euros in 2019. According to the company, the result was attained "due to very strong sales growth, higher gross profit margin and continued OPEX control". Puma also highlighted that it was the highest EBIT ever achieved. EBIT margin, consequently, improved to 8.2% from 4.0% in 2020 and 8.0% in 2019.





In fiscal 2021, net earnings increased to 309.6 million euros from 78.9 million euros and accordingly earnings per share were up from 0.53 euros in the prior year to 2.07 euros.




Fiscal 2022 Outlook
Puma has reported that "despite the uncertainties lasting into 2022", it is expecting a currency-adjusted sales growth of at least 10% for the financial year 2022, and an operating result (EBIT) in the range of 600 million euros and 700 million euros.








*Europe, Middle East and Africa





Image Credits: www.rougeberryfashion.com