Nike and Rtfkt studio release first digital sneakers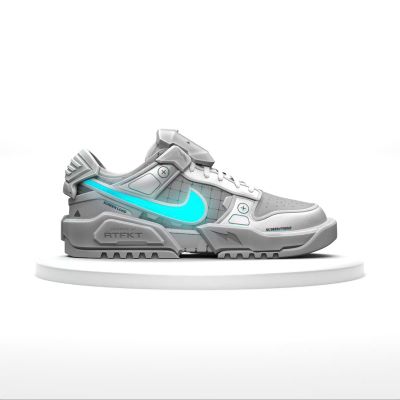 The collection of eight co-branded digital sneakers, dubbed Nike Cryptokicks, is modelled after the Nike Dunk sneaker and signs the brand's entrance into digital clothing
The sneakers are only available to people who have an NFT titled MNLTH, a metallic cube decorated with Rtfkt's logo alongside Nike's iconic Swoosh. This mysterious NFT was airdropped for free to anyone who owned a Clone-X (the PFP project that Rtfkt created with artist Takashi Murakami in November) in February.

Since then, the owners of MNLTH have been completing a series of quests posed by Rtfkt to discover the cube's content. Now, they can burn their current MNLTHs in exchange for one that holds a Cryptokick. The company will offer eight Rtfkt-made evolutionary 'skins' to let people customize the pairs with different looks and designs as soon as the evolution mode is activated.

Cryptokicks is expected to be the first of many digital launches from Nike and Rtfkt, the two-year start-up known for creating viral sneakers designs and collectible exclusives acquired by the US sports giant in December for an undisclosed sum. "Nike is focused on potential ways to use blockchain technology to serve our consumers in the athletic footwear, apparel and equipment space. The MNLTH is just the start to a future of serving athletes in this space", said a Nike representative in a statement on the Cryptokick launch, as quoted by Vogue Business.

Image Credits: itsnicethat.com