Gucci partners with Ellen MacArthur Foundation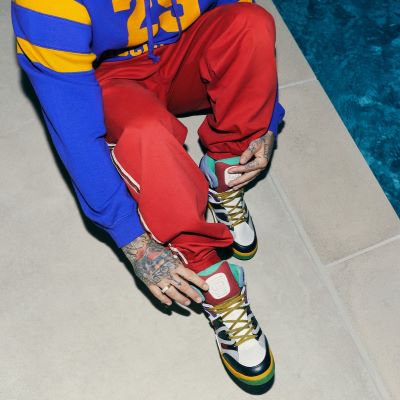 The Italian-based fashion House announced that it became a strategic partner of the Ellen MacArthur Foundation to accelerate its commitments towards a more circular economy
"For us, purpose and progress are paramount to the very ethos of Gucci. We are constantly experimenting and evolving to drive positive impacts in the Gucci community, and the wider world", stated Marco Bizzarri, Chief Executive Officer of Gucci. So, the partnership with the foundation, which is a leading organization on the circular economy, is expected to help expand the company's initiatives.

As Gucci works to increase its collection with circular principles across its products' life cycle, the Ellen MacArthur Foundation will analyse the company's efforts to help locate more areas in which circularity can be embedded in the design. Educational resources and courses will also be offered to further knowledge and operation know-how of circular economy principles and practices. In addition, the foundation will help the fashion House to advance its regenerative agriculture efforts, a project that the company scaled in 2020 under is Natural Climate Solutions Portfolio, across key raw materials.

"Through Gucci's passion for people and the planet, and the foundation's circular economy expertise, we can innovate toward industry-led solutions for fashion designed to be used more, made to be made again, and made from safe and recycled or renewable inputs", commented Andrew Morlet, CEO of the Ellen MacArthur Foundation."Shifting toward a circular, regenerative economy for fashion, we can help tackle the root causes of global challenges including pollution, climate change and biodiversity loss", he concluded.


Gucci Equilibrium Impact Report
The company released its 2021 Gucci Equilibrium Impact Report on the same day, summarizing its progress and action taken to generate positive change for people and the planet.





On one hand, the report notes the progress made on diversity and inclusivity, detailing that 58% of its employees in corporate and retail and 42% in senior management roles are female. In addition, the fashion House states that supported more than 25 organizations globally, impacting 62 526 women and girls through its Chime for Change global campaign for gender equality and that it contributed to UNICEF's equitable delivery of COVID-19 vaccines in some of the most vulnerable global communities.





On the other hand, Gucci revealed that reduced its total footprint by 49%, covering greenhouse gas emissions, water use, air and water pollution, water and land use. Moreover, it attained 100% green energy in 44 of the 49 countries where its store, corporate locations and factories are located. The company will also continue to invest in regenerative agriculture, supporting farming projects for regenerative wool, silk, cotton, and linen.





Other positive highlights include the introduction of the animal-free material Demetra, which combines quality, softness and durability, with an eco-friendly ethos, and the increase in the traceability of raw materials used (that reached 95% overall). Gucci also reduced its leather manufacturing footprint with Gucci Scrap-less, with 13 tanneries participating in the programme, which allowed to reduce 253 tons of leather scraps, save 95 million litres of water and avoid 15 730 kilograms for waste production.








Image Credits: equilibrium.gucci.com