New Generation: meet Andreia and André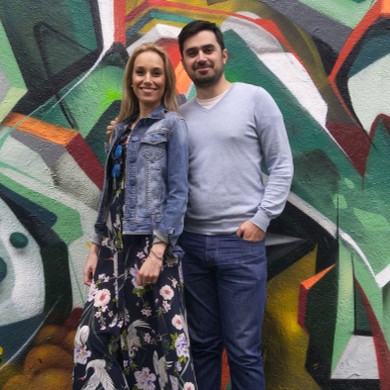 Andreia Coutinho, with a degree in journalism, and André, with a background in business management, have created Skizo earlier this year
A brand concerned about the planet which is reusing plastic taken from the ocean to make new shoes. The brand was elected as the best new product of 2019 ad named of the 20's most promising startups of the year.

How did this project emerge?
We were already aware regarding recycling and the use of eco-friendly products, even in the most mundane parts of our day to day life. But we didn't go much further than recycling at home. The click came after becoming parents and, when our son was two years old, we went to the beach and he started putting everything that was on the sand in his mouth and the majority of it was plastic. So, that made a huge impact on us and we knew we had to do something, not only for our beaches but also for the oceans, where this problem reaches astronomical dimensions, and at that moment we knew that wasn't the legacy we wanted to leave for our son and for the next generations. We were aware of numbers, which were pretty scary: "at his pace, in 2050, there will have more plastic than fish in the oceans"; "there are over 150 million tons of plastic in the oceans"… Then, we started our research, focusing not only on the problem, but also on finding solutionst.

Was footwear a natural choice?
Skizo is a brand and a cause. Our mission is to make the planet a better place and, thus, we wanted to provide a product that everyone could identify themselves with and that could reach as much people as possible, so we could take as much plastic from the ocean as possible. Therefore, we chose to manufacture sneakers, a product that the majority of the population wears. We invested in customization, in which each pair of sneakers is created by the clients themselves. We provide each person with the opportunity of helping clean up the oceans and creating their own sneakers at the same time. For each pair of sneakers, an equivalent of 18 plastic bottles are used. For now, we have two models available and thousands of possible combinations, among colors and designs.

How is Skizo distinguishing itself?
We distinguish ourselves not only by using plastic from the oceans, that is transformed into textile, but also by our vision and transparency with the sustainability concept we advocate for and for not working with stock. We're within the slow fashion market and we produce by order only, without any waste or large scale production and everything that involves having stock.

What are the future plans for the brand?
In a near future, we're aiming to produce also sneakers for children and accessories, such as bags and wallets. We want to widen our target audience, in order to take an even bigger amount of plastic from the oceans.

What changes are you antecipating for the footwear industry?
We weren't the only ones who built this brand but all involved in it. From those who pick the plastic, to those who, so delicately, manufacture our product and the heroes who wear them. And this whole chain that grows by the day makes us experience the evolution of the footwear industry, that is currently happening. We had footwear professionals, who shared our vision, approach us and understood that production by order only is the future: it will create less waste, use fewer natural resources and decrease impulse buying. We believe Skizo will have an important role in this footwear evolution, not only regarding production but also by the purchase process. We're developing a new business models, for which we'll be doing a pilot test before the end of the year.

What piece of advice would you give to young people joining the industry?
As young entrepreneurs for a decade now, our advice to the youngsters who are starting their journey right now, is to have resilience and perseverance, always allied to the determination of learning more, getting knowledge from the best and receiving pieces of advice from them. Also, being transparent and honest with the client will always be the best "ambassador" for our brand.