New Generation: meet Kevin and Jonathan Sampaio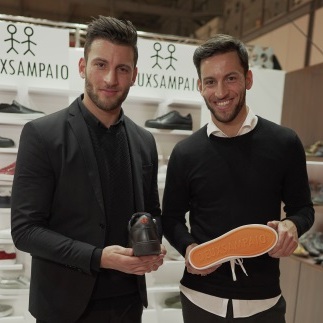 The Sampaio twins moved from the runways to the footwear industry. They walked through hundreds of runways in the past few years but now they want to conquer the world from a footwear factory
They were born in Paris, in 1986, but at the age of five, brothers Jonathan and Kevin Sampaio have moved to Felgueiras with their parents. The history of the city located in the north of Portugal has much to do with the history of the Portuguese footwear industry and is from there that they are now taking firm steps as businessmen after an internationally recognized career in fashion.


The twins have walked the runways for renowned designers and lived in New York for about a decade but it's in their hometown, where they family roots are, that they are investing in footwear, clothing and wine businesses. "Deux Sampaio" is the footwear brand, which was recently presented at MICAM, in Milan. The same place where, curiously, they gained prestige in fashion world for walking down the runway for Dolce & Gabbana, in 2007.
The idea came up three years ago, when they were still in New York, and it brought them back to Portugal with the goal of creating a "whole brand that one can wear from head to toes". For now, they offer five sport models with the label "made in heaven", which directly refers to the paradise of the "made in Portugal".

The models are backed with a specialized team with the ability of going from the concept to a comfortable shape that fits every feet. Comfort and quality are the basis of the proposals of the new collection. To achieve it, they have Carité as a partner, led by Reinaldo Teixeira. A company with more than 20 years of experience in the footwear sector and owner of brands such as Topik Relevo, Brada Shoes Concept, Arka and J. Reinaldo. Carité employs 520 workers and produces a million pairs of shoes per year resulting in a turnover of 30 million euros.