New Generation: meet Bruno Queirós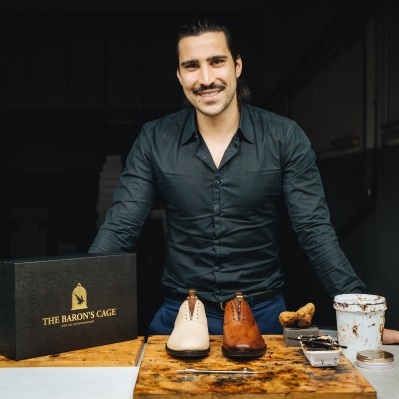 Fashion is a long-time passion of Bruno Queirós, who has been a model and recently decided to launch a footwear brand. He is the face of The Baron's Cage, a male footwear brand that promises to revolutionize the market
Why did you start this project? Was the footwear sector a natural choice?
Having my own business was always a personal goal and I already moved to Lisbon with that aim. Footwear was always a great passion. However, all my friends called me crazy when I decided to launch this project because, although I had all the experience from the fashion world and was passionate about footwear, I needed to know a lot more about this business. And so, I learnt. I studied hard, did a lot of research, set up the right team and fearlessly threw myself into it. My past in fashion helps a lot, of course. While I was a mannequin, I learnt a lot about design, trends and fitting. But the most important thing was that I was sure about my idea, knew what I wanted to do and kept faithful to it. I believe the key to my success is a lot of effort, research, dedication and a great personal investment.

How does The Baron's Cage brand distinguishes itself?
I always had a drafted idea regarding the brand's concept and positioning, I didn't just want to be another footwear brand, I wanted to be a distinctive brand with a unique personability. The goal was not to be "cute" but incredible, unique, perfect… I did research and I visited several footwear factories until I found the ideal one to produce The Baron's Cage's models. We worked the concept, the brand and the design of each pair individually, from the red clip (our models' signature), which distinguishes The Baron's Cage from other shoes and was thoroughly planned and created. All the leathers we use are genuine and high quality, mainly imported from Italy. The production is made in São João da Madeira, in a factory with over 80 years of existence. Each pair is handcrafted by experienced artisans passionate about their craft. We are 100% made in Portugal, from design to final product, with raw materials of the best quality.

In your view what changes are taking place in the footwear industry?
The Portuguese footwear always had great quality, is known worldwide and is even the second European most expensive footwear, right after Italy. What is changing is the way we look at the national footwear. The footwear industry was always strong in Portugal but mostly recognized abroad instead of internally. Fortunately, we are changing and we started to look at our product and give it the due importance. For that, we invested in quality, we created a national identity, and made our product even more recognized in Portugal and worldwide. We are increasingly present in great fashion weeks and international fairs throughout the world and is increasingly frequent to see international celebrities using shoes from Portuguese footwear brand or produced in Portugal.

In your opinion, what does the new generation of entrepreneurs has to offer to the sector?
Our footwear industry has a lot of history and a great international recognition. This new generation has the virtue of stepping forward without cutting our roots. Be increasingly recognized not only for the production but for the design. We have more and more successful brands. Our potential regarding design if increasingly recognized. The Baron's Cage, with all its irreverence and design, strengthens the Portuguese supply by helping on this mission of empowering the world's view of the Portuguese footwear brands. By keeping the know-how of our technics and the knowledge of decades of our artisans, this new generation ads a special touch on design. With innovative ideas, these new creators are no longer after the European fashion trends but are themselves the creators of their own trends.
For more information about
The Baron's Cage
please refer to the
brand's website
.