New Generation: meet Palazzo VII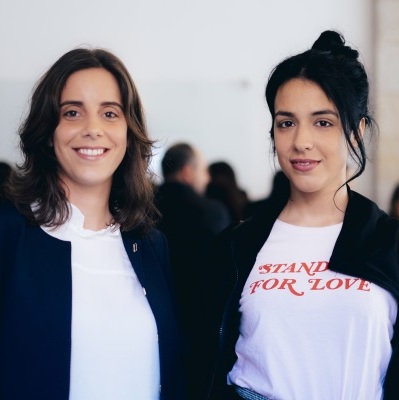 Today we bring you the thoughts of Luísa and Carolina, the two lifetime friends behind the brand Palazzo VII
Luísa and Carolina have known each other almost since ever. They're lifetime friends and have gathered in their adulthood to build this project.

After taking her Fashion Design post graduate course at Central Saint Martins College in London, Luísa Vidal flew to Milan to attend an Intensive Masters in Fashion Design at Domus Academy University. Followed by interning in Milanese fashion houses where she started building her working experience along the way. Carolina Alves graduated in Management followed by a Masters in International Relations and Marketing, always driven by her passion in managing a business.

Two apparently opposite fields of knowledge balancing perfectly through their project Palazzo VII. The name Palazzo comes from the concept of a maison, a place where everything is familiar, handcrafted carefully and with a purpose. The roman numeric representation of 7 is linked to the charismatic symbolic value of the number itself.

How did you two meet?
We met each other on a ballet class when we were five. Since then we created a strong friendship and even our moms were really close at work. We've been through a lot of similar haircuts together!
What brought you together, as you come from such different fields? Why did you decide to start this project? Was it a natural choice?
(Luísa) It was something natural and spontaneous. When I finished the Master Degree in Fashion Design, in Milan, my interest in luxury products grew. My studies allowed me to define my aesthetical language and identity. Therefore, the desire of creating a brand within that product concept emerged. I shared the idea with my friend Carolina, who studied Management and International Business, and, although we are from completely different fields, we're both passionate about fashion. After talking about it, we ended up concluding that our differences would actually complement each other and that fashion was going to bring us together! Then, we thought: "Why don't we start this project together?"
What does your brand have to offer to the market?
Palazzo is a young, mysterious brand with an undoubtedly retro vibe! Our shoes are like little treasures, with the exclusive packaging, the quality of the design and finishing, the materials, such as velvet, satin and Italian leathers. Each pair is a delicacy. We want our clients to feel happy and confident about their shoes. We design collections that can keep up with the special moments of a woman's daily life. Our models are versatile, unique and timeless. Regarding design, we always stay faithful to the brand's identify by giving each shoe a holistic purpose in its function.
For more information about Palazzo VII please refer to the
brand's website
.