Register to continue reading for free
Japan Retail: footwear trade is not expected to improve until the end of the year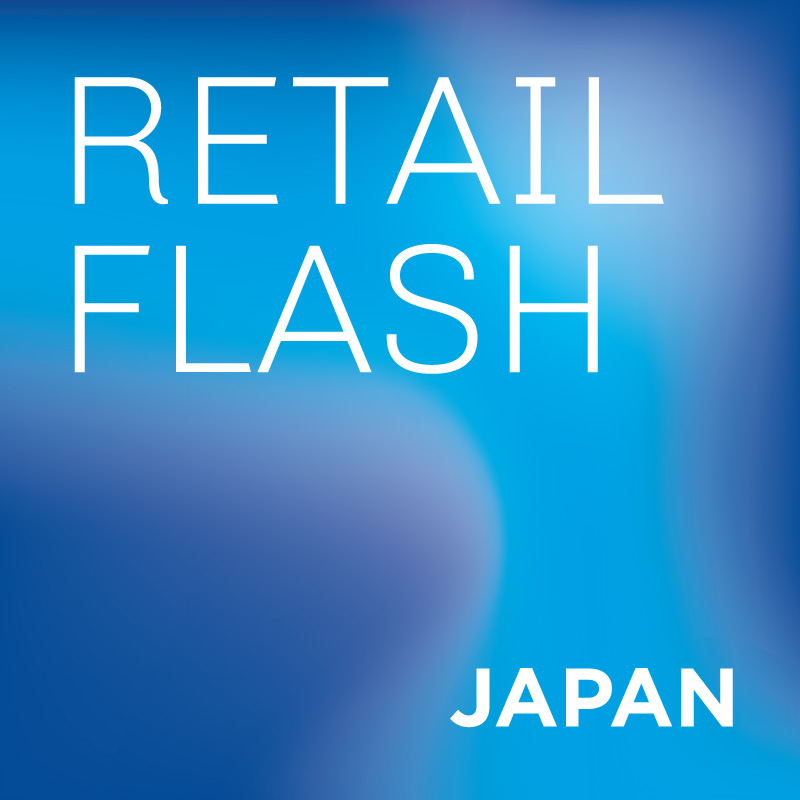 Despite some positive news on the growth of department store sales and the return of foreign tourists, rising consumer prices set alarm bells ringing in September, suggesting that Japanese consumers in general are cutting back on spending and may be at their breaking point. In addition, the reduction in the volume of footwear imports and the impact of the country's monetary policy on the cost of imported goods is another sign that footwear retail is unlikely to improve by the end of the year. The Government has been taking measures, but the outcome shouldn't be seen until 2024
Many more consumers than high-income earners
Looking at the Clothes Department Stores Sales index (seasonally adjusted, by METI), the upward trajectory seems to be clear (more 20 percentage points in August, year-over-year). According to the Japan Department Stores Association, "department store sales from January to June 2023 (were) up by 10% on the year", apparently due to the "brisk spending by relatively young high-income earners in metropolitan areas". On the other hand, as reported by the Japan National Tourism Organisation, from June, the number of overseas tourists was back to more than 70% of pre-pandemic levels, and this may have also helped this retail channel with "the weaker yen increasing their spending power".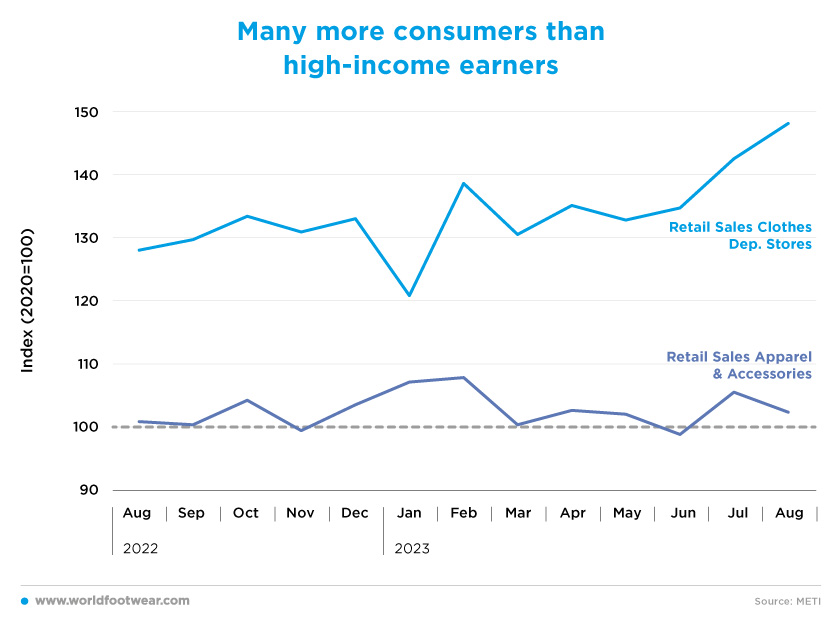 Recently, both the retail conglomerate Seven & i Holdings and Aeon, Japan's largest shopping mall operator, posted strong retail performances (asia.nikkei.com). UNIQLO Japan also reported (fastretailing.com) a "record performance for the Fiscal Year 2023, with same-store sales increasing by 7.6% year-over-year", but the growth in the second half, which ended on the 31st of August (sales up by 4.6% year-over-year), was lower than in the first (sales up by 10% year-over-year). Meanwhile, in September, same-store sales, including online sales at Uniqlo Japan, decreased by 4.6%.
However, considering the Apparel & Accessories Retail index (also seasonally adjusted, by METI) the category's retail performance didn't improve significantly over the last year – no more than two percentage points in August. Since the baseline adopted for official data is now the problematic pandemic year (2020=100), the overall retail outlook for the category is even less promising.

Let's not forget that there are many more Japanese consumers than high-income earners in metropolitan areas.
Only high-income earners can afford to be "resilient consumers"
For a better understanding of the disappointing performance of apparel and footwear retail, the consumer price indexes (CPI, by the Statistics Bureau of Japan) are self-explanatory.

While the CPI All items annual growth has been stabilising since February at around 3.2%, consumer prices for Clothing & Footwear have been rising systematically in the last 13 months. Most importantly, its growth rate has exceeded the all-items inflation since February, with an ever-widening gap, closing 1.2 percentage points above the general inflation level in August.

And looking just at the subcategory of footwear prices, the divergence of growth rates, which started in December last year, is even more dramatic and now seems to be stabilising, doubling overall inflation (up by 3.3 percentage points).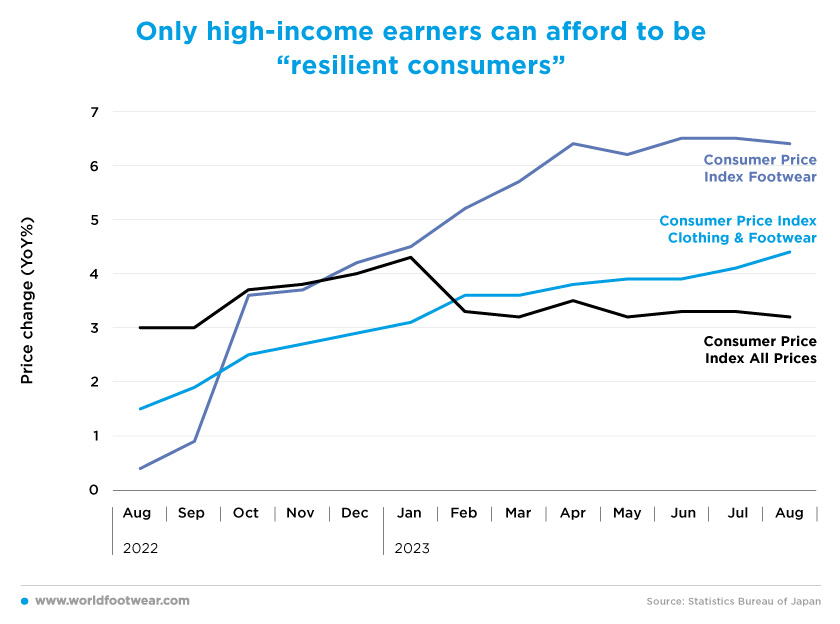 "My dialogue with retailers during the pandemic revealed that they cut fixed costs quite aggressively, so I was thinking their profits would jump as soon as their sales return", commented Hiroaki Tomori, Chief Fund Manager at Mitsubishi UFJ Kokusai Asset Management. However, Kengo Yamamoto, Fund Manager at Norinchukin Zenkyoren Asset Management, believes that "retailers seem to be passing on rising costs more than investors have been expecting." Suddenly, many have begun to realise that the idea that (Japanese) consumers can afford higher prices is no longer sustainable, (...) raising concerns that consumers may be reaching their inflation tolerance threshold (japantimes.co.jp).
In September, alarm bells started to ring. "Private consumption decreased by 0.5% from the previous quarter in April-June. As consumer prices continue to rise at an unusually fast pace in Japan's context, households are under growing pressure to tighten their purse strings". In addition, "inventory levels rose for the eighth consecutive quarter, (which) represents another worrying signal of slowing economic activity, as demand is insufficient to absorb production" (corporatenetwork.com).

Yen's depreciation puts pressure on imports and retail
Since March of this year, demand for Apparel & Accessories has shown great difficulty in reducing the twenty-percentage points gap to the 2018 baseline, and even more so in August, when it reached the same value as a year earlier (36 percentage points below the line). As the inflation of such a full category was substantially more moderate than footwear inflation, it's not surprising that footwear retail suffered more than the full category in the period.

In August, the volume of footwear imports (by the Statistics Bureau of Japan) fell by 12 percentage points year-over-year, although it has stabilised since May. If imports are a forerunner of the retail shape, the footwear trade is not expected to improve.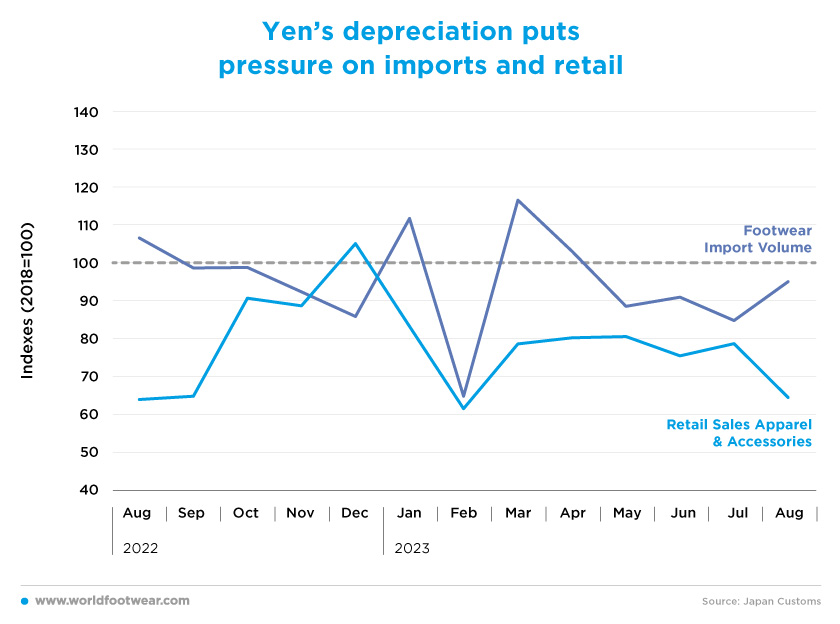 At the moment, due to "the Bank of Japan's ultra-loose monetary policy, the yen has come under pressure (…), which has inflated the costs of imported goods". Perhaps things could change: "The BoJ is scheduled to release a fresh economic and price outlook report at the end policy meeting through the 31st of October, (when) the Board will examine (…) the necessity of persisting with ultralow rates".

Online is a double-edged sword for Japanese retailers
Non-store retail growth (by METI) accelerated since March, closing August down 0.8 percentage points on the same month last year. Digital retail is covered by this indicator; however, we don't have yet monthly data on the different categories to be sure whether Clothing & footwear shared the upward trajectory, in contrast to in-store retail in the category. Even so, if the previously mentioned information on Uniqlo Japan's sales in September is significant, even if online sales are included, it was not enough to prevent a decline in same-store sales.

In any case, what we do know is that "imports of apparel (…) have risen sharply in Japan as people increase cross-border purchases of duty-free items online (with), the number of import permits issued by Japan (…) in 2022, more than doubling the level of 2019". Moreover, "experts on the nation's retail sector are worried about the impact of this trend". In addition, according to the US digital payment company PayPal, "many shoppers in Japan used its service to buy sportswear, dresses and other clothing items (…)".
This inbound cross-border e-commerce (CBEC) is becoming a threat to Japanese retailers, as lower-income consumers "have more shopping options now that low-cost online retailers of apparel and sundry goods, such as China's Temu and Shein, have launched services in Japan".
Authorities are hopeful about the comeback of confidence and spending
After an upward trend from November 2022 through July this year, gaining 8.5 percentage points against pessimism while remaining about 13 percentage points below the optimism frontier line, the Consumer Confidence indicator (by the Cabinet Office) reversed course and accumulated around 2 percentage points more to its negative mood in September.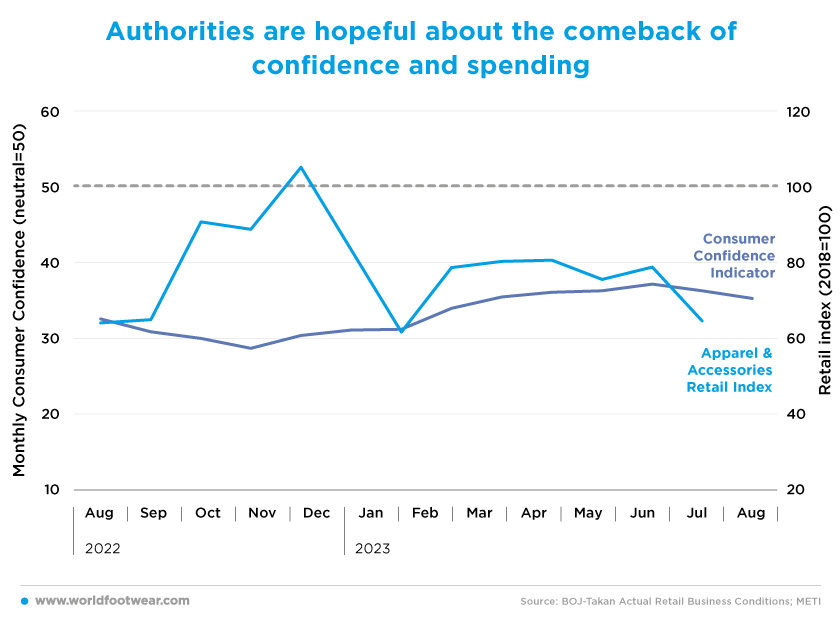 The turning point came in a context in which "major companies agreed average pay hikes of 3.58% this year – the biggest in three decades – (and despite a slowdown in the rate) of consumer inflation (excluding rent) to 3.7%, the lowest in 11 months, real wages declined in August for a 17th straight month. So far, the result has been that "household spending fell 2.5% in August from a year earlier, declining for six consecutive months" (reuters.com).
Looking ahead, if price hikes continue to extend further than expected (and) crude oil prices continue to rise, "consumers will have no choice but to reduce their spending if wage growth lags behind", as Asahi Noguchi, a member of the Bank of Japan's board of directors, assumed. Adding that the (...) focus is now on whether this dynamic (of wage growth) will be maintained, which was interpreted as a warning that "the BOJ will retain its easy policy until wage hikes are firmly in place following the labour talks next March".
Anticipating that the Central Bank will persist in its easing stance despite inflationary threats Japan's Prime Minister Fumio Kishida "unveiled the pillars of a new economic stimulus package to be compiled next month to (…) protect people from cost-push inflation, back sustainable wage and income growth". The Government expects consumer confidence to return and growth to "pick up in 2024, after a brief slowdown in late 2023".