Register to continue reading for free
Germany Retail: one swallow doesn't make a summer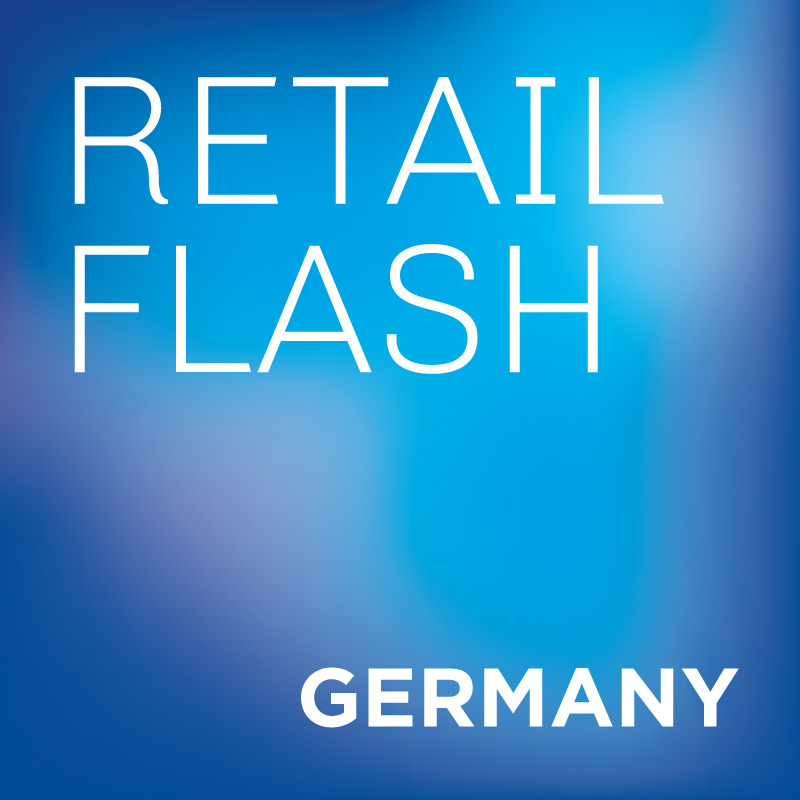 Despite the upturn in consumer confidence observed in the last quarter of 2022, there is still much concern among retailers. Footwear imports are following an upward trend since October, which could be read as a good sign concerning the health of retail, but German businesses are quite familiar with the sensitivity of their consumers to slight changes in overall economic conditions, and inflation is still expected to impact directly sales. Caution seems definitely to be the watchword at the start of 2023
Cautious confidence upturn is underway
As German consumers are usually particularly sensitive to slight changes in overall economic conditions, consumers' confidence indicators will hardly be misleading. Eurostat data on consumer confidence show that after a free fall of minus 30 points "into hell" since the beginning of 2022, September seems to mark a confidence upturn, with a 7 ½ point continuous improvement against the pessimism of the previous quarters. And retailers are apparently jumping on the bandwagon.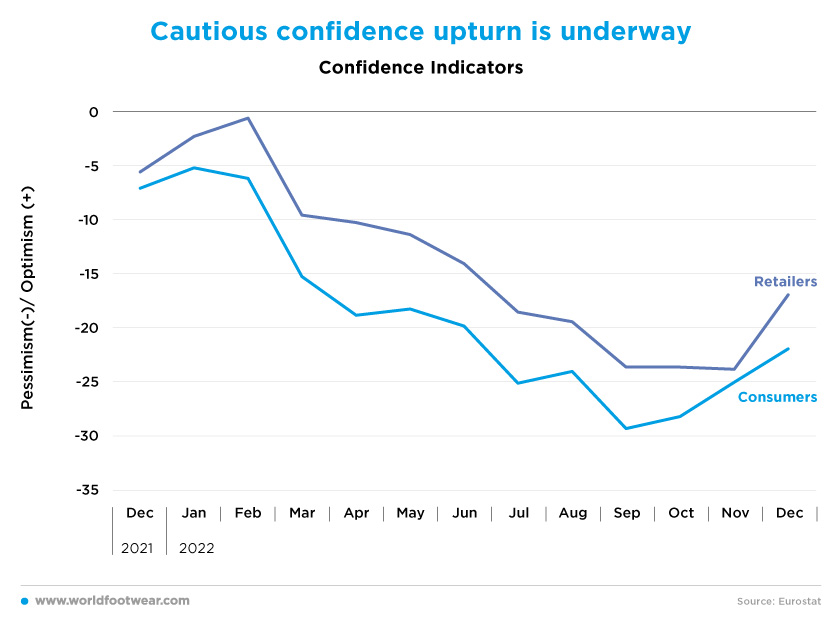 Looking forward into February, Rolf Bürkl, consumer expert at the market research company GfK, noted that "with the fourth increase in a row, the positive trend in consumer sentiment is being consolidated due to the influence of less sharply rising energy prices, also due to cost-cutting measures by the German government", namely capping gas and electricity prices in 2023. He predicts, however, that 2023 will still be "difficult for the domestic economy" (fashionunited.de).

Despite reporting that footwear sales ended last year at 27.2% over 2021, the ANWR group stressed that "the relevant parameters for the coming trading year are very volatile" and "it is still difficult to predict how the dispute between Russia and Ukraine or the geopolitical situation as a whole will develop and what influence all of this will have on consumer sentiment" (anwr-group.com).

For instance, the German shoe supplier Lloyds Shoes, which ended 2022 with a very significant increase in turnover, is only expected to "reach the level of turnover before the Corona pandemic again" in the current year (fashionunited.de).

Not enough confidence for higher flights
Despite the overall mixed confidence observed throughout 2022, the Textile, Clothing, and Footwear (TCF) retail sales index (by Bundesbank) shows a positive trend, always above the 2015 baseline since May. Still, the way up seems to face a resistance point around the 110 bar, which is consistent with the cautious mood of consumers' confidence. Although the mentioned GfK indicator is improving, it also highlights that concerning future spending intentions, "consumers became slightly more pessimistic" (focus-economics.com).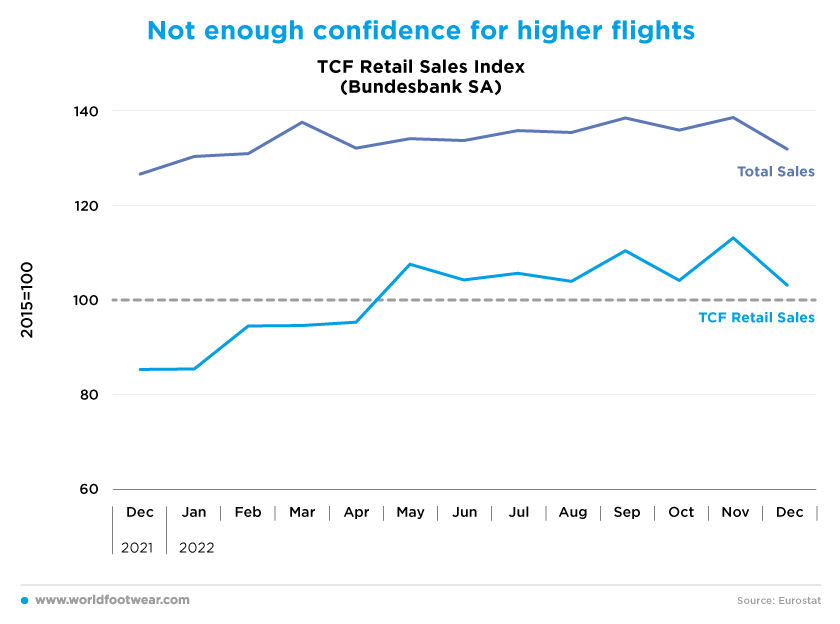 The retailers' prospects are also far from undaunted, as they expect in fact a "rather poor business this year". The German Retail Association (HDE) foresees "sales will increase by 2%, due to the inflation only", meaning they "are expected to decline by 3% in price-adjusted terms" with "about a third of the retail sector slightly below the previous year, and about 18% anticipating significant declines in sales" (fashionunited.de).

A narrow band for retail price policy
Discounting its traditional seasonal pattern, TCF consumer prices increased less than 5% in December, year-over-year, only a little more than half the inflation rate in Germany for the same period. Moreover, from May onwards, to sustain nominal retail sales in the category, retailers seem to have calibrated well TCF prices, yet accepting some volume contraction in a still fragile confidence scene.
Such a difficult balance is translated in the declarations of the German Retail Association (HDE) CEO Stefan Genth, to the Deutsche Presse Agency: "We are currently losing an enormous number of shops". He estimates that in 2022, alone, "around 16 000 stores have closed their doors (…) three times as many as in a normal year". "And it looks as if this trend will continue in the new year", he added (fashionunited.de).
Online retail losing some of its pandemic luster
Contrasting the overall retail index, the seasonally adjusted Online retail index (by Bundesbank) displayed a downward trend in the last quarter of 2022, even though both face the same consumer uncertainty. This suggests that online retail is losing some of the lustre accumulated during the pandemic. However, the retail increase against the index just before the pandemic (February '22) is still over 32 percentage points up.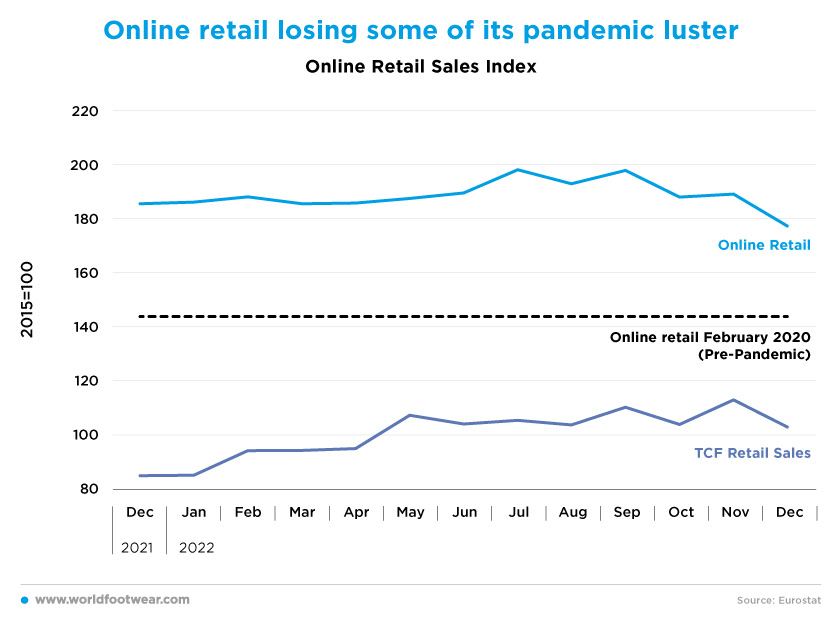 The German Federal Association for e-commerce (Bevh) new figures show that at the end of last year, German online sales dipped for the first time since 2014, and online sales of physical goods made 9% less revenue. According to Bevh's President, Gero Furchheim, this "noticeable reluctance to buy, especially for things that are not immediately necessary, shows the current insecurity of people combined with the increased cost of living", apparently refuting the idea of some loss of online share artificially boosted by confinement habits (ecommercenews.eu).

For TCF or footwear alone, no monthly data is available, but fashion is the largest market and accounts for 27.8% of the German eCommerce revenue (ecommercedb.com). In other markets where category data is available, the temporary share loss argument seems to fit also to the online TCF retail.



"One swallow doesn't make a summer"
Footwear imports also follow the traditional fashion peak supply seasons, which are not immediately converted into retail sales. On top of neutralizing such front load effect, attention must also be paid to the different price dynamics of these flows. In 2022, German retailers faced a striking divergence between footwear imports in value and volume, widening about 8 times from April through October. Clearly, such an inflationary gap could not be fully passed to consumers.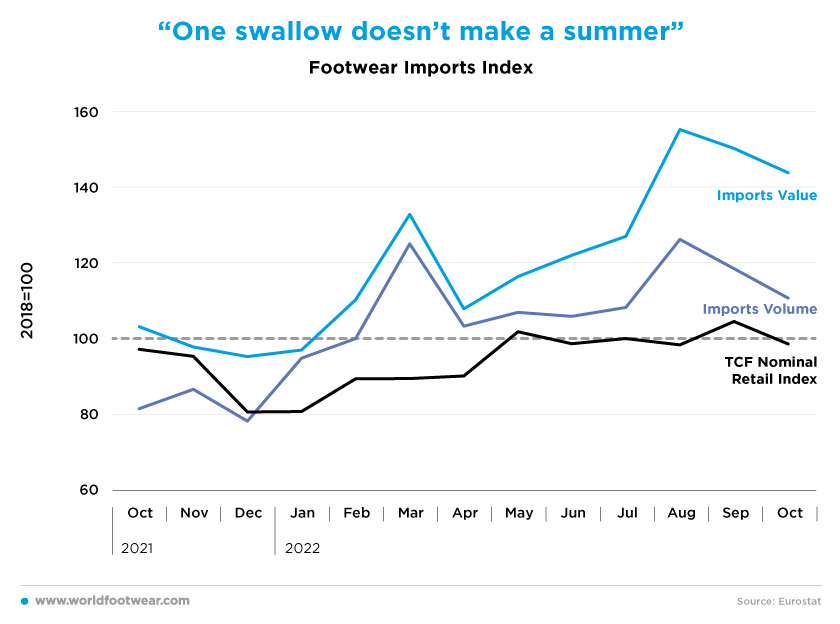 But discarding both effects, as of October (the last available data and with the same 2018 baseline), the trend of footwear imports is upward, while that of TCF retail (including footwear) is quite flat. Looking ahead, perhaps importers are guessing retail might take off. But as we have seen, gains in consumer confidence were modest in the fourth quarter, and this engine may not be that stronger in the near future.

"We are carrying over negative expectations from month to month, the depth and breadth of which have not yet been realized", commented Dirk Jandura, President of The Federation of German Wholesale, Foreign Trade and Services Association (BGA). Still, he is confident that companies will come onto a more encouraging path again during spring. (reuters.com). Let's wait and see.