Register to continue reading for free
Germany Retail: too early to claim victory on the retail performance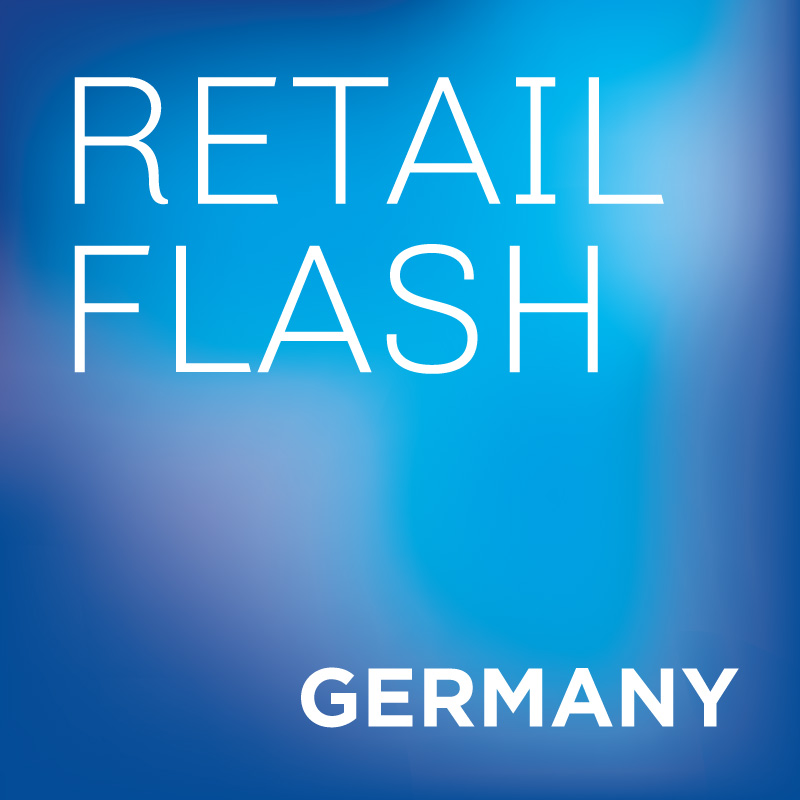 In recent months, the Textile Retail Index (including Clothing & Footwear) in Germany compares well to the pre-pandemic 2019 data. However, one must remember that 2019 was a terrible year for the German economy. As we write this Retail Flash, the consumer price index for footwear is following the upwards movement of prices in general and retailers are now looking on how to offset higher costs of raw materials and logistics in footwear imported from overseas. That said, it seems too early to claim victory on the retail performance in Germany
Positive ground for retail, but little consolation
From June through August (last released, with a 104 index score) the readings of the Textile Retail Index (including Clothing & Footwear in the German Federal Statistical Office concept) compare well to the pre-pandemic 2019 data, which are on or below the 2015 baseline.

But such comparison base offers little consolation for retailers, as we all remember 2019 was the annus horribilis of the German economy. And almost all the second semester of 2020, even with no vaccines, was much brighter up the 2015 baseline.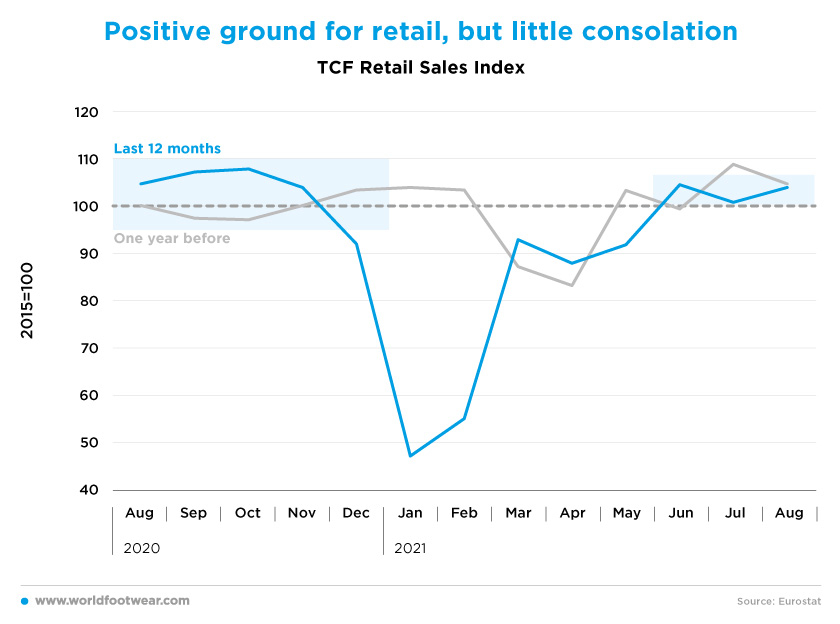 On its post from the end of September Shoeintelligence.com informed that the shoe sector of Germany-based ANWR group recorded the largest losses with a 18.4% drop in sales as of the end of August. Whereas the group expected a brighter future now that the economy is on track for a steady recovery after the throes of the pandemic.

The same for Lloyd, the shoe manufacturer, currently with 30 concept stores in its home German market. Maik Hespenheide, Manager for International Sales at Lloyd said "this year is a transition year. Buyers of our premium business shoes are coming back. Since July, re-orders of business shoes have increased". Lloyd sees sales rising to 115-120 million euros in 2022 and regaining their 2019 pre-pandemic level of 130 million euros(only) in 2023. As was the case in 2020, Lloyd will lose money this year but anticipates it will be profitable in 2022.
According to the German business newspaper Handelsblatt the beginning of the second semester, with a 4.5% retail drop in July, was disappointing and while retail sales in August rose by 1.2% compared to the previous month, this was short of the 1.5% score Reuters' economists expected for the month. As the Chief Economist of the Bankehaus Lampe commented, "after the euphoria of the reopening the transition to normalcy seems to be occurring".


Footwear importers far from being first movers
In some contrast with the first quarter of the year when footwear imports were apparently at the forefront of a retail rebirth, such a drive has vanished after a statistics blackout during April. What happened to footwear imports in the full third quarter is still to be unveiled. But so far, footwear importers have no reasons to be happy with the current retail trend.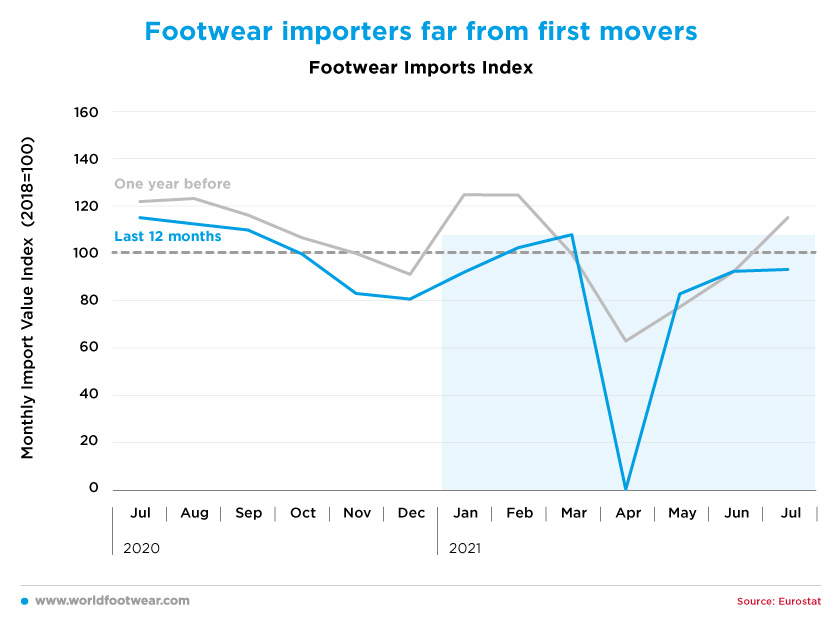 Confidence doesn't fall far from retail
Are retailers happier? Yes, they are mildly optimist or neutral since June, as retail figures allow them to be. And of course, they are much better than in 2019 before COVID-19, when the market shape was ill much before true illness came in.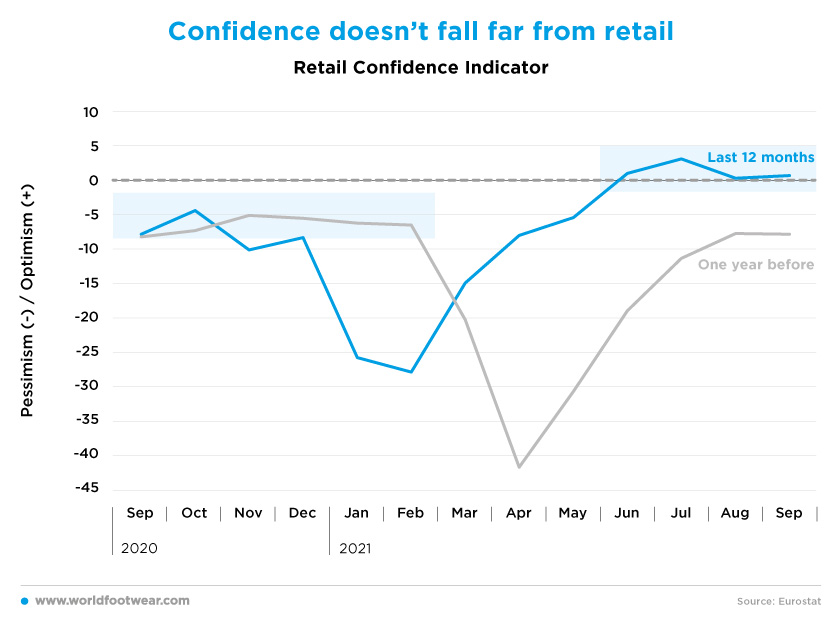 Consumers are still suspicious
Summing up every evidence available,
consumers are apparently poorly convinced that things are better
than they were before the pandemic, but perhaps now for different reasons. The
Bankehaus Lampe
Chief Economist commented the transition to normalcy with the caveat that "the continuous rise of energy prices is a threat to the current consumer mood as a 4.1% rate of inflation, now at the highest level since 1993, will erode the consumers' purchasing power".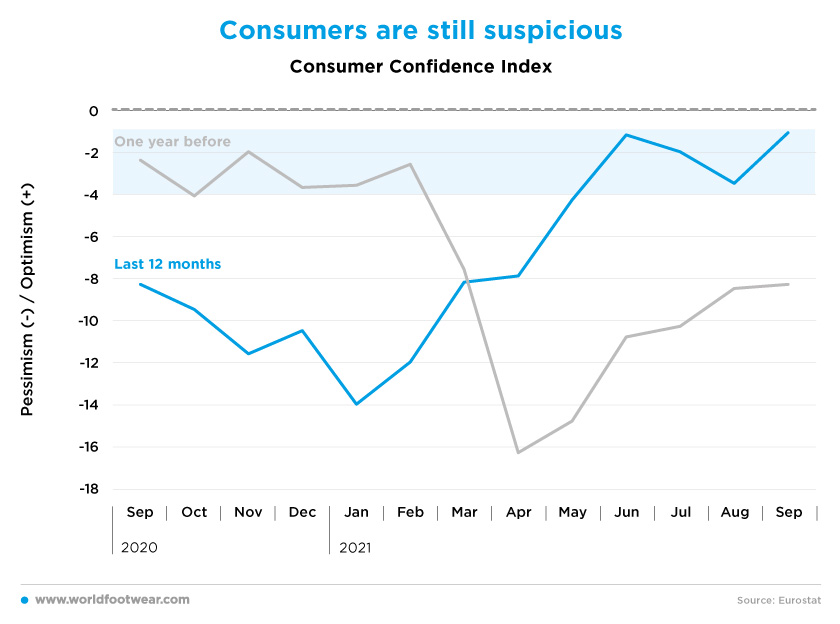 With prices up it's too early for retail to claim victory
In fact, the consumer price index for footwear is following the upwards movement of prices in general, and in September it was two percentage points above the level of the same month, both in 2019 and 2020. Retailers are obviously trying to rebuild their margins after two years in the red, plus the need to offset now higher costs both of raw materials and of logistics in footwear imported from overseas. That said, it seems too early to claim victory on the retail performance.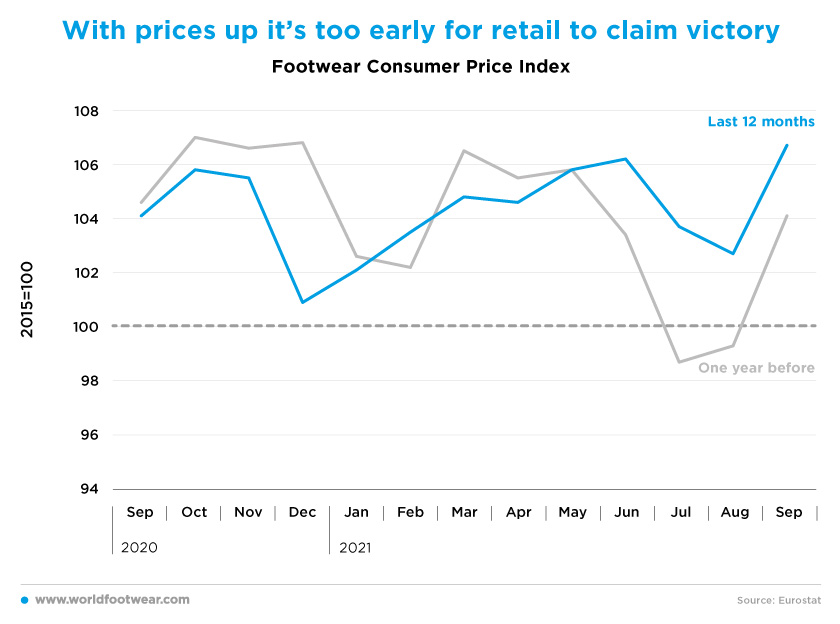 A point of no return on internet sales
Yet one thing seems to be certain: online retail sales will not return down to the pre-pandemic levels ranging to about 40-60 percentage points (pp) above the 2015 baseline. A further gain of 30pp is apparently a point of no return.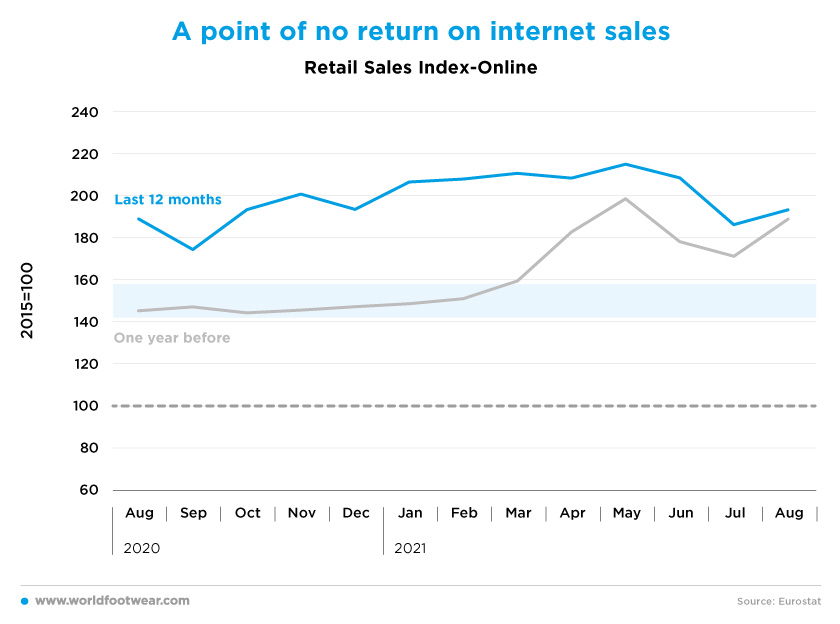 German Bevh Association (as reported by fashionunited.de) announced that online retail strongly increased on the third quarter 2021, with a top e-commerce record since 2017 of 14.8% year on year (Y-o-Y). And e-commerce sales of footwear in the same quarter was up 15.1% Y-o-Y. And make no miscalculations: Amazon expects to complete three new distribution centres in Germany this year, and it plans to open five more in 2022, with logistic, distribution or sorting functions. And the overall number of permanent employees in Germany is expected to rise to over 28000, spread over 60 locations, at the end of this year. (as reported by shoeintelligence.com).