Register to continue reading for free
Covestro: towards a climate-neutral future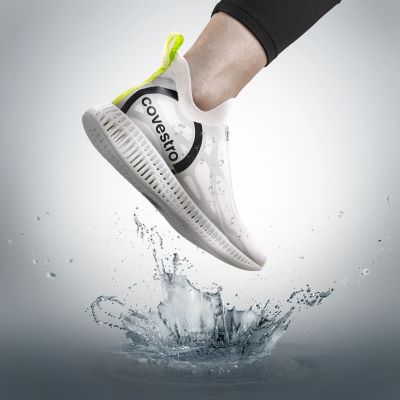 We spoke with Tony Wu, Global Product Manager for Textile Coatings, and Dr. Dirk Achten, Head of Modern Coatings & Adhesive Technologies, to discuss how sustainability and innovation fuel the company's growth, and which solutions best serve the footwear industry
With 50 production sites scattered across the globe, that employ around 17 900 people, Covestro is among the leading suppliers of premium polymers worldwide, and its materials and application solutions can be found in nearly every area of modern life. Covestro's strategy is clear. The company recognizes the challenges we face today, like climate change, and believes that the world "is teaming up to tackle" this issue, but ambitions more than being part of the change. Covestro intends to pave the way, shaping a more sustainable and circular future. It is no easy task, though.

Customers are demanding more sustainable products, "provided that the properties and quality of the products remain at the same high level as fossil raw materials, that they are flexible enough to accommodate fashion trends, and - ideally - that customers can use them as a "drop-in" solution without significant changes to their existing processes", they explain. "But our global strategic program to become fully circular also takes into account the needs of markets, society and - not least - the environment".
Innovation
Innovation is, therefore, key to this strategy. Recently, the company launched its first climate-neutral polycarbonate: "a climate-neutral Covestro polycarbonate from cradle to factory gate produced via the mass balance approach is based on the use of renewable raw materials coupled with renewable energies, and is currently being assessed by TÜV Rheinland". "Most products are not yet fully climate-neutral from cradle-to-gate", they acknowledge, but they "already have a significantly lower carbon footprint". "We are confident of being able to offer more climate-neutral products in the future, thanks to further progress in developments and through value chain collaboration".



Collaboration
"The selection of more sustainable and circular polyurethanes critically impacts the ability to deliver ideal properties, such as high bally flex, hydrolysis stability, good elasticity, washing/cleaning fastness, high abrasion resistance and of course comfort. And meanwhile, the careful formulation with a selection of agents, the selection of substrates and the application and processing details are all crucial factors to evaluate this performance".





Carefully selected partners and the fostering of close collaborations are then vital to reconcile sustainable goals with high-quality materials, with equal or even better performance and appearance.



Footwear Industry and Sustainability
Covestro has been assisting footwear companies for a long time. "Normally, a variety of materials is needed to produce different components for shoes so as to deliver the requested performance and appearance", they note. In this sense, "polyurethane (PU) is one of the most popular materials favoured by many producers due to its flexible supply form". For example, PU-based resins are suitable for shoe upper coating and adhesives, while TPU is commonly used for soles and decorative or functional film applications.





However, the footwear industry is also accompanying the demand for more sustainable materials with a lower carbon footprint. Several leading footwear brands are committing to climate neutrality and "exercising great efforts to a transformation of the footwear industry". Our interviewees note that by 2015 Covestro had already launched partly bio-based PU products with INSQIN technology, which are suitable for shoe upper coatings, and have been continuously upgraded ever since, but that was only the beginning of the journey.



Innovative Solutions for Footwear
Covestro's digital printing technologies are becoming increasingly important to the industry: 3D printing technology works for both shoe uppers and shoe soles, offering advantages in terms of customization, accelerated production, less manual costs, and environmental care.





Moreover, the company focuses on the automated application of adhesives to facilitate efficient bonding processes in the assembly of shoes, e.g., the bonding of soles to the upper. In this regard, "Covestro has developed a new hot melt technology (Desmomelt U) that allows adhesive manufacturers to formulate high-performance hot melt adhesives for automated application processes, significantly reducing waste, energy consumption and cost of manufacture".





The supplier of polymers is also working with the Chinese textile technology company Huafeng and the green fibre technology company Cyclone to develop a mesh based on recycled PET and a waterborne coating for footwear to help create high-performance sports shoes more circularly. "Fabrics made from Cyclone recycled polyester (rPET) yarns are used as shoe upper and selectively coated using Huafeng's Haptic technology. In the process, Huafeng uses a polyurethane (PU) dispersion from the INSQIN portfolio of Covestro, half of whose carbon content comes from bio-based raw materials".





"This development reached a milestone when the first batches of shoes were made in September last year. The greenhouse gas emissions for each pair of shoes produced in this way are around 230 grams of CO2 equivalent lower than a pair using conventional waterborne PU dispersions and virgin PET fabric", they concluded.



Other Sustainable Solutions
To enable efficient recycling, Covestro provides two approaches. On one hand, it is possible to construct a shoe from a single material class, and TPU is a material that "offers promising opportunities to be used as a single material, but supply in various forms of TPU synthetic, fibre, film, ETPU foam and non-woven for the productions of shoes upper, shoe lane, shoes sole and shoe lining, which are fulfilling all functional and comfort demands of a modern shoe".





The other, which is being developed together with partners along the value chain, is to separate the materials used through adhesive technologies that will allow for debonding on demand, that is, to return the parts as homogeneous materials for the recycling process.




Future
Covestro intends to continue delivering the sustainable materials that are now required to produce diversified shoes with a conscious attitude towards the protection of our planet. The target has been set: to reach climate neutrality by 2035 for their emissions (scope 1), as well as external energy sources (scope 2). Thus, it will strive to inspire more circular innovations, using renewable raw materials and energy, and developing products that can be recycled at the end of life, while "meeting or exceeding our customers" high quality and performance expectations".








Covestro's Desmomelt U technology and INSQIN technology; Cyclone's recycled polyester (rPET); and Huafeng's Haptic Technology are registered trademarks.








Image Credits: Covestro