Register to continue reading for free
US Retail: slower growth for retail in the coming months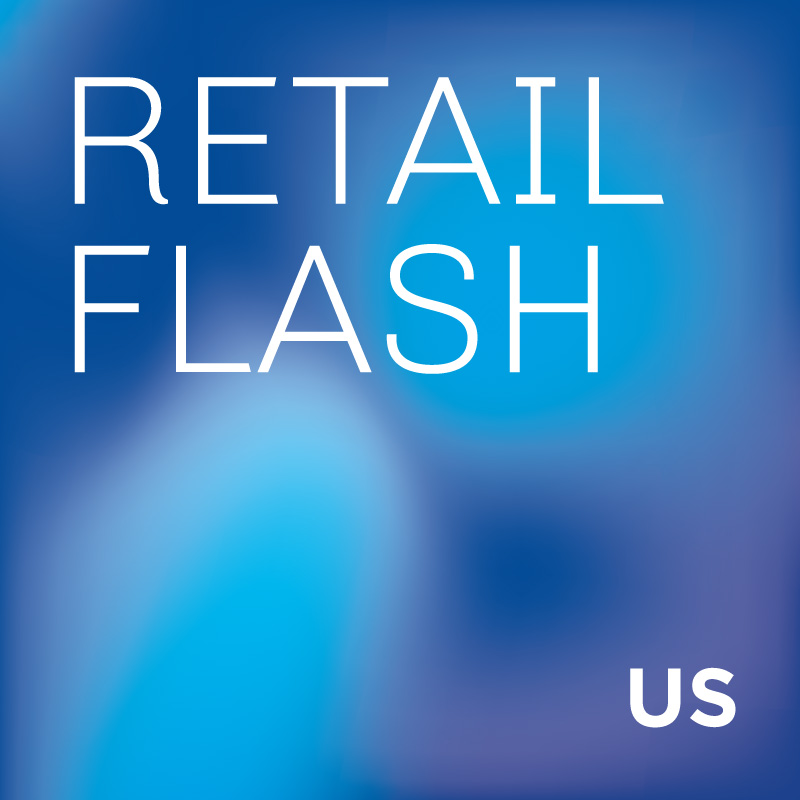 The available data suggests that footwear sales dipped in the last quarter of 2022. With inflation eating the wage growth and impacting the stability of the labour market, US consumers appear to have deemed footwear purchases as not essential. This situation is somewhat corroborated by the negative performances of several companies in the fashion category, such as Capri, Nordstrom and VF Corp, in the fourth quarter of the year. Their main concern relates to the excess inventory, which led to a highly promotional environment and caused imports to reduce. Accounting for the mixed feelings on the consumers' side, it is safe to endorse cautious prospects for retail for these first months of 2023
The fourth quarter killed the good news
Our previous Retail Flash reported record footwear retail sales on August 2022, when compared to the previous fourteen months, with September adding two percentage points to the figure. But the last quarter of the year turned out to be quite disappointing, registering a continuous loss of six percentage points that diverged again from the category itself, only in the opposite direction. Moreover, on a comparable basis to the same quarter one year before (2021), footwear tripled the loss of sales. There is plenty of evidence in the fashion category.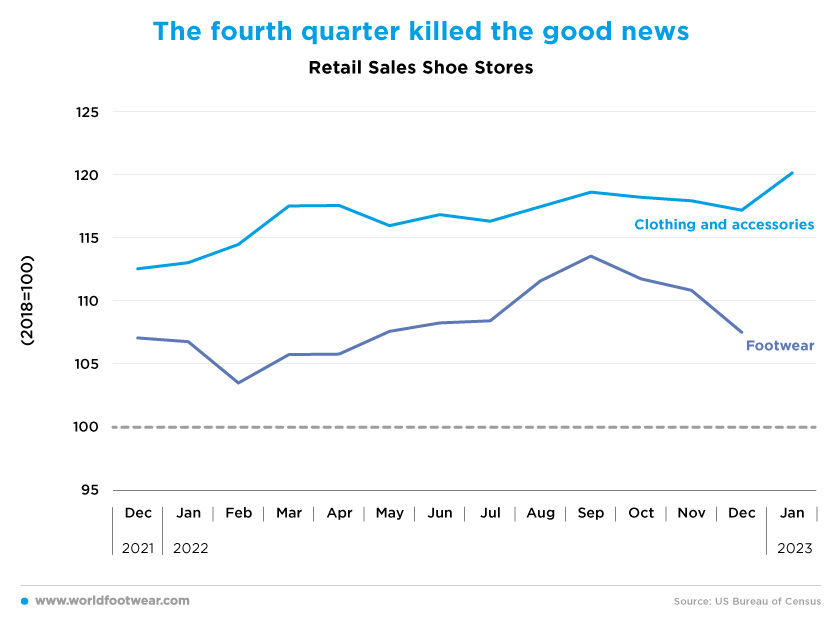 In November and December, retail sales in the US dipped monthly, a direct signal that the economy is in a downturn. At some point in the last few months, most large fashion companies have told investors to brace themselves for slower growth. Michael Kors-owner Capri Holdings reported a 6% sales decline in its most recent quarter (businessoffashion.com).

And luxury retailer Nordstrom posted a net sales decrease of 3.5% in the nine-week holiday period which ended on the 31st of December 2022. "The holiday season was highly promotional, and sales were softer than pre-pandemic levels (…). It is clear that consumers are being more selective with their spending given the broader macro environment", said Erik Nordstrom, chief executive officer of Nordstrom (press.nordstrom.com)
On the same page, VF Corporation revised its FY23 outlook largely due to the impact of weaker than anticipated consumer demand across its categories, primarily in North America, which is resulting in a more elevated-than-expected promotional environment, as well as order cancellations in the wholesale channel to manage trade inventories (vfc.com/news).

Discounting to clear inventory
The Footwear Consumer Price Index (by US BLS) has been adjusting downward along a quickly sliding trend, especially from July through January 2023, from more than 6% to almost nothing. By contrast, all items' level of prices, while also correcting from their peak in June, closed in December at 6.5%, just a half percentage point below one year before.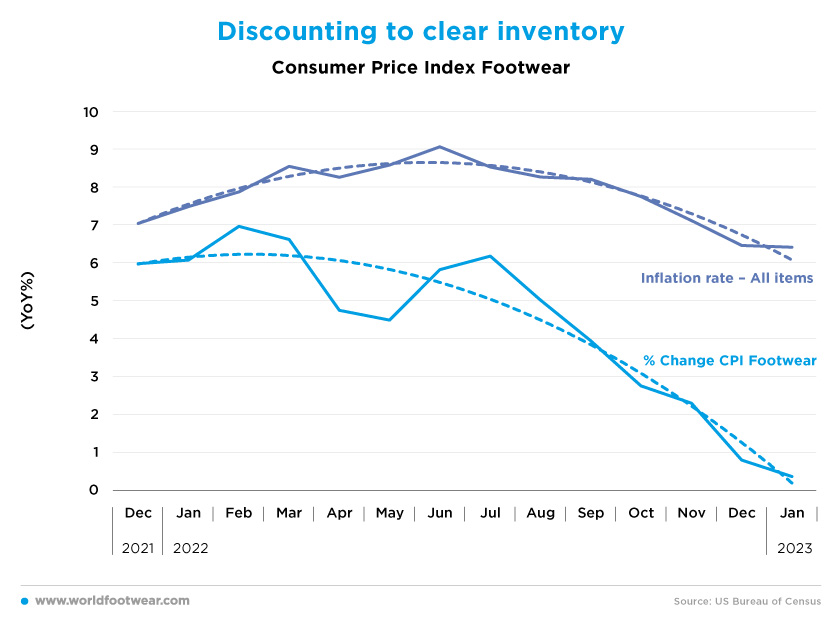 Perhaps the US consumers recognized high inflation was eating their wage growth and the strength of the labour market, and deemed footwear purchases not essential, transferring their purchasing power from footwear to other consumer needs (or to save for the future to come).

Yet, the consumer footwear price performance in the period also explains the sharp squeeze of footwear retail nominal value. Between September and December 22, the footwear retail loss, in terms of value alone, was 3 percentage points down, which means half of its overall loss. Again, too much inventory and aggressive discounts to clear it out are at stake.
Nike's CEO and President John Donahoe, referring to the mounds of excess product that had built up at the company in recent quarters due to inflation-stricken consumers and rapidly shifting tastes in the marketplace, said in a call with analysts in December that he believes "the inventory peak is behind us". Gary Raines, chief economist at Footwear Distributors and Retailers of America (FDRA) also stated that retail inventories appear to have peaked in August and have declined each of the last few months. (footwearnews.com). Commenting on Capri's sales performance, a source of Business of Fashion concluded that the company "fell victim to the rampant discounts at its department store partners, where sales declined 20%".


Import reduction to clear inventories
About 96% of the footwear supply in the country is imported, but import landed prices are just a part of the consumer price implicit in retail. Anyway, import prices moved much steeper than consumer prices through August 2022, meaning footwear retailer margins were under pressure at the time. But after the August peak, the situation reversed, and such pressure softened dramatically.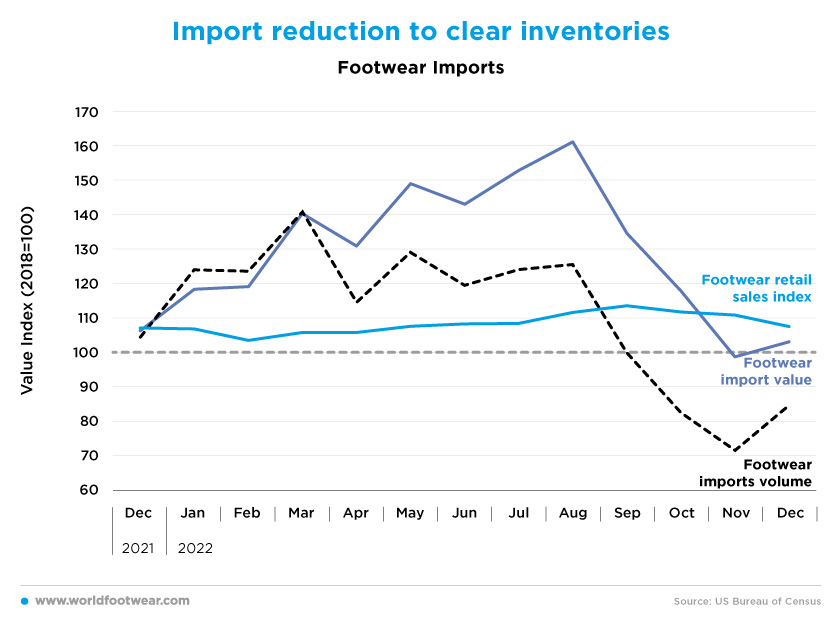 However, after discounting the import price effect, the average volume of imports (not seasonally adjusted) was quite flat around the 120 score, and the same may have been the case for retail in terms of volume considering its price performance. Yet, by December, the value of imports was returning to the 2018 baseline, 60 percentage points down, which translates as well into a volume of imports well below the 2018 baseline. Such a large drop in the volumes of imports seems to be a cut correction due to its previous overshooting with an inventory reduction as a substitute.
Nevertheless, it's still not enough. Morgan Stanley analysts, led by Alex Straton, wrote in a note on the 23rd of December, "retailers could be forced to offer deeper discounts post-Christmas to clear through excess inventories, meaning higher-than-forecast 4Q merchandise margin pressure is still a possible outcome".

In a presentation at Texworld Evolution NYC, Gary Raines, chief economist for the FDRA, advanced that "footwear imports are now [February 2023] growing much faster than footwear spending" (…) "In effect, supply is outpacing demand, weighing on price" (sourcingjournal.com).
Bluefin Research analyst Rebecca Duval predicts that most retailers will reach a healthy inventory position [only] in the second quarter of 2023. "Retailers will have to keep a close eye on inventory and sales ratio, and lean into their supply chains", she said. "They'll have to chase what sells and [liquidate] what doesn't" (businessoffashion.com).

Mixed feelings do not suffice to make an optimist
Having recovered 17 percentage points in its pessimist stance from June 2022 through February 2023, the Consumer Confidence Index (by the University of Michigan) appears to be an outlier against the previous indicators. Joanne Hsu, the University of Michigan's director of surveys, tried to explain the contrast by saying, "consumers have noted both positive and negative developments in the economy. On one hand, worries about rising unemployment have emerged for some amid layoff announcements. On the other hand, labour markets continue to enjoy historic strength, supporting robust income growth". "However, sentiment remains well below its historical average; in spite of the recent slowdown in inflation, overall prices are still painfully high for consumers and continue to be at the forefront of their minds", she added (news.umich.edu).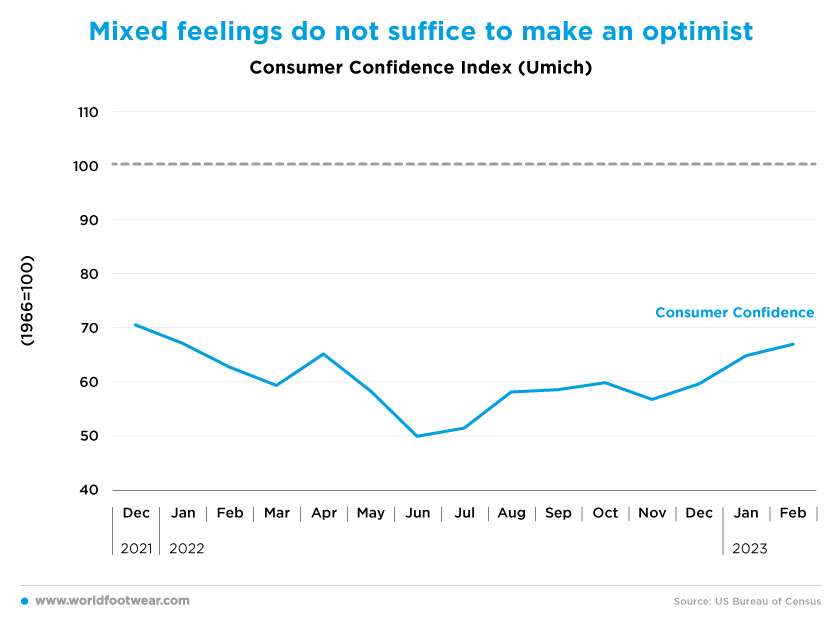 Again, according to The Business of Fashion magazine, "economists predict that consumer sentiment will remain tepid well into 2023". Coresight Research, for example, forecasts a 2% decline in the US apparel and footwear market size this year (businessoffashion.com).

In the end, with pessimism still well entrenched in consumer's minds, we cannot but endorse the cautious prospects about retail in 2023 expressed by Ted Rossman, senior industry analyst at Bankrate: "the next few months are traditionally the slowest months for retailers (…). With more Americans battling expensive credit card debt and inflation remaining stubbornly high, a further slowdown in purchasing appears likely, at least in the near term" (footwearnews.com).



Reports on the death of the golden days of online retail are exaggerated
In the fourth quarter of 2022, the trend line of the e-commerce Clothing and Accessories index, including Footwear (census.gov, not seasonally adjusted), moved some 60 percentage points up to its level in the same quarter of 2019, just before the COVID-pandemic hit. While it is still quite remarkable, as compared to the trend of offline footwear retail (some 30 percentage points up), e-commerce growth is apparently stabilizing the reverse being the trend in physical retail of the category.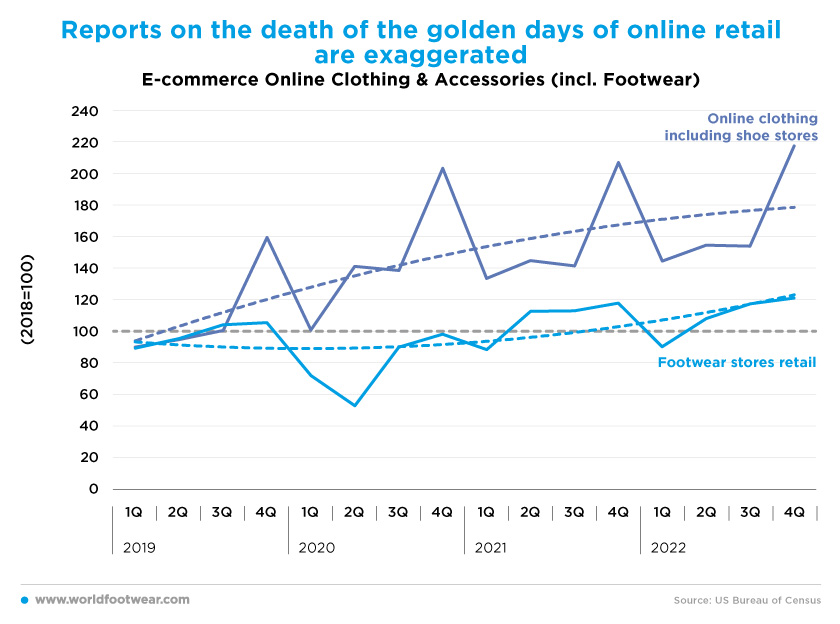 Some recent trade evidence supports the idea that online retail for the fashion categories appears to have had better days. Early this year, the
Everlane
CEO announced to the staff that it would
cut the apparel company's workforce by 17%
, just as Stitch Fix reduced close to 20% of salaried roles (footwearnews.com).
By contrast, Joanne Crevoiserat, Chief Executive Officer of Tapestry, commented, "during the key holiday season we outperformed expectations. To this end, we delivered record second quarter earnings despite a challenging backdrop" (tapestry.gcs-web.com). Commenting on such a performance, the Business of Fashion magazine pointed to the fact that the vast majority of Tapestry sales are generated in its brick-and-mortar fleet of Coach, Kate Spade and Stuart Weitzman stores, as well as their respective online shops, which allows the conglomerate to avoid the markdowns typical among wholesalers. Perhaps the news of the death of the golden days of online retail is also exaggerated!