Register to continue reading for free
US Retail: not all news are bad for retail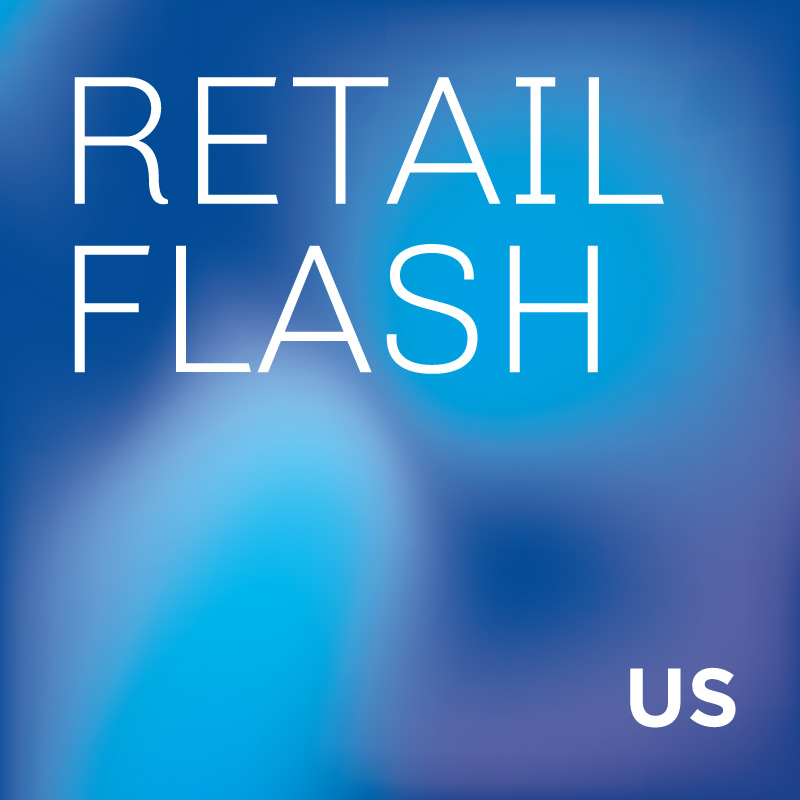 The available data suggests that retailers made sure to fill up their stocks this year, most likely causing supply to outstrip demand. But while demand may have slowed down, mainly due to high inflation, spending has not ceased, and retailers are expected to increase their promotions through the end of the year to dispose of marked-down excess inventory. Consumer confidence indicators are somewhat mixed, but it is safe to assume that, at least, it has stopped bleeding. In fact, the contrast with European consumers is clear, showing that US shoppers are less sensitive to the geopolitical risks concerning the ongoing war in Ukraine. Meanwhile, though slowly, footwear prices increases are starting to decelerate
Avoid the risk of lacking inventories
US footwear imports through August (last available data) show a consistent upwards trend since late November to respond to retail needs: on the one hand, consumers have been anticipating purchases to avoid high inflation expectations, and, on the other, retailers have been coping with the lack of inventories caused by supply chain disruptions. However, some overshooting seems to have occurred as delayed overseas shipments are arriving after some demand has already been lost.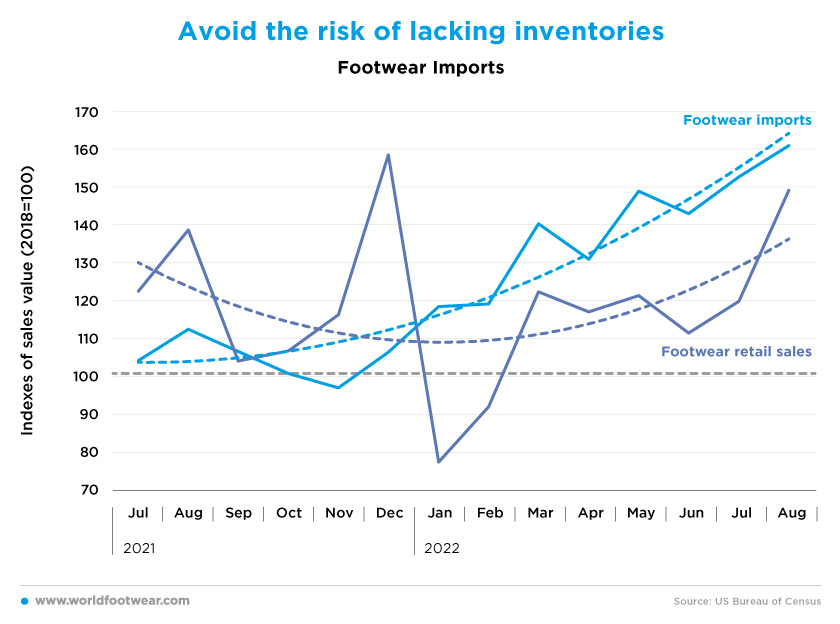 But better later than never
According to a note from the Footwear Distributors and Retailers of America (FDRA), published by Footwear News (footwearnews.com), "footwear supply is poised to outstrip demand by a wide margin this year, pointing to softer prices ahead. Footwear imports – a proxy for supply – so far this year are up about 24.3% from the same period last year. But consumer spending on footwear is up only about 4.3%".


This projection is supported by declarations of Genesco and Foot Locker, among others, concerning the back-to-school and holiday seasons. As pointed out by Neil Saunders, managing director of GlobalData, "retailers are more confident this year. If anything, the problem is having too much inventory rather than too-little — which is a big change over last year" (footwearnews.com).



Weakening of retail sales is far from sight
According to the evidence available, as of August, the score of retail sales of footwear (seasonally adjusted, by the Census Bureau) was 11 percentage points above the 2018 baseline, the highest in 14 months, confirming the positive mood shared by many companies already in the first quarter of the year. However, since then, opinions have been quite divided about the times ahead.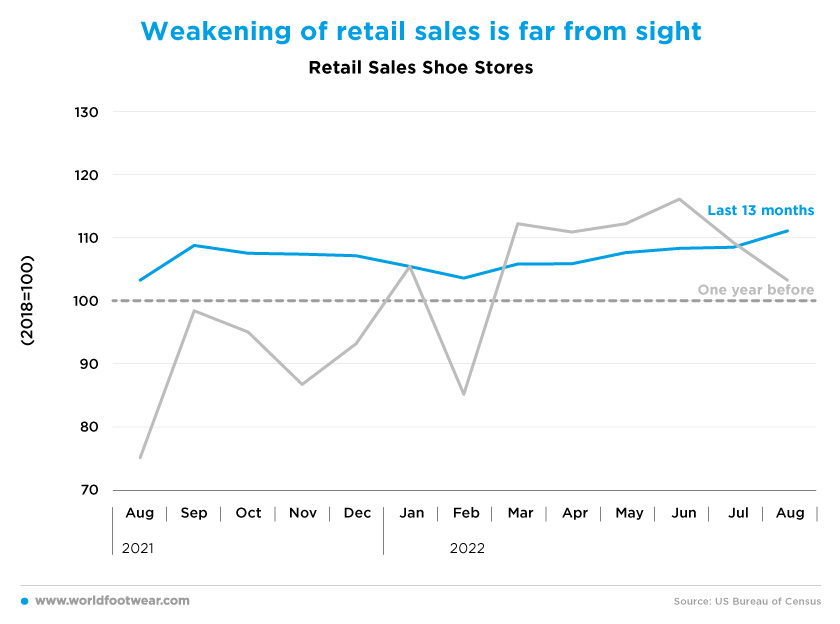 On the department stores side, both Nordstrom and Kohl's lowered their sales forecasts for 2022, admitting to the weakening of customer demand (businessoffashion.com). But, according to the National Retail Federation (NFR), "consumers have become cautious – but they have not stopped spending. The rate of spending growth is not as high as last year, but household purchases are bolstered by wage growth and a strong labour market", said Chief Economist Jack Kleinhenz (footwearnews.com).

Footwear prices are losing ground
Abnormal high prices are now a game changer in consumption behaviour and retailers' reactions. Overall, while decelerating since the peak recorded in June, prices are still in the 7-8% range, strongly pressuring consumer budgets, and discretionary categories, like footwear, are in a clear sliding trend since February, closing September under a 4% increase.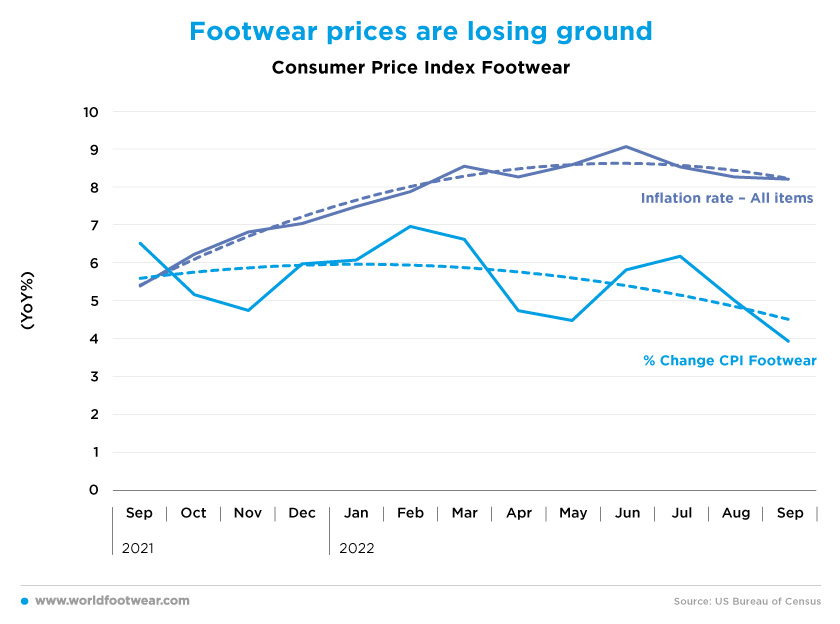 "This will be the year of the perpetual deal for Christmas", commented Marshal Choen, Chief Industry Advisor for the NPD Group, a market research firm. "Retailers, desperate to coax inflation-fatigued consumers to spend, are expected to beef up promotions as they struggle to get rid of already marked-down excess inventory", furthered CNBC (cnbc.com).

Is Consumer confidence upturning?
However, consumer confidence (by the University of Michigan) stopped bleeding in June, and a 10 percentage points gain in October appears to signal a reversion in consumer pessimism. Nonetheless, the University's Surveys of Consumers Director, Joanne Hsu, stresses that "continued uncertainty over the future trajectory of prices, economies, and financial markets around the world indicate a bumpy road ahead for consumers".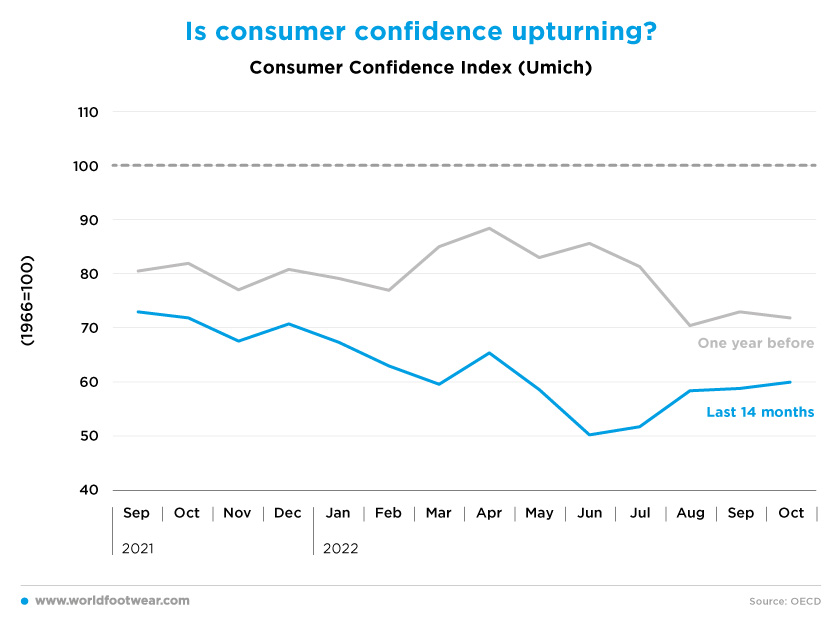 For some consulting firms, such as Bain & Co or Alix Partners, it simply means that discounting the current year-over-year inflation rate, sales growth measured at constant prices is, in fact, very modest, if not declining (cnbc.com).

Others note that "around 67% of American consumers not only believe, but know, we are in a recession. This pales in comparison to sentiment across CEOs that insist we are not quite there yet. So, there's a disconnect between the decision maker and the consumer", said Greg Petro, CEO and founder of First Insight Inc. (footwearnews.com).

Still, when compared with the confidence indicators recorded in the main European markets, this confidence reversal looks much less sensitive to the geopolitical risks concerning the progress of the invasion of Ukraine.

Online clothing is losing drive, and perhaps also share
In the first half of the year, the pace of clothing & accessories e-commerce (including footwear, by the Census Bureau) continued to lose drive, as the pandemic effect is no longer accountable. However, the online gain of the category since the COVID-19 pandemic outburst (2Q20) is still at about 60 percentage points up. Overall, footwear retail followed an accelerating path in the same period (and beyond), yet the gain at the same closing was little more than half of that (36 pp).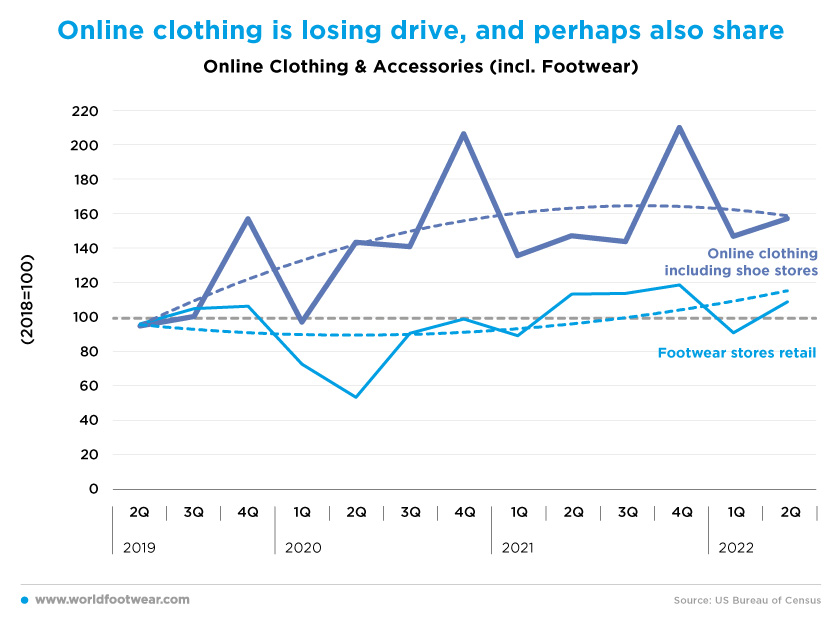 Commenting on the first six months of 2022, Amazon's CFO Brian Olsavsky observed that "inflation-weary consumers showed no signs of curtailing spending, but that still wasn't enough to restore growth in Amazon's e-commerce business. Online sales declined 4% year-over-year, as many shoppers have returned to physical stores, leading to a broader slowdown in e-commerce activity from pandemic highs". Moreover, in mid-August (15th), the giant e-commerce retailer announced an added holiday surcharge for the first time as "expenses are reaching new heights," making it harder for the company to absorb costs tied to the peak shopping season, in addition to previous increases of sellers' fees due to "inflation, supply chain constraints and the war in Ukraine" (cnbc.com). These substantial price adjustments for online sellers cannot but negatively impact e-commerce relative competitiveness, as costs must also be passed on to consumers.
Looking into the holiday season, Mastercard believes that "e-commerce is anticipated to increase despite significant growth last year, up 4.2% over last year, as the channel remains a convenient way for consumers to check prices in real-time", which compares to a 7.9% rise for in-store retail sales (footwearnews.com).