Register to continue reading for free
US Retail: COVID-19 is no longer a concern for footwear retail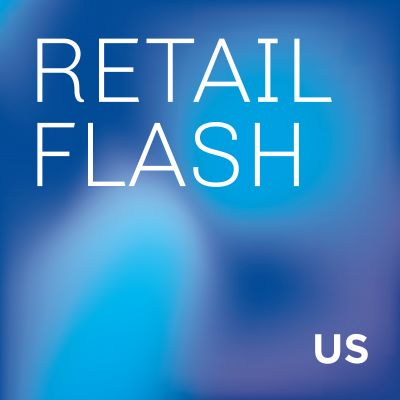 The monthly shoe stores retail trajectory shows that footwear retail has begun to disregard any COVID-19 related concerns since the second quarter of 2021. However, there are other worries on the horizon. Consumers' mood has been trailing a downwards trend, hitting the lowest value in January. At the same time, prices have been quickly increasing since September, and the global impact of Russia's invasion of Ukraine might contribute to undermining future retail prospects
Shoe stores retail is now COVID-neutral
As far as the end of 2021, and differently from the prior year, footwear retail seems to have disregarded any COVID-19 related concerns. Sliding down slowly from September through the end of the year, the monthly shoe store retail sales indicator (seasonally adjusted) closed the year 10 percentage points up of the pre-pandemic level, and well above the 2018 baseline.





In an interview to the World Footwear, this month, the President and CEO of the Footwear Distributor & Retailers of America (FDRA) helped to explain the succeeded: "one of the reasons we are seeing inflation now is that the US Government dumped so much cash into our system in response to COVID-19 that has created this inflationary pressure. But, at the same time, it helped fund our record year, as we hit that 100.7 billion record number. The prior record was in 2019, 83.9 billion US dollars, which shows how much more economic activity we enjoyed in 2021".





The overall category of clothing and accessories, for which retail statistics are one month in advance, corroborates similar results for January 2022. Looking ahead, Matt Priest advances that, despite not believing that the US will have "the record year" it had last year (2021), considering that "inflation is going to decrease the buying power of the American consumer", they "are optimistic that it will be a good year".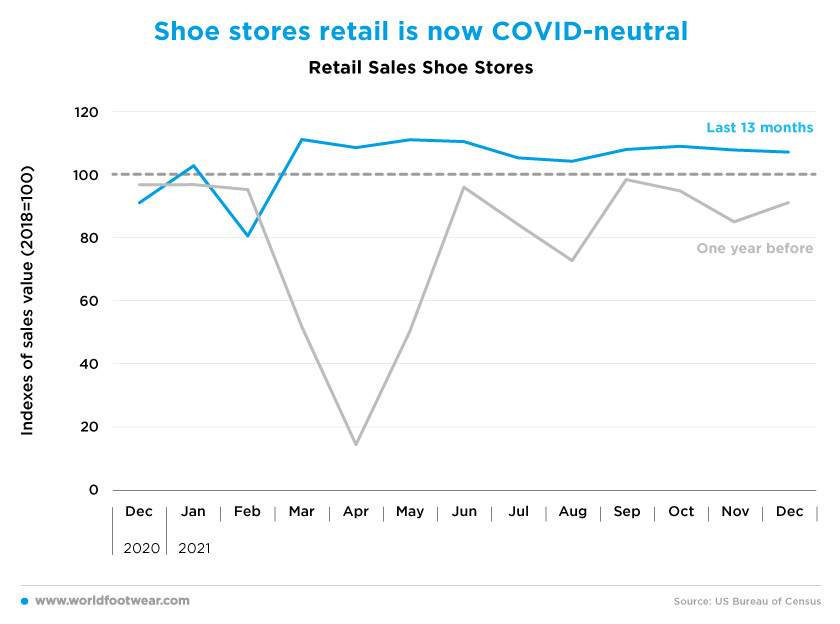 Consumer confidence sensitive to risks other than pandemic
In contrast, however, is the US consumer confidence indicator (seasonally adjusted), which exhibits a clear downwards trend from April through October. While slightly softening since then, consumers have become more pessimist as of January 2022, as compared with the prior (COVID-19) year, and 4 percentage points far from pre-pandemic times.





Still, this indicator does not yet reflect the anticipated indirect impact on American consumers of Russia's invasion of Ukraine, which began on the 24th of February.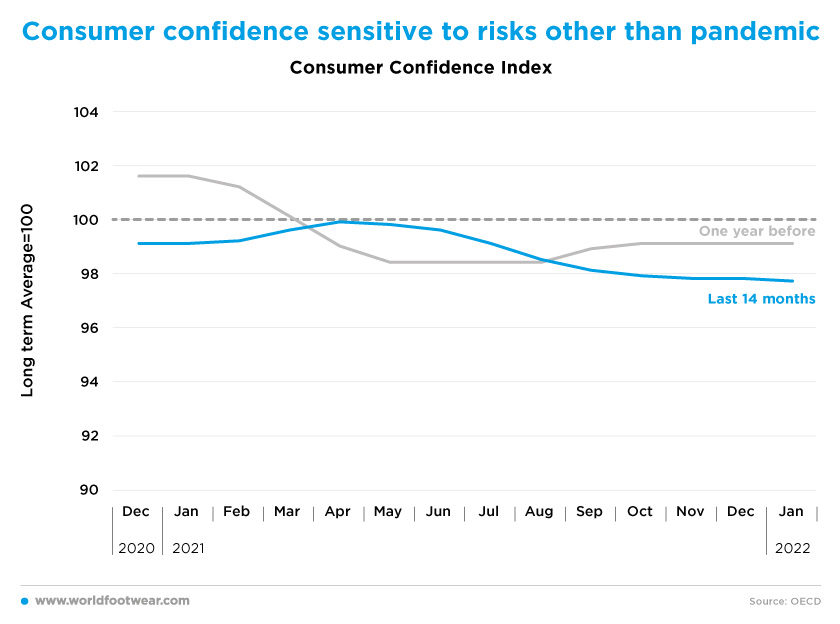 Inflation does not spare footwear retail
Footwear prices (seasonally adjusted) have been exceeding their pre-pandemic levels since September at an increasing speed. In January 2022, they had done it so by more than 4 percentage points.





"Supply disruptions and rising manufacturing costs leading to price increases have been a major story since the beginning of the pandemic. Retailers and manufacturers are still playing catch-up with supply in many industries, which is part of the reason prices for certain products have increased […]. However, as demand settles back, and as supplies rise, prices will likely fall between 10% and 15%. […]. However, when consumer demand falls, as it is likely to do by the middle of the year, many retailers once again must goad consumers to spend — and they will no doubt resort to promotions to aid that effort" anticipated Marshal Cohen, chief industry advisor for NPD Market research Group (www.npd.com, February 2022).





The analysis helps us understand why consumer confidence is currently hurting, and why if a mood change is still to be expected, it will occur in a downwards direction. The emerging international war crisis can also weigh down on their sentiments. This will definitely undermine US retail prospects in the near future.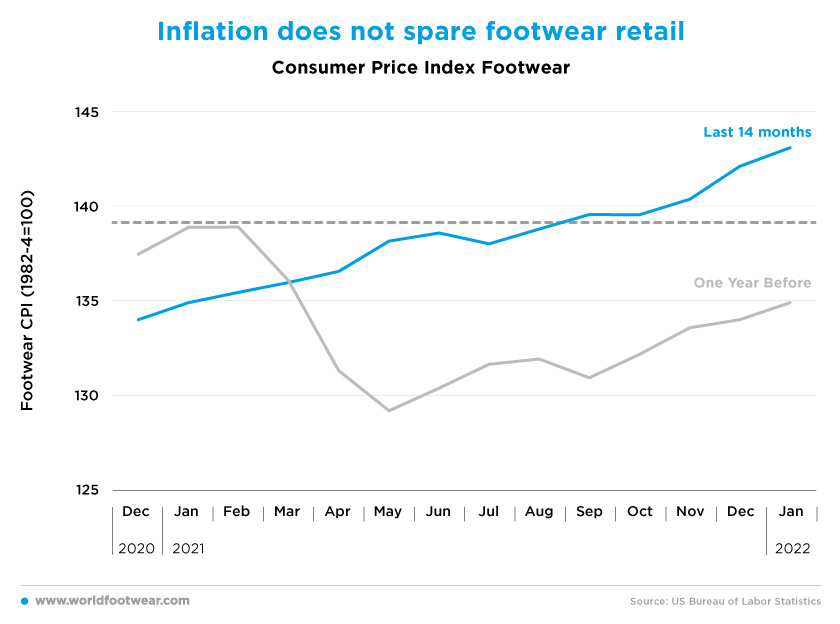 A sustainable online retail gain
Concerning e-commerce statistics, only quarterly data on clothing and accessories (in a not seasonally adjusted basis) are available to compare with the overall retail in shoe stores.





Nevertheless, as the monthly shoe store retail sales indicator appears to have become COVID-neutral since the second quarter of 2021 (as previously stated), the same is expected to have happened to e-commerce in the overall category.





Under the return-to-normal assumptions, and using the same baseline, in the fourth quarter of 2021, the e-commerce category indicator recorded an increase of 44 percentage points in the last two years, whereas the footwear retail stood at no more than 11 percentage points in the same period. Discarding the fourth quarters' e-commerce peaks, and comparing with the same periods of 2021 to 2019, the second and third quarters registered significant e-commerce growth, by 44 and 38 percentage points, respectively. Footwear retail, while presenting a sustainable gain, did not go beyond 15 and 7 percentage points.





For instance, according to Mike Stornant, Wolverine´s Senior Vice President and Chief Financial Officer, "eCommerce reported (full year 2021) revenue was up 39.7% versus prior year and up 109.4% versus 2019, whereas overall revenue increased 28.3% versus the prior year and 1.0% versus 2019 ". And considering the fourth quarter alone, eCommerce revenue was up 12.7% versus the prior year and up 48.5% versus 2019, while [overall] revenue increased 9.4% versus the prior year and decreased 8.2% versus 2019" (wolverineworldwide.gcs-web.com, February 2022).