Register to continue reading for free
US Retail: the holiday season might not be enough to withdraw the retailer's worries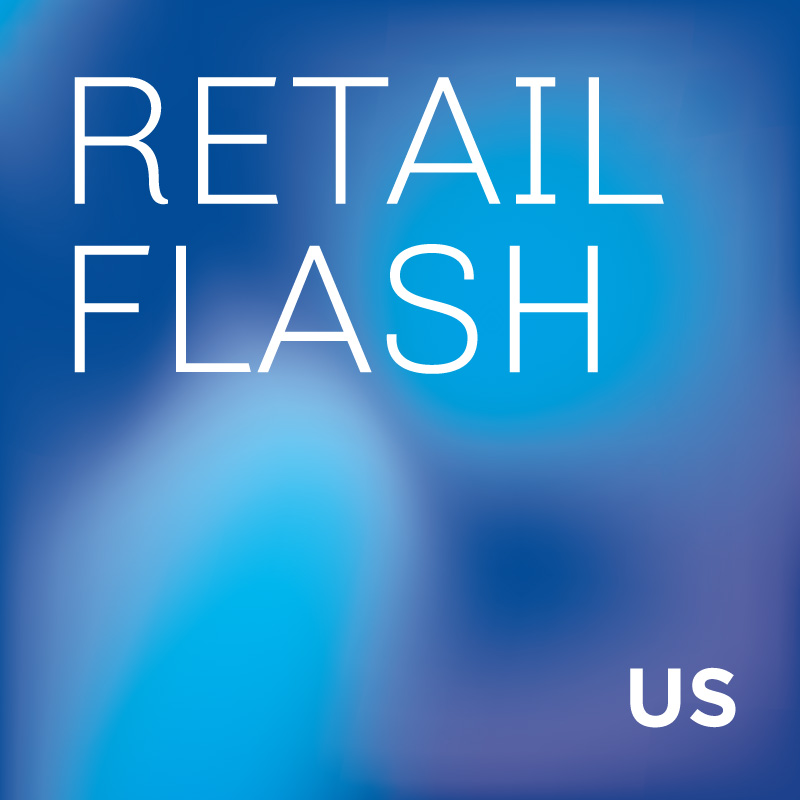 The Retail Sales Index in the US Shoe Stores has registered a favourable pace between March and August, which could give good perspectives for the near future. However, footwear retail gains are dwindling, closing at only 4 percentage points upside in August, after 11pp above the line in March. On top of that the consumers' mood is plunging again and with inflation entering a danger zone in the US, retailers have reasons to be worried, especially if footwear prices stay in the upper range for a longer time
Some highly optimistic surveys with short term prospects for retail in the next US holiday season have been recently published, one of which is about shoe purchase intentions, sponsored by the Footwear Distributors and Retailers of America (FDRA).
The survey conducted between the 12th and the 15th of October by the Emerson College Polling, presented to FDRA, compared to the 2020 the percentage of respondents that are very unlikely to buy shoes this season has decreased from 34% to 20%. And while 40% of respondents plan to spend about the same amount of money this holiday season on shoes as they did last year, 39% plan to spend more money on all shoes eight points more than in the 2020 holiday survey (31%). Only 21% plan to spend less this holiday season on shoes sixteen points less than in the same season of 2020 (37%).
Based on a recent study that tracks holiday purchase intentions each year, Marshal Cohen, Chief Retail Industry Advisor for the US market research NPD, stated "it's going to be a hybrid holiday this year, blending the return of a celebratory feeling with the now normalized pandemic lifestyle. We expect the consumer's sustained propensity to spend will carry through the traditional November and December shopping period". Despite unchanged feelings about their own personal financial situations and the state of the economy, NPD estimates holiday spending will rise 3% during the traditional November and December holiday shopping season and 5% when the season is expanded to include October and early January.

A dwindling upside
Such expert data and expectations seem to sustain for the near future the favourable pace exhibited by the (seasonally adjusted) Retail Sales Index in Shoe Stores from March through August: always on the upside of the 2018 baseline and in a clear contrast to its development before the pandemic.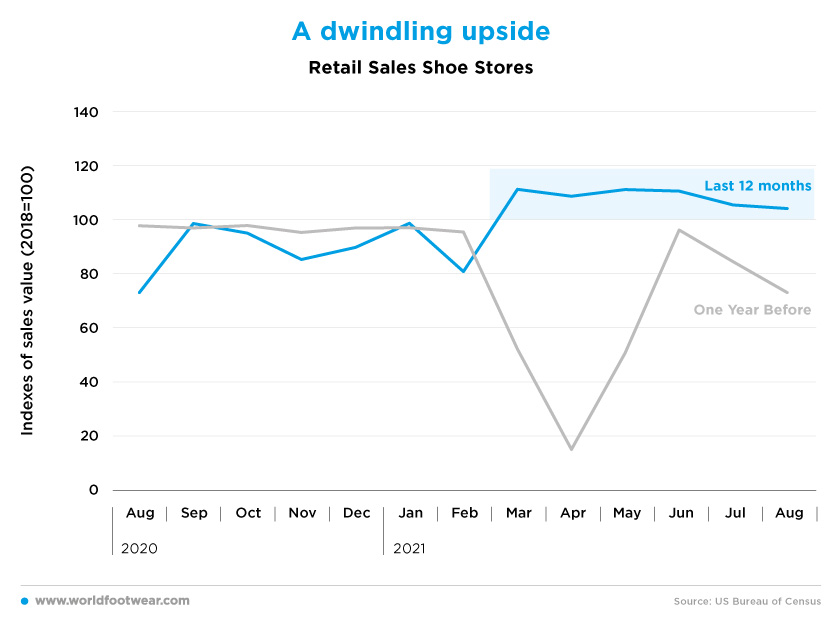 In the same sense many big US global footwear companies are reporting very good sales performance, along the several quarters of 2021 compared both with last year and 2019.

Our specific point being that in the US market segregation of domestic results is quite meaningful. In the first nine months of 2021 Skechers' sales increased by 41.7% reflecting a 42.4% increase in domestic sales, while Direct-to Consumer comparable same store sales increased 45.0%, driven by an increase of 49.4% domestically. The same domestic superiority happened in the third quarter alone, ending on the 30th of September, with a year-over-year sales increase of 19.2% as a result of a 20.1% increase in domestic sales, and Direct-to Consumer comparable same store sales increase of 31.0%, driven by an increase of 33.7% domestically. From the Skechers case we can see that the specific growth rates of the 3rd quarter are lower than the rates of the overall nine months of 2021. This is consistent with the fact that apparently footwear retail gains are dwindling, closing at only 4 percentage points (pp) upside in August, after 11pp above the line in March.

So, the near future is not so crystal clear as our opening statements seemed to point out.

Consumers' mood plunging again
Looking at the overall Consumers' confidence data on the same period, while a wave of consumers' enthusiasm was expected following effective COVID-19 control, suddenly in May consumer confidence entered into a slippery slope.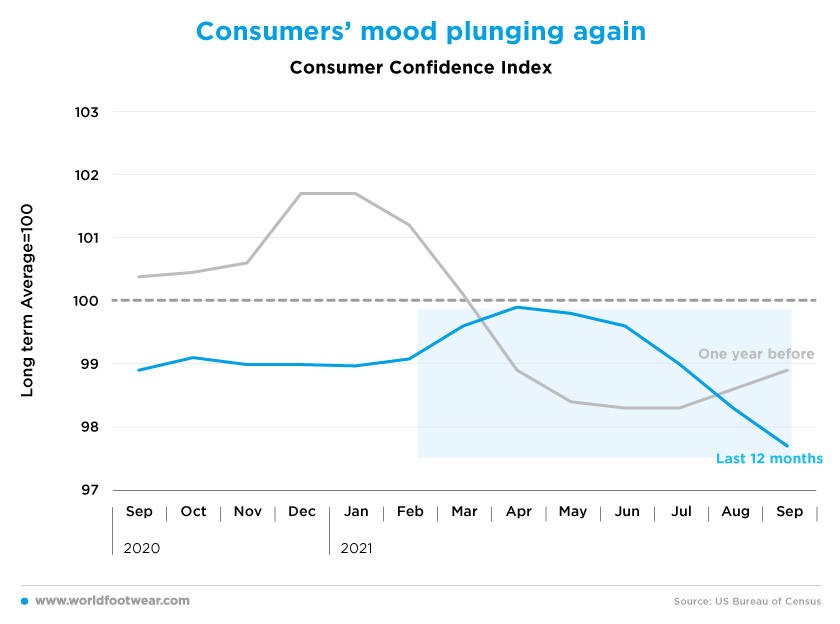 Commenting another consumer sentiment indicator, published in September by the University of Michigan, Richard Curtin, Director of the consumer survey, wrote: "the steep August falloff in consumer sentiment ended in early September, but the small gain still meant that consumers expected the least favourable economic prospects in more than a decade. And he added: "some observers anticipated that the early August plunge in confidence would quickly disappear since it was driven by emotions. A more accurate reading is that consumers correctly assessed the economic impact of the resurgent Delta variant. Many other sources of economic data have since shifted in the same direction and point toward slower growth in consumer expenditures.

Later on, as the preliminary readings on consumer sentiment in the US fell slightly in early October, the Survey's Chief Economist commented that "the Delta variant, supply-chain shortages, and reduced labour-force-participation rates will continue to dim the pace of consumer spending into 2022".
With consumers' confidence down, sooner or later retail will suffer.


First postpone. Then, goodbye Mr Retailer
Besides that, inflation is entering a danger zone in the US. Richard Curting, commenting the October confidence survey, stated that "consumers anticipated the highest year-ahead inflation rate since 2008" and "declining living standards due to inflation were spontaneously mentioned by one-of-every five households."




Seen at the footwear level, consumers used to price changes in the range of 1-2% before pandemic, are facing increases in the 4% to 7% range since May. "Initially consumers have reacted by viewing the rise in inflation as transitory, believing that prices would stabilize or even fall in the future, thus postponing purchases". The slowdown of footwear spending in the months ahead, somewhat depicted by the retail sales Index of shoe stores, can be the logical result for a moment. But should footwear prices stay in the upper range for a longer time, through 2022, and… that could mean: "goodbye Mr. Retailer".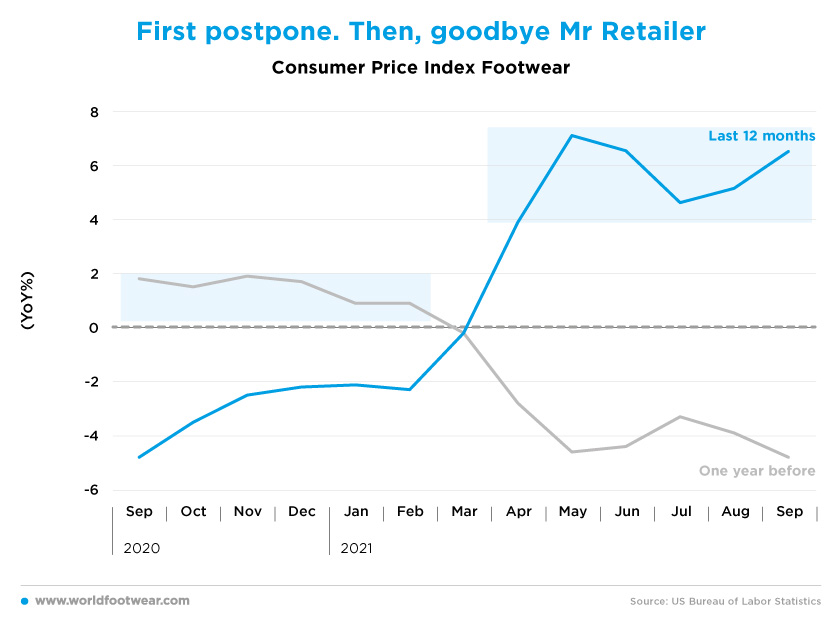 Shop-in-person is back. Stable online share
The October consumer survey for
FDRA
reported 72% of shoe buyers are planning on making their holiday shoe purchases online, a 1% shift towards shopping online (vs 2020) despite store access restrictions are over due to the vaccination process.
And the NPD survey noted that while 32% of consumers are less concerned than they were last year about the COVID-19 virus and six out of ten consumers (58%) are more comfortable shopping in stores now that vaccines are widely available, more shopping continues to move online, with those who were store-only shoppers shifting to shopping both in stores and online.
Evidence from big US footwear companies supports a sustainable online advantage. Mike Stornant, Wolverine Senior Vice President and Chief Financial Officer stated that their "owned eCommerce revenue has more than doubled in the first half of 2021 compared to 2019". And in the quarter ended on the 31st of August, Nike Brand Digital sales increased by 25%, led by North America growth of 43%.
Online is probably the new normal for consumers to make their footwear purchases. But the difference between the e-commerce trend in the category (including footwear) and the taking-off now of shop-in-person for shoes is about 50 pp, and stabilizing on the first half of 2021. Should both trends maintain their present distance footwear e-commerce can still preserve its share gain in overall retail.