Register to continue reading for free
US Retail: consumer confidence collapses while footwear retail slowly loses its drive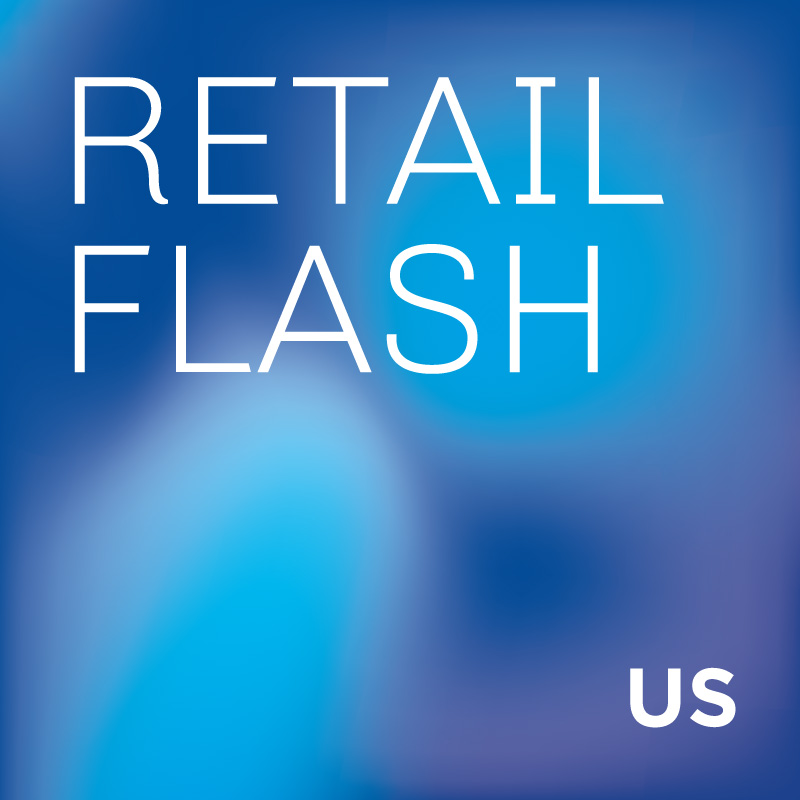 Despite the declining trend of the monthly shoe store retail sales and persistent macroeconomic headwinds such as supply chain disruptions and the continuous rise of inflation, US companies are displaying some optimism towards the remaining year. That is not the same as saying there is no caution or concerns on the horizon. The pace of the increase in footwear prices is in fact slowing, suggesting that the pressure of demand might be no more at work in the US. The critical point is that consumer confidence collapsed due to inflation and the war in Ukraine, which might restrain consumer spending this year

Footwear retail in a declining trend ...

The monthly shoe store retail sales indicator (seasonally adjusted, US Census Bureau) seems to be moving along a declining trend since June last year, converging to the 2018 baseline. However, still 5 percentage points up the line in March.

The footwear consumer price index resumed in June 2021 to its pre-pandemic level, reaching a reading of more than 128 percentage points. Since then, prices (seasonally adjusted) spiralled, reaching a 145 percentage points peek in February-March this year.

But if footwear retail is faltering, it is not because of its mounting price level alone, but also due to the continuous and robust rise of inflation in the US. In fact, the Personal Consumption Expenditures Price Index (PCE) climbed by 0.9% in March, which was the most significant increase since September 2005. In the 12 months through March, the PCE price index rose by 6.6%, the largest gain since January 1982 (www.tradeonlytoday.com).
This situation has set all the trade's red lights flashing. The Footwear Distributors and Retailers of America (FDRA) found that in April almost half (48%) of footwear consumers were planning to spend less on shoes in the Spring than last year, and 49% were putting off footwear purchases on account of inflation (footwearnews.com).
... and lower pressure of demand on footwear prices

In addition, according to a recent survey by the market research NPD, consumers are planning to look better for promotions, seek generally less expensive items, or even cut back on purchases overall in the next three to six months. "There is a tug-of-war between the consumer's desire to buy what they want and the need to make concessions based on the higher prices hitting their wallets," said Marshal Cohen, chief retail industry advisor for NPD (www.npd.com).




Still, March showed already a slight improvement in footwear retail (by 2 percentage points), and evidence for April available both for clothing & clothing accessories and retail sales, in general, may be consistent with further gains for shoes too.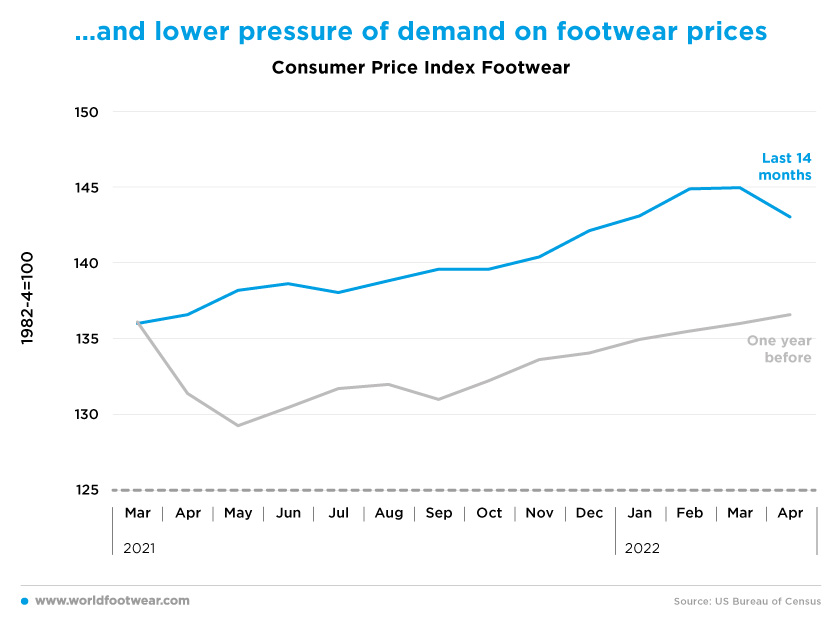 "Despite mounting inflationary challenges, consumers continued to spend on apparel, growing the category by 10.8% year-over-year in April. Spending at department stores also increased last month by 15.7%, though rates have started to soften from the peaks earlier this year", as stated by the SpendingImpulse Report of Mastercard (footwearnews.com).

However, looking into prices, while in April retail prices rose by 8.3% year-over-year, remaining close to the near 40-year high, "the pace of price increases has not accelerated from the 8.5% yearly rate posted in March," said the managing director of GlobalData Neil Saunders (footwearnews.com). Similarly, data from FDRA shows that while footwear prices are still rising at faster rates than usual, by 4.7% in April as compared to last year, it is still the slowest growth in the last nine months.

Overall, it suggests an apparent turning point for footwear prices, which means that the pressure of demand in the US footwear market might be no more at work.

Retail & Prices
So far, US companies' viewpoint about business in 2022 is most skewed to the positive side. "Caleres had an outstanding start to the year, executing at a high level and delivering record first quarter sales", said Diane Sullivan, Chairman and Chief Executive Officer. "Looking ahead, even with ongoing supply chain challenges and persistent macroeconomic headwinds, Caleres is exceptionally well-positioned to capitalize on favourable market dynamics". (investor.caleres.com).




"Based on the strong start versus our plans despite the quarter's economic headwinds and global uncertainties (…) we are incredibly optimistic about our future growth [and] reiterating our sales growth guidance for 2022" stated Mark Worden, Shoe Carnival's President and Chief Executive Officer (investors.shoecarnival.com).





Nonetheless, recent statements from Under Armour (about.underarmour.com) and Foot Locker (investors.footlocker-inc.com) indicate that footwear is not performing as well as apparel. In both cases, their outlooks display more caution because confidence is dependent "on the eventual normalization of supply challenges and emergent impacts in China" (Under Armour's President and CEO Patrick Frisk) or the fact that "we've never been in a position where we've seen this sort of accelerated inflation. And if the unemployment numbers change, you're worried that if people are unemployed, how inflation takes a toll on them" (Foot Locker's CEO Dick Johnson).







A push for retailers to place orders earlier
US footwear imports in the last twelve months through February have almost always been above the 2018 baseline, but following an upwards trend, closing 26 percentage points above the line. As of this reading, it is far from being an early warning that footwear retail is ready to brake. However, such import performance might also be the result of a change in the buying patterns of retailers. Many still bear in mind the lessons learnt from recently reduced sales because of a lack of inventory due to the impact of supply chain disruptions.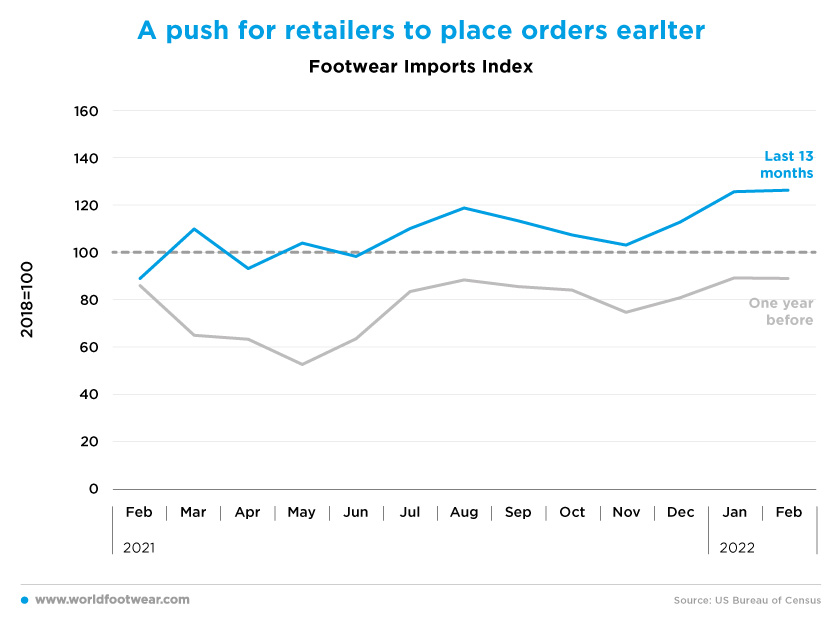 As Steve Madden reported, in the first quarter, "wholesale footwear revenues were up 59.9% year-over-year. Management attributed these numbers, in part, to wholesale customers electing to order earlier than usual to contend with longer-than-usual transit times. As such, the brand expects this wholesale revenue surge to slow in Q2" (footwearnews.com).
The collapse of consumer confidence
The critical point is that even if footwear retail is only slowly losing its drive in the US, consumer confidence, as measured by the University of Michigan's consumer sentiment Indicator (not seasonally adjusted), crashed entirely.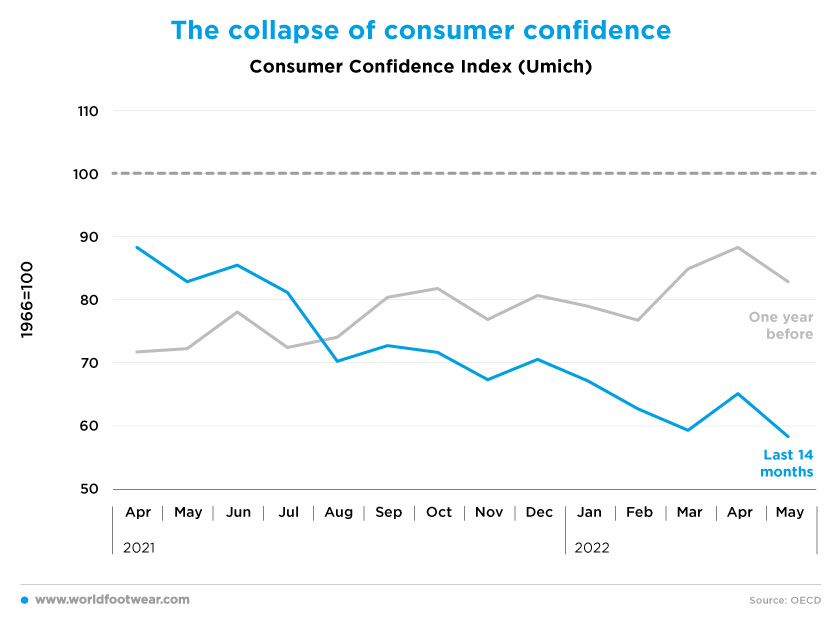 Joanne Hsu, the new director of the survey consumers of the University, explained that "consumers' assessment of their current financial situation from a year ago is at its lowest level since 2013, with 36% of consumers attributing their negative assessment to inflation", while the rise of consumer spending by 0.9% in April was driven by consumers' stable outlook on personal finances. "Persistently negative views of the economy may come to dominate personal factors in influencing consumer behaviour in the future", she added (novonite.com).

On the same line of thought, Lynn Franco, Senior Director of economic indicators at the research association The Conference Board, said that "inflation and the war in Ukraine will continue to pose downside risks to confidence and may further curb consumer spending this year" (www.tradeonlytoday.com).
A charge back to brick-and-mortar
Let us now compare the quarterly data for both physical footwear retail and e-commerce for the full category of Clothing & accessories (including footwear) from the 1st quarter of 2019 through the 1st quarter of 2022 (not seasonally adjusted, as available).





It is clear the accelerating effect that the COVID-19 pandemic had on e-commerce use during the first year (starting in the 2nd quarter of 2020), as well as its softening through the 1st quarter of 2022 when physical retail was no longer subdue to COVID-19 restrictions.




According to its latest SpendingPulse report, Mastercard said that e-commerce sales were down by 1.8% in April, while in-store sales were up by 10% that month, reflecting a "charge back to brick-and-mortar". (footwearnews.com)
As we progress through the end of the year, we will see if the trend of both somehow gets closer or, instead, continues to diverge, proving the competitive advantage of online now in a non-pandemic new normal.