Register to continue reading for free
US Retail: footwear prospects until the end of the year are at a standstill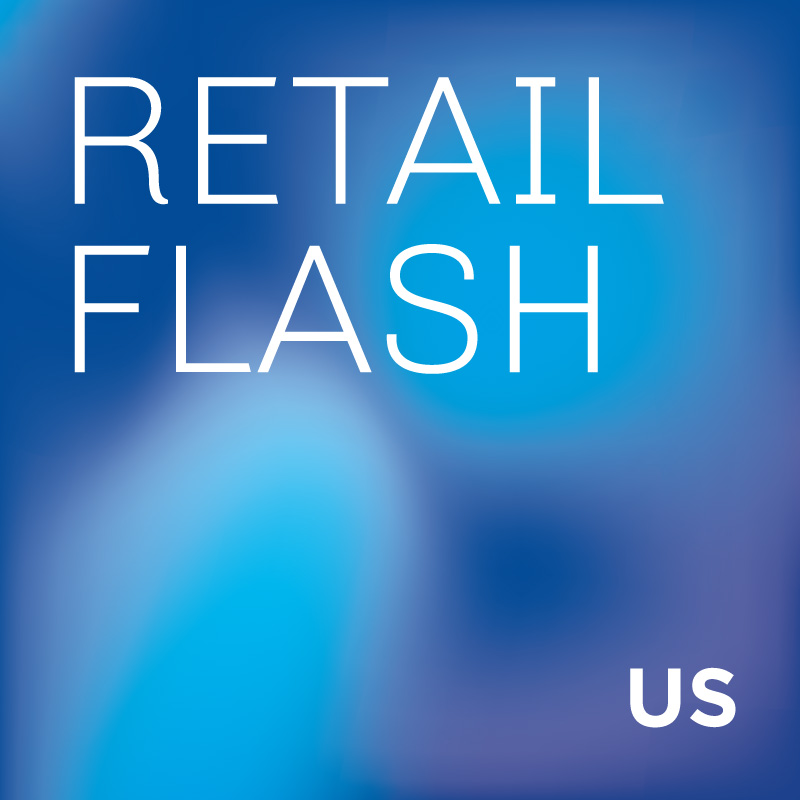 Despite signs of a certain resilience from consumers over the summer, companies are taking a cautious approach for the rest of 2023. The long deceleration in footwear inflation came to a halt in August, so if the trend recedes, wage increases will have to follow suit, or the positive outlook for footwear retail could be jeopardised. It's not surprising how carefully retailers are managing their inventory at the moment: neither too much nor too little
Companies more cautious than economists
After January's outlier figure, both the full retail category of Clothing & Accessories and the subcategory of retail sales in shoe stores (by the US Census Bureau) resumed the previous downward trend exhibited at the end of 2022. However, since April, both have reversed the trend, particularly footwear. In July this year, shoe stores recorded an increase of 3 percentage points year-over-year, despite the decline in department store sales reported by Footwear News, both in the first half of the year (down by 1.1% year-over-year) and again in July (down by 3.4% year-over-year), which is a key warning.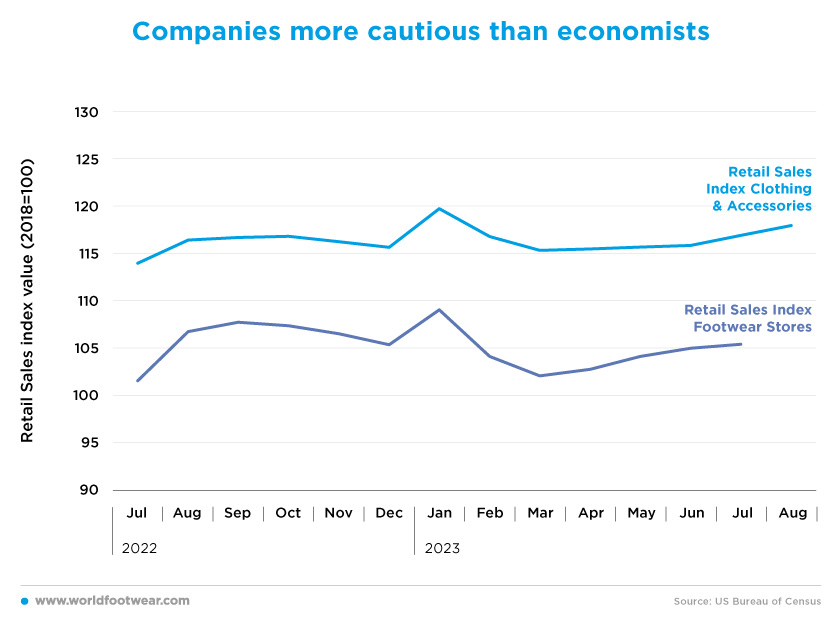 Some, like Jack Kleinhenz, Chief Economist at the National Retail Federation trade group, say that the "data shows the ongoing resilience in consumer spending", (because despite the retail sales growth slowdown), "July got a midsummer boost from special deal days offered by multiple retailers, and the pace of sales was clearly helped, more than doubling the previous monthly gain". Nevertheless, Stephen Stanley, Chief US Economist at Santander, points out that consumer resilience lies on "households (being) in extraordinarily good financial shape, (with) liquid assets remaining elevated by a huge margin relative to pre-pandemic norms (and), on top of that, a vibrant labour market (…) generating robust real income gains".

Should the growth figures in August for footwear retail be the same as the ones for Clothing & Accessories, the consumers' financial situation is likely to stand. However, according to Shoe Carnival's second quarter results, among other companies, the picture is not so optimistic: "While overall conditions improved from earlier in 2023, soft traffic results continued within lower-income households and urban markets (with) comparable store sales down 6.5% (only) partially offset by 5.4% e-commerce net sales growth. And market conditions continued to modestly improve in early third quarter 2023 versus second quarter".

"We are taking a measured approach to the balance of the year", concluded Mark Worden, President, and Chief Executive Officer of Shoe Carnival.

Online gains expected to strengthen in the second half
Quarterly data on clothing (including footwear) online sales (not seasonally adjusted, by the US Bureau of Census) in the first two quarters of 2023 are lower than last year (minus 13 percentage points in the first quarter and minus 7 percentage points in the second). But the situation seems to be changing in the second half of the year.




The biggest monthly year-over-year gains in footwear retail in July "came from non-store retailers, a category dominated by e-commerce players, which rose 10.3% for the month with a boost from Amazon's Prime Day shopping bonanza" (footwearnews.com).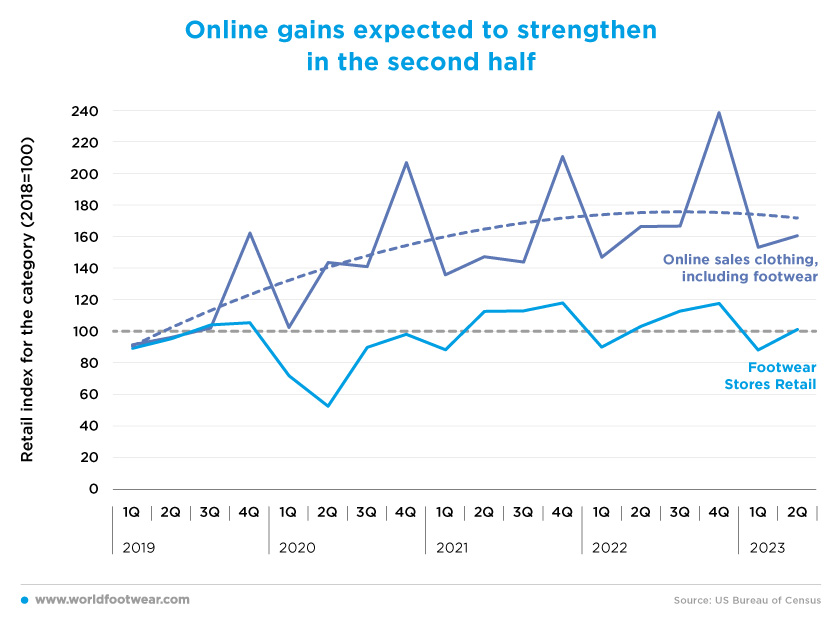 KPMG consumer and retail strategy principal Julia Wilson has clearly anticipated it based on the fact that "July (is) the top month for back-to-school shopping in general, with more than 40% of consumers planning to do their back-to-school shopping online, and taking advantage of early promotions, such as Amazon's Prime Day, to find great deals on (…) apparel and footwear".
In addition, Adobe's Digital Price Index shows that online prices have fallen consecutively for 12 months, registering a 3.2% year-over-year decrease in August. Looking ahead, according to Adobe's expectations, the 2023 holiday online shopping will see "deep discounting (and) a still stable amount of demand on consumers' part from November to the 31st of December (rising) by 4.8 year-over-year".

However, it's one thing for retail growth; it's another to offset any offline downturn.



A wishful price tag: "as wage gains hold" *
After a continuous fall in inflation from its peak in June 2022 (by 9.1%) through June 2023 (by 3%, measured by the annual growth rate of the All-Items Consumer Price Index, by US BLS), it accelerated again, in the following two months, closing August at 3.7%. If this upturn stands and wage gains don't follow, discretionary spending retail will be critically jeopardised.





In the meantime, footwear price inflation also decelerated since July last year, with negative growth in June and July, but returned to neutral in August. Should overall prices continue to accelerate, sooner or later footwear prices will have to follow suit and retail footwear will be hit even harder.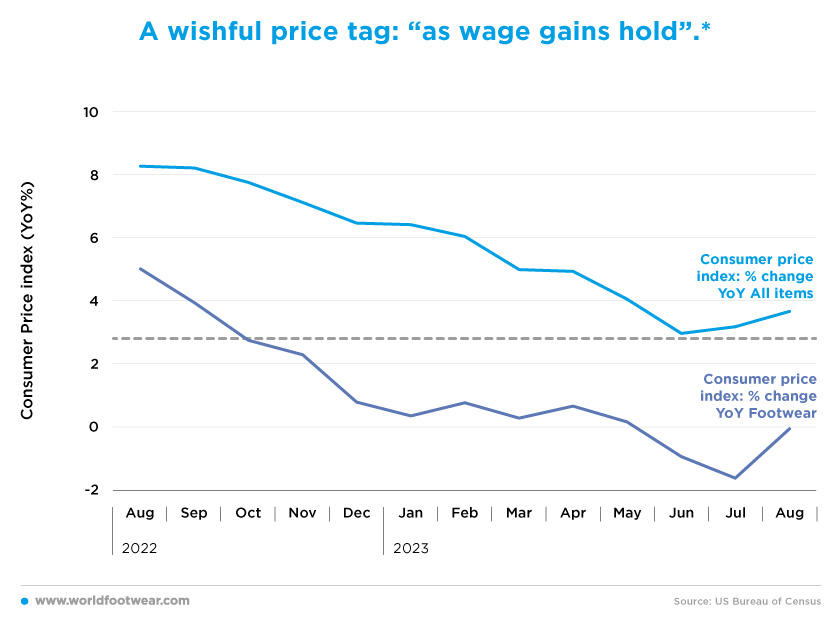 Gary Raines, Chief Economist at FDRA, apparently rejects this risk. He said, "we still see little evidence to suggest retail footwear prices will go sharply higher. Instead, we continue to look for (…) import costs to moderate over the balance of the year, (…) as the average landed cost of footwear imports sank year-over-year three of the last four months, most recently falling 5.2%, the sharpest drop in 23 months.
According to KPMG's 2023 Holiday Shopping Outlook, "inflation is consumers' top concern at 82%", (…) "which (will) impact how the holiday shopping season ahead will play out". Matt Kramer, National Sector Leader of consumer and retail at KPMG foresees that "to the delight of retailers, the resilient consumer will remain", while cautiously adding a wishful "as wage gains hold"*.
Neither too much nor too little inventory
Despite the slowdown in prices, with footwear retail sales resuming an upward trajectory since April (seasonally adjusted, by the US Census Bureau), footwear imports (in volume, not seasonally adjusted by USITC) reacted in the same way.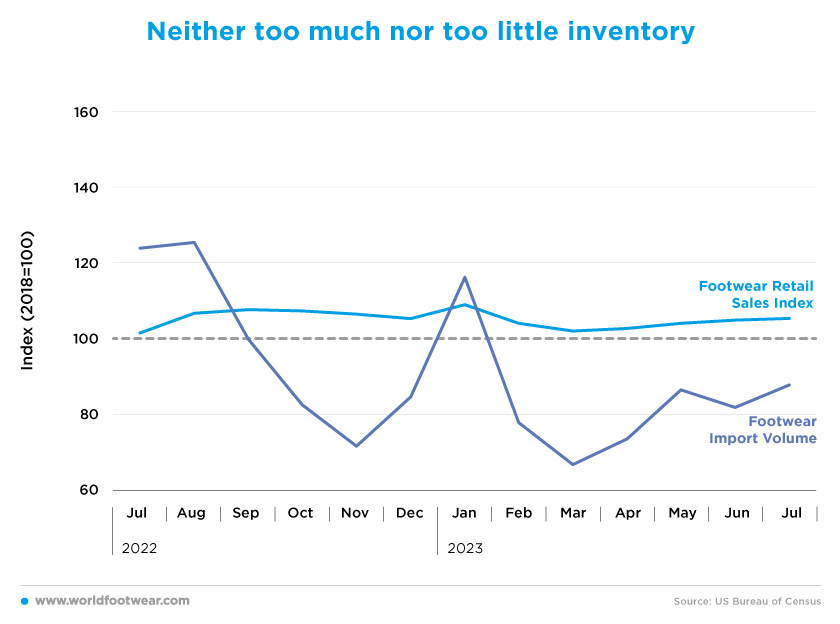 However, they did so at a faster pace because "the inventory excesses and supply chain slowdowns of the last two years (are) now mostly a thing of the past" (footwearnews.com). And as Michael Zdinak, Director of US Consumer Markets Service at S&P Global Market Intelligence, warns, "if demand picks up (and) inventory buildup this summer has lagged, (…) prices could (pick up) as well"

It appears that imports are being managed so that retailers don't have too much inventory to avoid a squeeze on profitability as in the recent past, but that is also sufficient to avoid discouraging greater demand due to price increases.
Headaches don't stop just because retailers are fed up with
Consumer confidence indicators are expected to be good indicators of retail when looking to the future. The University of Michigan's consumer sentiment for the US (1986=100, not seasonally adjusted) was on an upward trend since August 2022, whereas it slipped down in August and September 2023. This could be bad news for retailers, and most likely for footwear retailers too.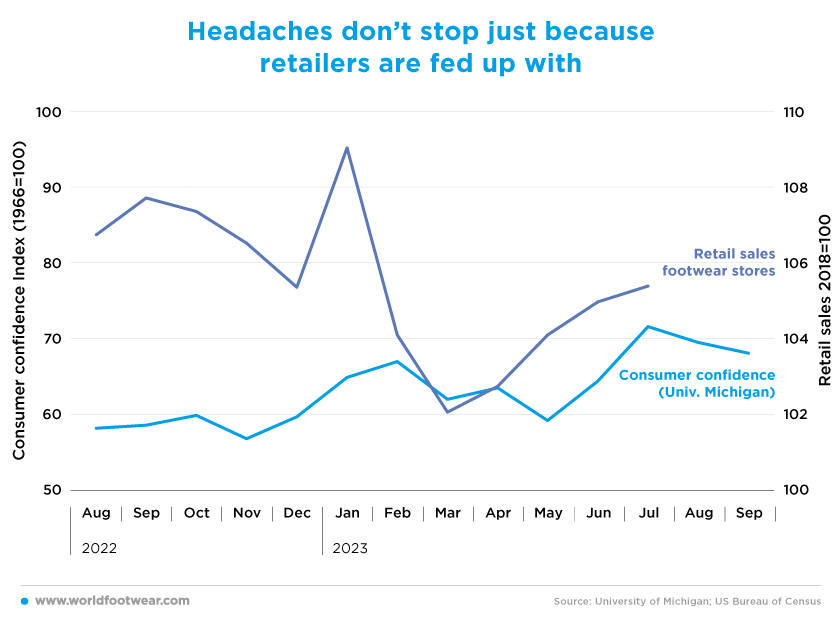 Dana Peterson, Chief Economist at The Conference Board said "August's disappointing headline number reflected dips in both the current conditions and expectations indexes", (adding) that "hard data confirm that employment gains have slowed, (and) overall wage increases are less generous compared to a year ago", while "expectations for the next six months tumbled back near the recession threshold of 80, reflecting less confidence about future business conditions, job availability, and incomes". One month later, in September, she noted that "consumers continued to be preoccupied with rising prices in general, (…) and expressed concerns about the political situation and higher interest rates (…) dropping the key economic indicator to the lowest level in four months" (edition.cnn.com).

According to McKinsey's ConsumerWise sentiment survey, US consumer optimism in the third quarter of 2023 dropped slightly from the year's spring highs. Over the summer, (…) 44% reported mixed feelings, a two-percentage-point increase from April 2023. (…) With this "tempered optimism" came an increase in consumer spending year-over-year, with a positive change seen across most categories, yet not necessarily clothing and Footwear.
But apparently, that was not the opinion of the brands' executives at the Atlanta Shoe Market Show. Some of them commented that "their retail partners after three years of supply chain and inventory headaches seemed ready to write off 2023 entirely. They preferred to look ahead toward 2024 when it is hoped the market will return to, if not normal, at least a more stable and predictable environment".