Register to continue reading for free
UK Retail: stabilisation of the footwear trade is the best we can hope for at the moment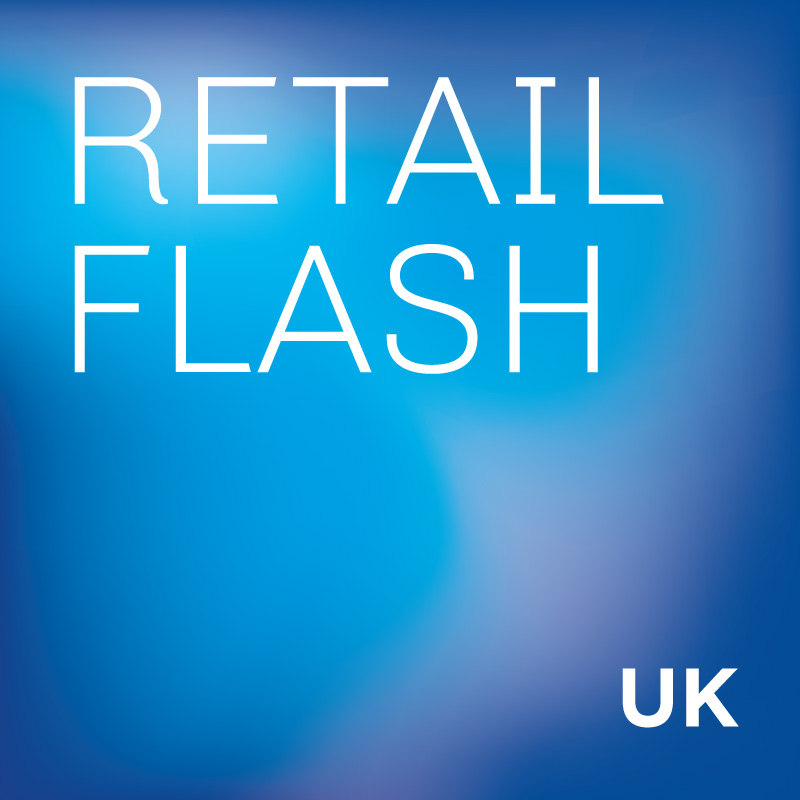 The bad weather in July and August may not have helped retail over the summer, but it would be ill-advised to believe that's what it's all about. Despite some improvements in the general consumer price index, the footwear segment continues to show some resistance to going along with the trend. Inflation will have to continue to fall in order to contribute to sustained sales growth in the future, as most consumers have too much on their plate to spend on non-discretionary items. The only positive sign comes from imports, whose data seems to indicate that at least a stabilisation in retail trade is on the horizon
Inclement weather may mask the consumer's demand weakening
In August, the Textile, Clothing, and Footwear (TCF) retail sales value index in the UK (by ONS) increased by 10 percentage points, as compared to the same period of last year, while overall its movement flattened throughout 2023.

However, TCF's corresponding retail sales volume index is actually on a downward trend this year. The available data on footfall shows the same: "July was the first month-on-month drop of footfall for 14 years (…) and footfall performance in August points to a continuing weakening in consumer demand, which is unsurprising given the recent rises in interest rates and ongoing high levels of inflation", said Diane Wehrle, marketing and insights director at MRI Springboard.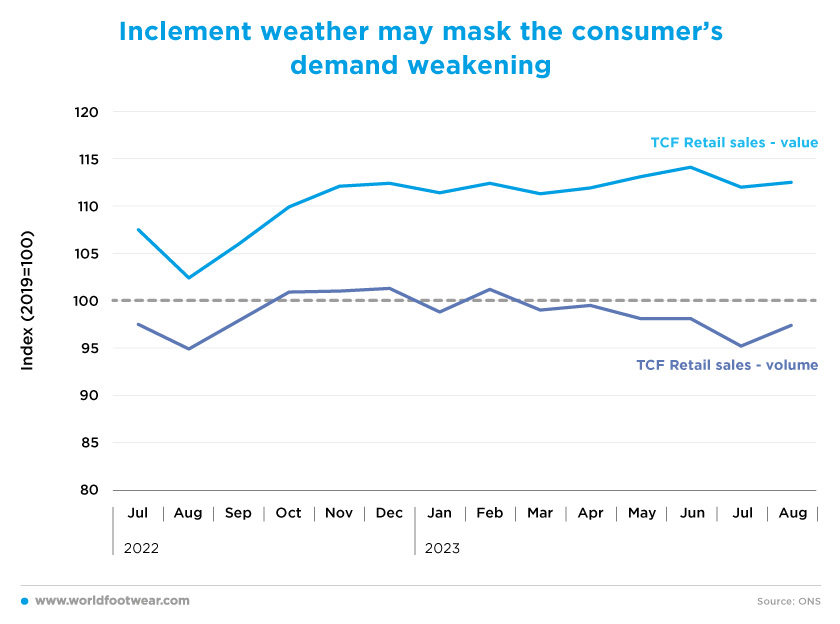 But in truth, the bad weather in July and August wasn't also particularly retail-friendly for the clothing and footwear segment, which represented a significant cost for shopping streets and high streets retailers, although not so much "in outlet retail, as shoppers turn to discount formats to make spend go further" (brc.org.uk).

For instance, Primark acknowledged the negative impact as well of the "unusually variable and unseasonable weather especially in July, then in the first half of August, and again in more recent weeks on transactions and footfall", even though "for the fourth quarter UK like-for-like sales are expected to be up 7% year-over-year".

Wet weather paused the "back to stores" trend
While TCF retail sales in-stores in 2023 (by ONS Data) declined from 20% in January to 10% in August, the online TCF retail sales not only grew into positive ground, as its speed duplicated from about 9% in the first month of the year.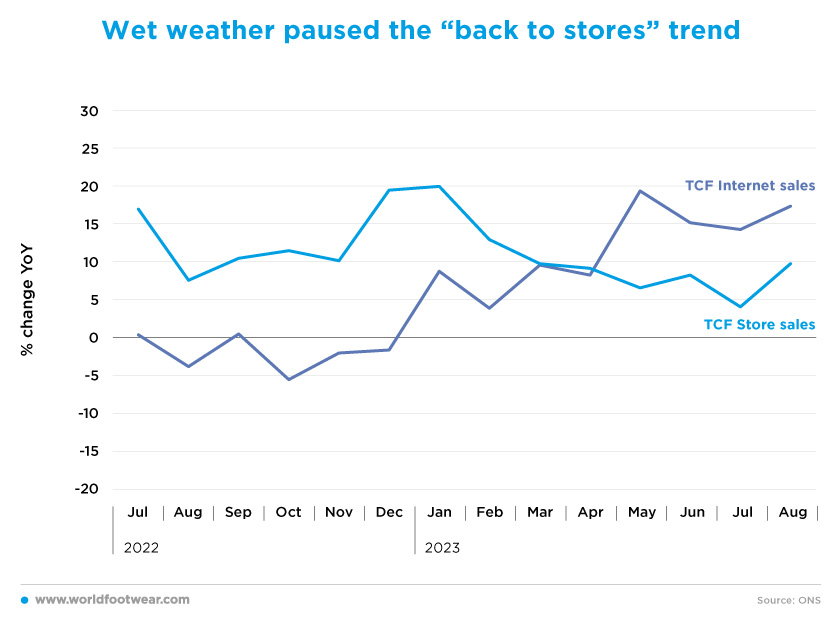 The wet weather in July and August may have contributed to some shift from offline to online retail in the TCF category, at least halting the momentum of the so-called "back to the shops" trend caused by the end of the pandemic. However, the latest trading update from
Asos
, the global online fashion destination, seems to point otherwise, having reported a "
stronger start (with) the hot weather (of) June followed by a weaker sales result (due to) a wet July and August
".
In any case, if physical TCF retail is down and digital TCF retail is up, with a share of around 28% of the category's market (according to the ONS), we understand why Asos frames its performance "in the midst of a deterioration in the UK clothing market", calling for more critical global market fundamentals than just the weather.


Fashion retail requires two (price sets) to tango
Changes in consumer prices are critical to understanding TCF's retail sales performance. The effects on energy and food prices following the invasion of Ukraine drastically hurt consumers' purchasing power, reducing spending on discretionary items, such as clothing and footwear, in favour of essentials. As a result, clothing and footwear retailers were forced to restrain their price increases to limit sales losses.
Since October 2022, the pace of the overall consumer price index has dropped by 4.4 percentage points to 6.7% year-over-year in August, which was undoubtedly good news for non-essentials. Still, footwear retail price inflation closed August at 5.3 % year-over-year, saving consumers only 1.4 percentage points over the same period. Losses in footwear retail volume in 2023 could also be the result of this particular price resistance.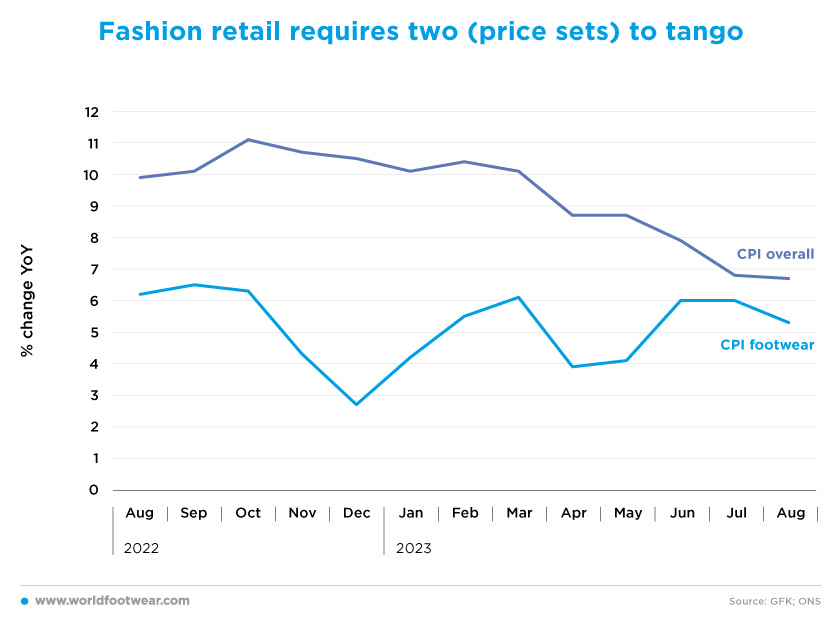 "As we move into the last half of the year, retailers will be hoping that anticipated falls in inflation start to deliver stronger sales growth in order to improve the overall health of the sector. The wild card continues to be food inflation, which remains stubborn, and is having a negative impact on consumers' ability to spend on non-essential items", commented Paul Martin, UK Head of Retail of KPMG.
On the digital side, Suzanne Steele, VP for UK and Ireland at Adobe, commented: "Our data (Adobe Digital Economy Index) shows an acceleration in e-commerce spending in June, July and August after a slow start to the year, (and our) figures reveal online prices coming down in many areas (a 6.2% year-on-year decline, the most substantial drop in inflation since March 2022) with slower price increases (in) essential items".



Ask imports about prospects for retail
Given that TCF retail sales (in value) tended to stabilise in 2023, while TCF retail sales deteriorated somewhat in volume, imports of the category should have reacted in the same way.
As we saw in the previous WF Retail Flash, after a striking frustration with retail growth at the start of the year, the footwear subcategory saw a drastic reduction in imports from October to April. The price squeeze on imports alone cannot explain this reduction (monthly data on the volume of imports is not available on OBS).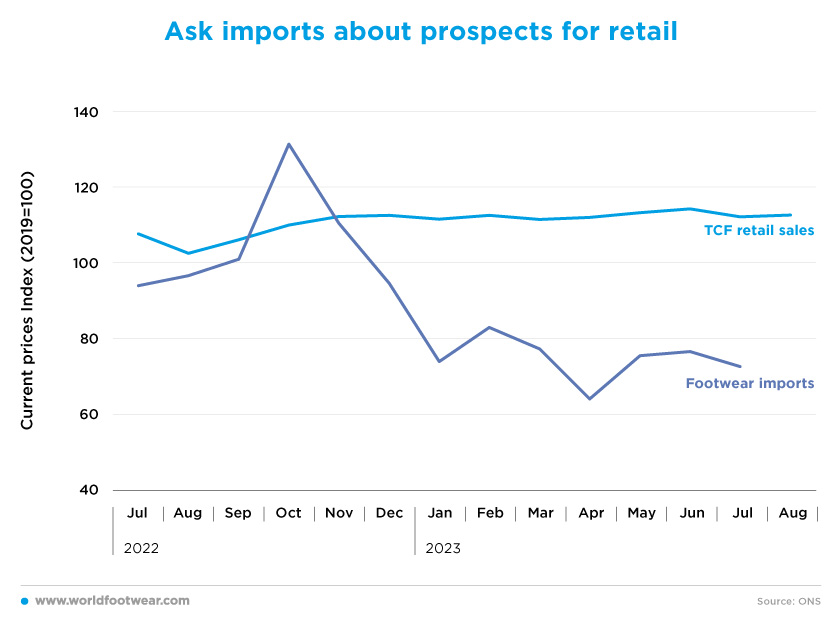 Following what has happened since April, the expectations of footwear imports seem to be, at best, for a stabilisation of the retail trade.

How much more confidence is needed for more retail?
In the year that ended in September, the Consumer Confidence Index (by GfK) reduced consumer pessimism by 28 points, reaching the highest level since January 2022. Sandra Horsfield, economist at Investec, said that consumer confidence was supported by "still strong wage growth against a cooling trend in inflation and what continues to be low unemployment".
Meanwhile, the overall retail (in volume) remains flat and since September last year and up to August this year, the TCF retail sales index (in volume) has not recovered one single point. In fact, TCF retail now seems to be rather insensitive to consumer confidence improvement, rather than following a downward trajectory.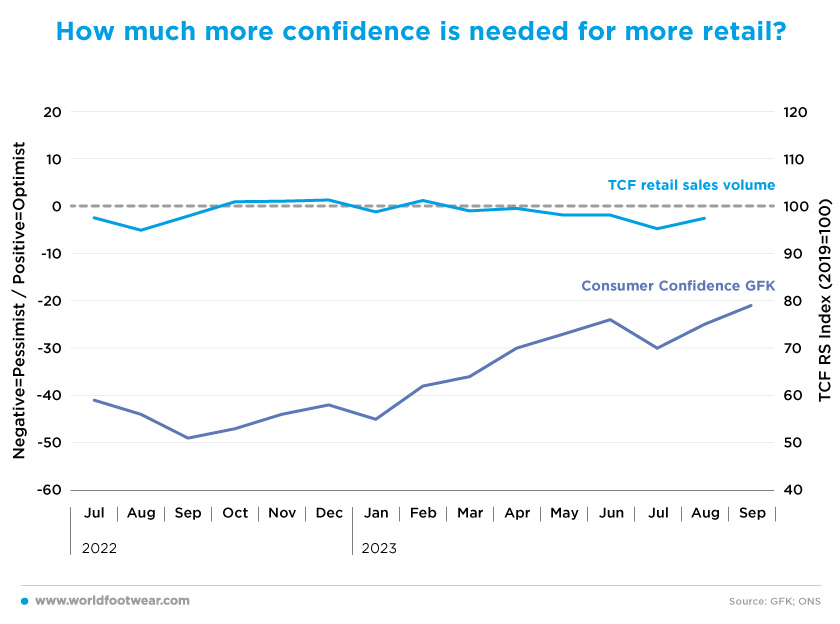 As Joe Staton, client strategy director at GfK, clarified: "Despite the uptick in September and August, sentiments remain in deeply negative territory and below the long-term average of minus 10".

Looking ahead, consumer confidence still has a long way to go. To improve the retail outlook, there is a need for steady containment of inflation, affordable winter energy, moderation of borrowing costs and exclusion of the risk of unemployment that may result from a weakened economy.