Register to continue reading for free
UK Retail: a too-long string of ifs damps the mood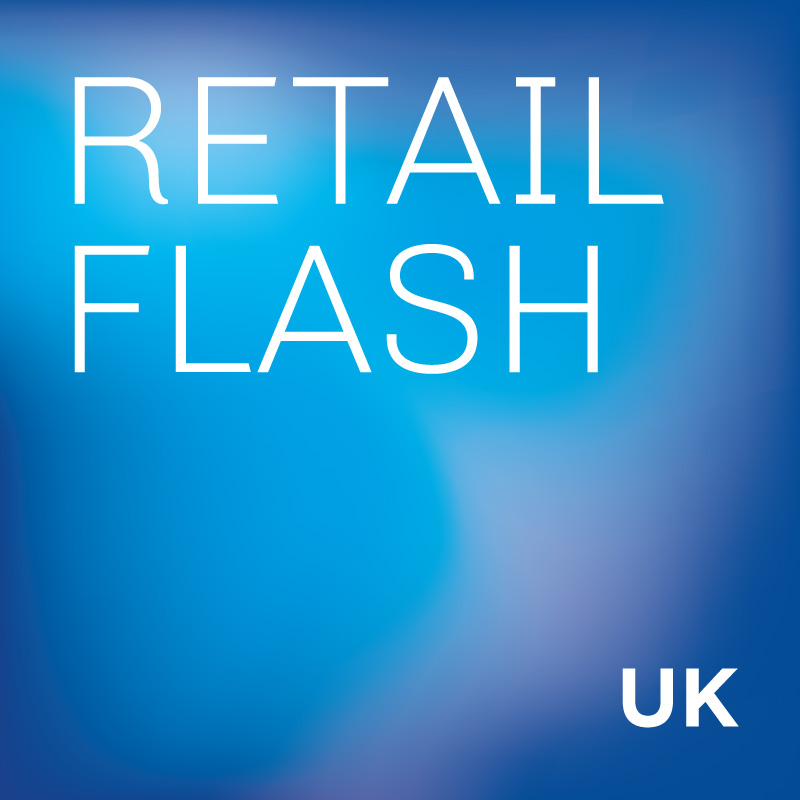 Consumer confidence in the UK has yet to take off to somehow improve retailers' mood in the textile and footwear sectors. Rising wages, falling energy bills and even slightly lower inflation may help brighten the atmosphere, but the uncertainty surrounding all of these factors doesn't help retail much at present. For now, except for sticking to their previous conservative import decisions and watching closely for upcoming changes in consumption patterns, there's little to be done
Wishful thinking may not be good advice
Consumer confidence will be key for retailers' hope in the coming months. But wishful thinking isn't always good advice. According to the GfK's headline confidence index, consumers' mood has consistently been "further away from the minus 49 record low last September" (reuters.com).





However, the TCF (Textile, Clothing, and Footwear) Retail Sales Volume index (from ONS), in particular, continues its flat trajectory since then. The ultimate reason for such disappointment, despite its clear improvement, is that consumer pessimism is still 27 points below the point of optimism about the future.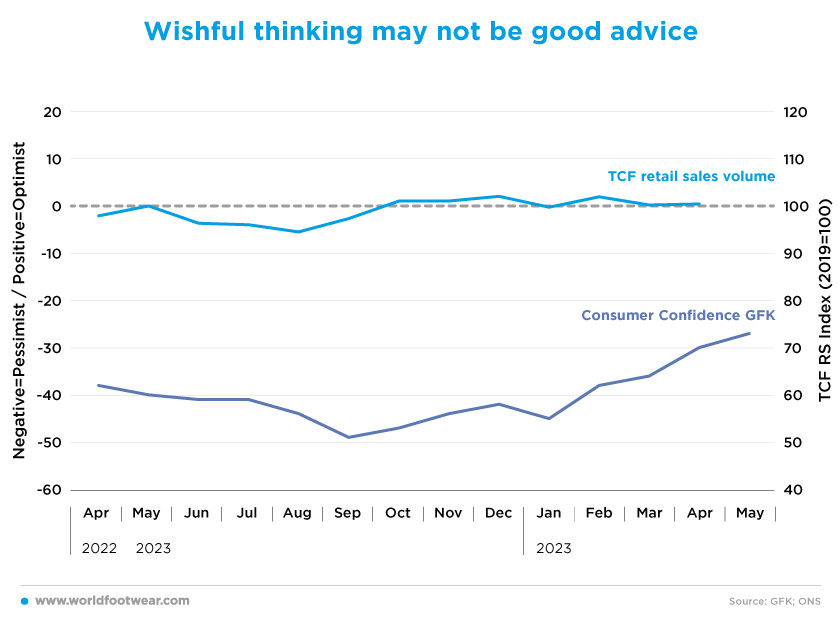 As previously explained by Joe Staton, client strategy director at GfK, "an improvement in the overall index score (may) mask continuing concerns among consumers about their personal financial situation (which is) linked most strongly to household expenditure, (if) wages are not keeping up with rising prices". And this is even more true when the indicator is "still at levels historically associated with recessions" (reuters.com).


Is not yet the time to switch on imports
The UK market is highly dependent on imports in the TCF category, and footwear in particular. Therefore, the time trajectory of footwear imports (in value, by ONS) after October last year provides a striking clue on both importers' and retailers' expectations of future activity. In March, the footwear import value closed 27 percentage points below the 2019 baseline, as well as year-over-year.



It is clear that footwear retailers, at the end of March, were still not convinced that the time had come to change their supply chain decisions. It is, therefore, unsurprising to note that TCF's retail sales turnover (at current prices) in the first four months of the year stopped growing.
Moreover, in this same period, as currency volatility lessened and some input costs fell back to normal levels, imports were supposed to resume should retail prospects be good enough. Apparently, this was not the case (abf.co.uk).

What you see is what you get
According to the Confederation of British Industry (CBI), "retailers reported acute price pressures, with price growth in the 12 months to May remaining near multi-decade highs. Shops expect prices to rise at the same pace next month", and the UK's high inflation rate fell by less than expected to 8.7% in April (reuters.com).





In contrast, for Helen Dickinson, Chief Executive of the British Retail Consortium, these were good news: "consumers will welcome the fall in headline inflation, and while food inflation figures remain high, we are starting to see the price of some essentials begin to come down, as lower commodity and energy prices begin to filter through. Clothing and Footwear price inflation also eased for the second month in a row as retailers introduced their Spring discounts" (brc.org.uk).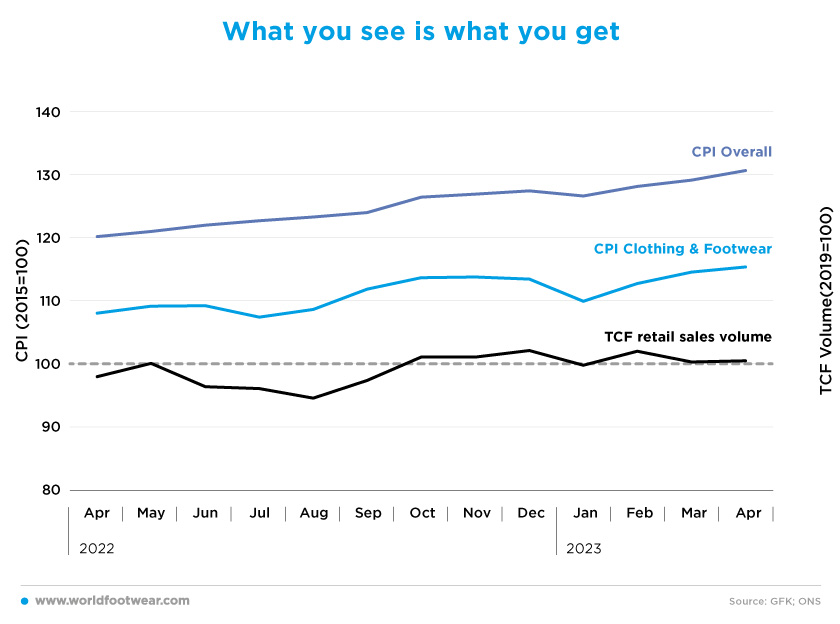 But, at the end of the day, "what you see is what you get". The Overall Consumer Price Index jumped 10 percentage points in April from a year earlier, while Clothing & Footwear CPI increased by 7 percentage points, following a slower upward direction. Meanwhile, TCF retail sales volumes remained at the 2015 baseline from October to April. One month later, Helen Dickinson from the BRC, had acknowledged that "consumers continued to adjust their spending patterns, looking for lower price alternatives on many key products, leading to falling sales volumes" (brc.org.uk).


Still a long string of "ifs" to uplift retail
Inflation is here to stay, although at lower rates than at present - we hope -, but it will still take a few years to return to the levels we were used to in 2021.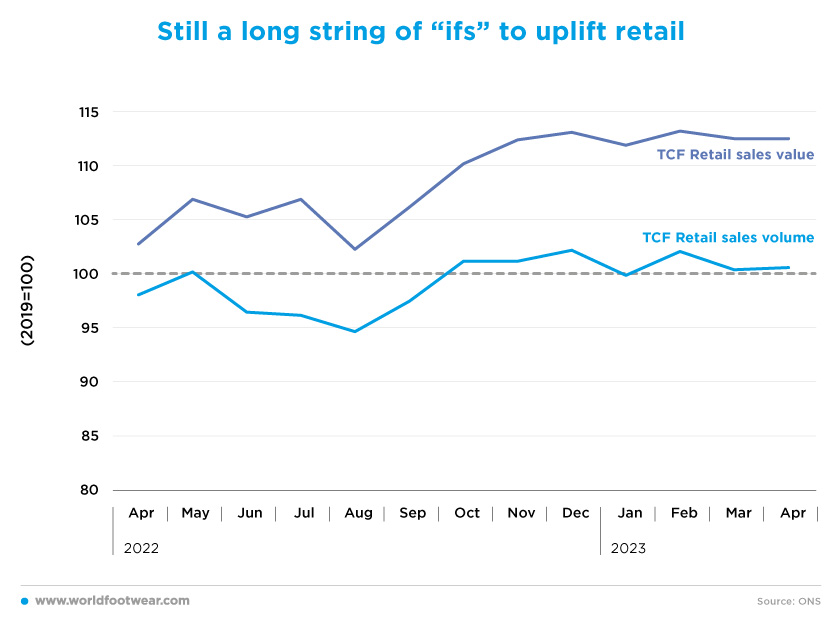 For retail to be better off, there needs to be a rise in the TCF retail sales volume line. To this end, "rising wages (must) offset some of the cost-of-living squeezes (while) any increase in unemployment (may) dampen confidence once more", considers Emma Mogford, a fund manager with Premier Miton Monthly Income Fund (reuters.com).

Some sources forecast this will happen in the second half of this year. But it's not crystal clear. Energy bills (must indeed) decline from July to boost incomes and help support retail sales, according to CBI's comments (Reuters.com). "Government must ensure it does not add cost pressures onto retailers from new policies, as these will mainly serve to push prices back up for people up and down the country" (brc.org.uk), while if the price pressures continue to look strong enough, the Bank of England will most likely raise rates again. Moreover, cost pressures (should no longer) make retailers think twice about investing in new stores, as was the case in the first quarter of the year (brc.org.uk), not to mention stopping to market fewer stores as Shoe Zone successfully did, in the fiscal year ending in March to safeguard its profitability (shoezone.com). Actually, it's a very long string of "ifs".



Gone are the days when the online was the fashion store Terminator
In the year ending in April, the performances of the relative growth rates of TCF retail sales against TCF internet sales (both at current prices, by ONS) were much more favourable to sales in stores, which were always on positive ground, while online sales did not move into that zone until 2023. Nevertheless, the rates have converged quite a bit since January, with stores' growth going down to 10% and internet growth accelerating slightly in the range of 5% to 10%.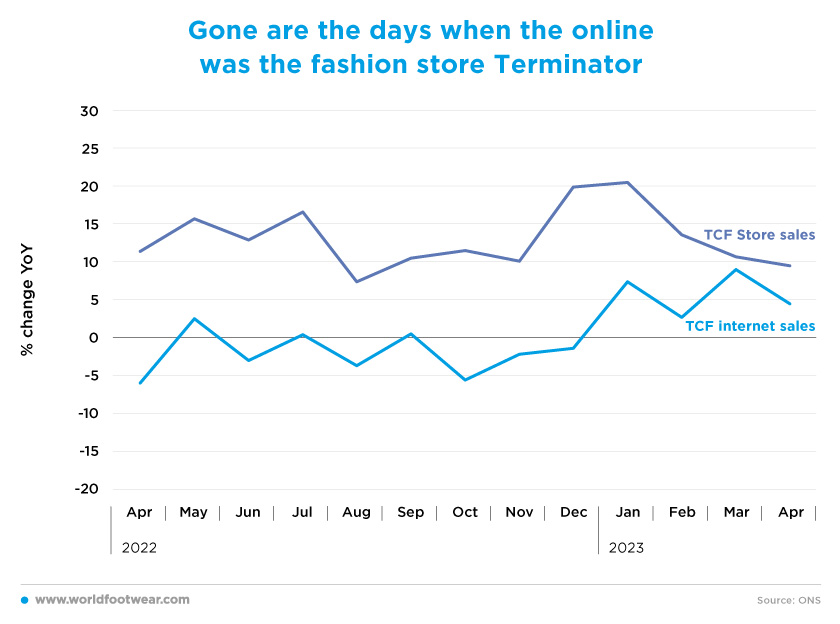 As a result, physical retailers with an online presence, such as Shoe Zone and Primark, posted positive digital revenue growth at the end of the six months that ended in March (shoezone.com; abf.co.uk), while news on online fashion models such as Asos and its rival Boohoo seem to be quite negative due to supply chain problems, a higher number of product returns and fierce competition (reuters.com).
As a result, TCF's share of online retail is declining slightly to 25% (down by 1.3 percentage points year-over-year in April), but is still around 7 percentage points above the average share in 2019, before the COVID-19 pandemic forced the closure of physical retail.