Register to continue reading for free
UK Retail: Anticipating a new Retail Normalcy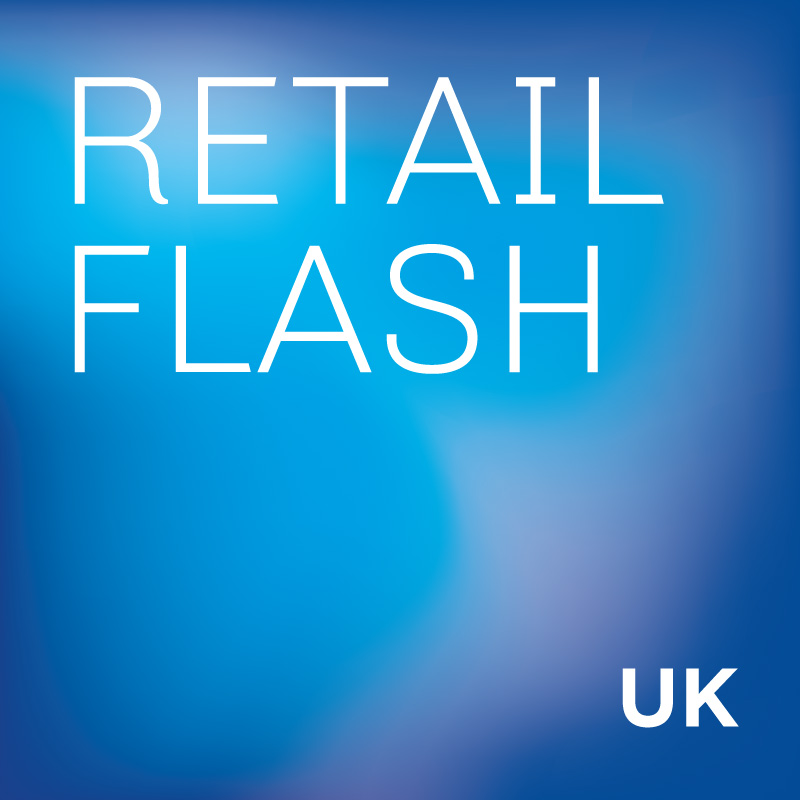 With the seasonally adjusted TCF (Textile, Clothing & Footwear) Retail Sales Index successfully resuming the 2018 baseline, a new Retail Normalcy is anticipated. Importers, on their side, have well sensed since February that retail was about to reignite, as depicted by the increase in the monthly footwear imports. As the vaccination process evolves favourably in the UK, Consumer Confidence in the country seems to be unstoppable
Anticipating a new Retail Normalcy
The kick-off for this World Footwear Retail Flash could not be more disappointing coinciding with the end of the financial year and with a retail dive of more than 51pp (percentage points) down the line in February.

The Retail Gazette reported that Shoe Zone, the British footwear retailer with 422 stores (after slicing some 38), has recorded a revenue decline of 41% year-on-year, despite digital revenue more than tripling, for the first six months in the 2020's fiscal year. Chief Executive Anthony Smith is cited by shoeintelligence.com referring to a fiscal second half with "experienced significant disruption in the supply chain and a fall in consumer spending, particularly in January, February and March when all stores were closed".
In February, the same source, citing the Sky News, informed that as trading conditions remain difficult in the UK, Dune was reviewing its business, asking landlords to concede more. A request done by many other high street retailers, such as Clarks, Hotter Shoes and L.K. Bennett.

Also, British retailer of luxury footwear and accessories Kurt Geiger reviewing its year ending in February 2021, reported that revenue and profits had been "materially impacted" by the pandemic, contrasting with the information about the previous 2020 financial year closing the month before the COVID-19 pandemic broke out in the UK, in which the company enjoyed a 3.7% increase in revenue.

Saying this, fresh
ONS statistics
now apparently point to the fact that
retail has left COVID-19 behind for a new normality
. After two months recovering from the February tumble of more than 51pp down the line, the seasonally adjusted TCF (Textile, Clothing & Footwear) Retail Sales Index successfully resumed the 2018 baseline.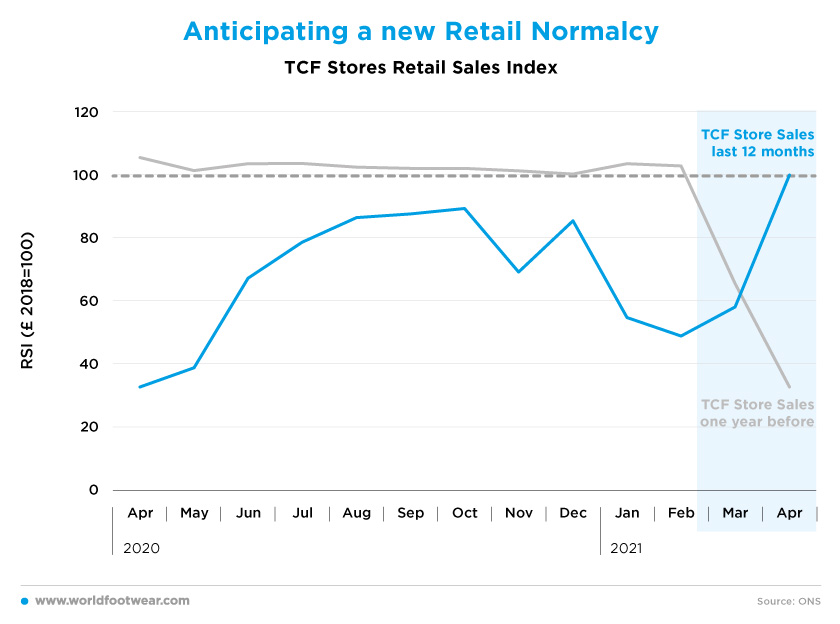 Retail Upturn Foreseen by Importers
However, there are still some mixed feelings about the recovery.

Anthony Smith, CEO from Shoe Zone, declared that after the re-opening of business, trading started strongly but has since then "settled down to a more mixed picture of good High Street and retail park sales but weaker shopping centre performance".

Helen Dickinson, Chief Executive from British Retail Consortium, says that "inner cities and town centres continue to perform poorly as many people continue to work from home" and "while the boost in sales is positive as the industry continues to invest in safety and the online offer, high streets still have a long way to go on the path to recovery". "Retail parks continued to fare better than shopping centres and high streets, as they benefit from the presence of large stores, more space and on-site parking".

Importers, on their side, have well sensed since February that retail was about to reignite, as depicted by monthly footwear imports.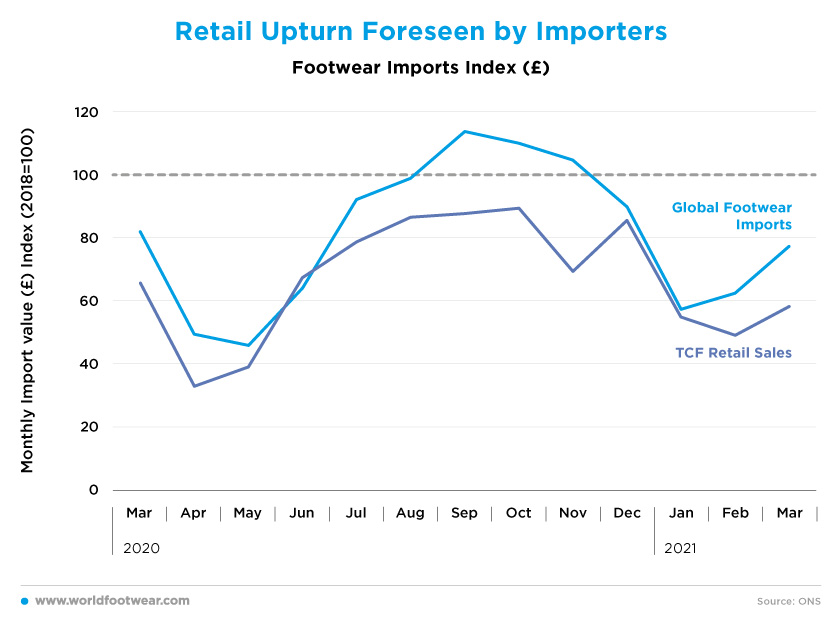 Retailers Eager to Recoup Prices

Footwear retailers' prices immediately reacted since March in a gradual realignment with the new market demand conditions. While at the April 2021 closing prices were still more than 3 1/2 pp below the same month in 2019, should retail maintain its present upward drive footwear prices will pick, if not exceed, the pre-COVID bar of 2019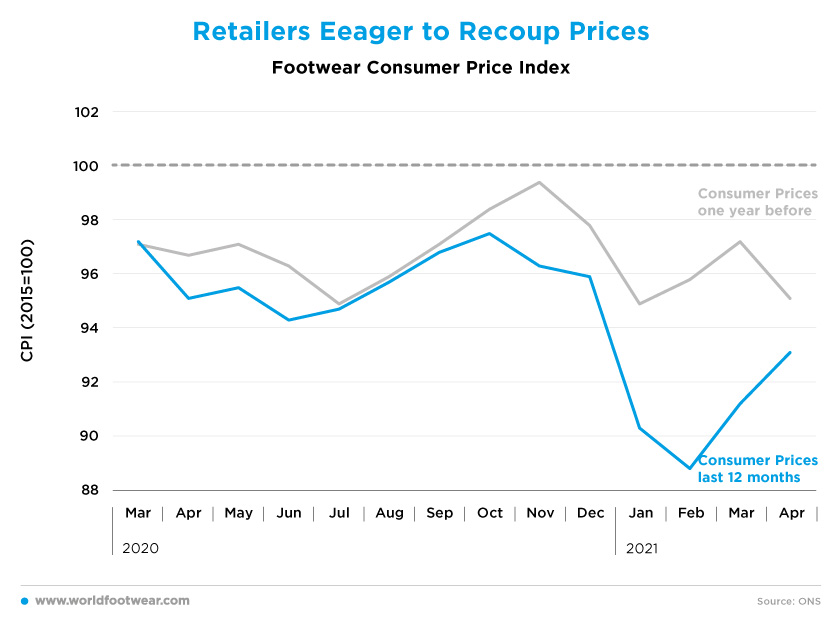 Consumer Confidence seems Unstoppable
The success of vaccination in the UK has consolidated the upwards trend of consumer confidence (Gfk) as expected and as of March TCF retail sales decline resisted no more. With still less pessimism in April, retail accelerated and the same effect, well above the 2018 baseline, can be anticipated in response to further confidence gains in May.

The question is for how much time the retail growth is sustainable as the pent-up demand accumulated due to past retail restrictions is progressively absorbed. Even with the consumer confidence located on the positive side, footwear retail will return sooner or later to its very moderate pre-COVID-19 growth profile.

Paul Martin, UK Head of Retail at KPMG recognizes "retailers face an interesting few months as they assess the level at which online shopping falls back and full re-opening of the hospitality sector will likely see a dilution in retail spend in favour of leisure, entertainment and hospitality".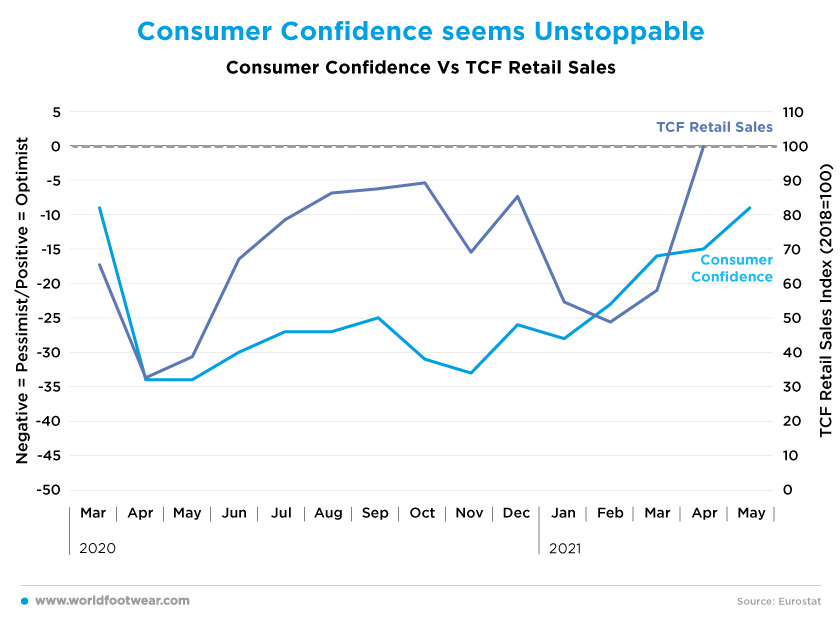 How much Online share is Sustainable?
In fact, with the re-opening of all non-essential physical retail stores in April, the proportion of online TCF sales immediately lost some 20 pp compared with last year.
As commented by Andy Sumpter, Retail Consultant for Sensormatic Solutions, cited by the British Retail Consortium "despite occupancy limits restricting the numbers of customers allowed inside shoppers happily braved long queues to get back in-store and shop their favourite brands in real life, after months confined to shopping from behind a screen".

So far, the share is still more than 10 pp above the pre-pandemic level with an online TCF growth rate (Y-o-Y) above 80% in April. And it is expected that this online share gain will likely enlarge as the consumer eagerness for shopping out moderates after so much time of confinement.

In fact, ASOS sources, cited by shoeintelligence.com, said "we expect in the coming months a portion of consumer demand will move back to stores as restrictions are eased throughout our markets, but we expect online penetration to remain structurally higher than pre-Covid-19 levels"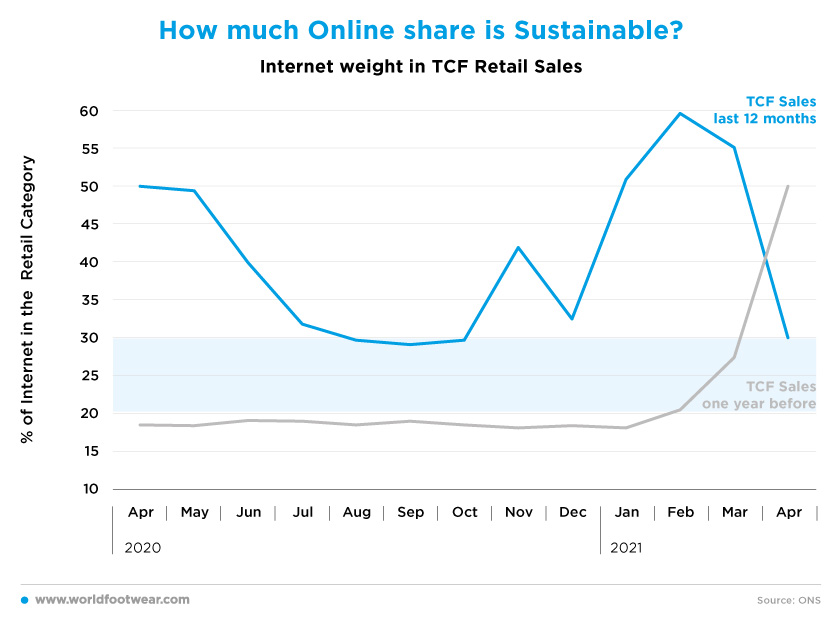 Lucy Reece Raybould, Chief Executive of the British Footwear Association (BFA) says: "There's no question that this has been a tumultuous period for British footwear businesses. The challenges associated with enforced retail closures due to the COVID-19 pandemic have only been compounded by Brexit and now both have forced a 'new normal' upon the trade. I am cautiously optimistic about a revised 'Retail Normalcy,' but I believe more evidence is needed to demonstrate that this post-COVID baseline is beneficial for BFA Members. The rise of consumer confidence is promising, but also tenuous in the UK as concern around the Delta variation continues to gather pace. Feedback from importers is encouraging and a strong summer of sell-through in the UK footwear market could assuage fears and provide a much-needed boost ahead of the winter months. Our goal now at the BFA is to support our members and bolster their resilience and adaptability. Sales have been suppressed for too long and the challenge is bringing revenues back up while creating business structures that can cope with continued uncertainty, potential short-term 'local lockdowns', and invigorated ecommerce demand."