New Generation: meet Tiago Correia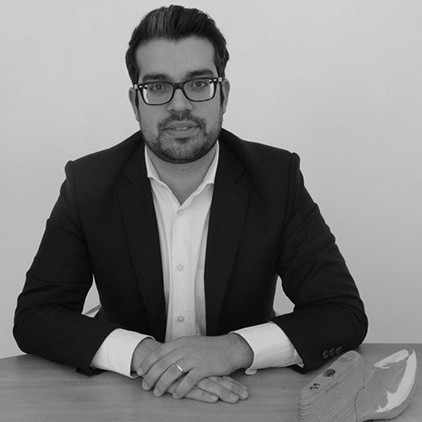 Tiago Correira has a background in Management and has been working in And I Wonder for five years
How did the And I Wonder project begin?
And I Wonder emerged from a necessity. When our founder, Andreia Silva, got married, around 10 years ago, she wanted to have a unique piece for her weeding day. And as she lived in São João da Madeira, she decided her weeding shoes would be the perfect piece to customize. However, her desire was a real challenge. We realized the importance of customization in this sector, not only concerning the visual aspect (choosing the colors or details) but also the comfort customization can provide in such a long day because it allows to choose the best design for the feet and the right type of heel or the preparation of the footwear shape if it's not a foot with the standard measures.

Was working in the footwear sector a natural choice?
I would say the emergence of this project is a combination of several events related to footwear. We didn't exactly choose footwear. When we got together, footwear was already the topic. Personally, until then, I had never thought about the footwear sector for my future.

Do you believe customization the future?
Customization is not the future. It was just temporarily forgotten with the appearance of the large retail chains. However, before, everything was customized. People bought suits from tailors or went to dressmakers and they could choose all their clothes' details. Nowadays, with the technological evolution, it's possible to think about mass customization.

In your opinion, what does the new generation of entrepreneurs has to offer to the sector?
The sector has been working hard to create new brands and added value to the existing know-how. In my opinion, the mission of the new generation of entrepreneurs in the sector is to guarantee the continuity of that value creation and stimulate new sales alternatives. Create new online and offline distribution channels that take the products to the final customers with less intermediates, therefore giving a higher margin to the industrial units to increasingly invest in a sustainable way.

In what way do you believe it's possible to evolve the footwear industry in the coming years?
The sector will have to adapt to the new ways of footwear consumption. Produce smaller quantities and secure the essential high quality. However, to do that, the sector has to be prepared to diversify the sales channels.

What piece of advice would you give to a youngster who is entering the industry?
Despite all of the possible optimization, the industry lives of the people. Choose wisely and look after your team.
For more information abour
And I Wonder
please refer to the
brand's website
.