New Generation: meet Inês Lebre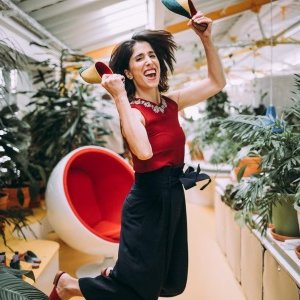 Inês has a degree in International Business Administration by Católica Lisbon School of Business & Economics. In 2017, she created the footwear brand INLU
How does INLU distinguishs itself from other brands?
INLU is a cool, funky and offbeat brand. We want to be known as fun, contemporary, unpredictable and handcrafted. We're focused on differentiating and leaving a mark and we will do so by joining strategical production partners who have a priceless heritage in terms of know-how of the industry. What we can bring to the business is the usage of new materials and bold aesthetical combinations. On top of that we are highly focused on delivering a creative and innovative communication of our products.

As you're going through a crowdfunding process, how is the public acceptance going?
Crowdfunding was the way we found of "being globally born in the most efficient way". In other words, we all know the Portuguese market is not enough for the survival of a high quality and differentiation brand. Gaining access to the international market is increasingly easy, but at the same time increasingly difficult: it is easy to have an online presence, but when creating a website, you're just one more among the thousands already in existence. In this context, the biggest crowdfunding platforms, such as Kickstarter and Indiegogo, can be a launching pad to reach the other side of the world with a simple click. On the other hand, 70% of the projects fail. Again, without a strong positioning, storytelling, marketing, design and team it's almost impossible to achieve the goals. Following the great feedback, we had a lot of opened doors in terms of sales channels and a vital reinforcement in the press and social media. Everything is getting in place at this moment.

In your opinion, what does the new generation of entrepreneurs has to offer to the sector?
We can add value by bringing a more profound sense of aesthetics and a more contemporary design. We also have a deeper knowledge about the fundamental tools for brand communication, such as digital marketing, SEO, social media, websites and the overall online presence. Another interesting element could be a bigger willingness to creative collaborations putting together international people from several domains, such as design, creativity and innovation, even if remotely.