Meet at Agra 2022 closes in a positive mood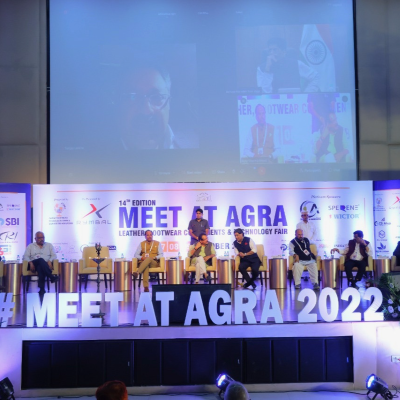 The 14th edition of the Leather, Footwear Components & Technology fair, held between the 7th and the 9th of October in Agra, India, brought together 250 exhibitors from 45 countries
Organized by the Agra Footwear Manufacturers and Exporters Chamber (AFMEC), the three-day event enabled 250 exhibitors from 45 countries – Brazil, Argentina, Spain, Germany, France, Taiwan, China, and India – to display their products through 240 stalls, promoting multiple business opportunities for participating Indian and international companies. According to Puran Dawar, President of AFMEC, the fair was attended in large numbers, as it "generated immense interest among the industry".

At the inauguration, Piyush Goyal, Union Minister of Commerce & Industry, Consumer Affairs, Food & Public Distribution, who was present virtually, remarked that although India has leather to make shoes, it continues to import components. Therefore, the "Indian industry must make components to strengthen the supply chain and become self-reliant", increasing then exports up to 10 times. He also urged for the need of setting up units in Agra to manufacture high-value footwear, adding that the Government intends to invest in the upgrade machines.

Currently, there are about 7 000 industries units related to the footwear sector in the region that hold great significance to the Indian economy.

Furthermore, the General Secretary of AFMEC, Rajiv Wasan, pointed out the opportunities that are opening in the international scene for the Indian footwear industry. "The strong dollar and China's loss of strength as a major international supplier due to high freight costs, has put the attention in India, one of the major footwear producers and which has sufficient capacity to meet the demand for footwear", he stated at the event.

Image Credits: AFMEC