Register to continue reading for free
France Retail: retailers more confident than consumers amid an uncertain environment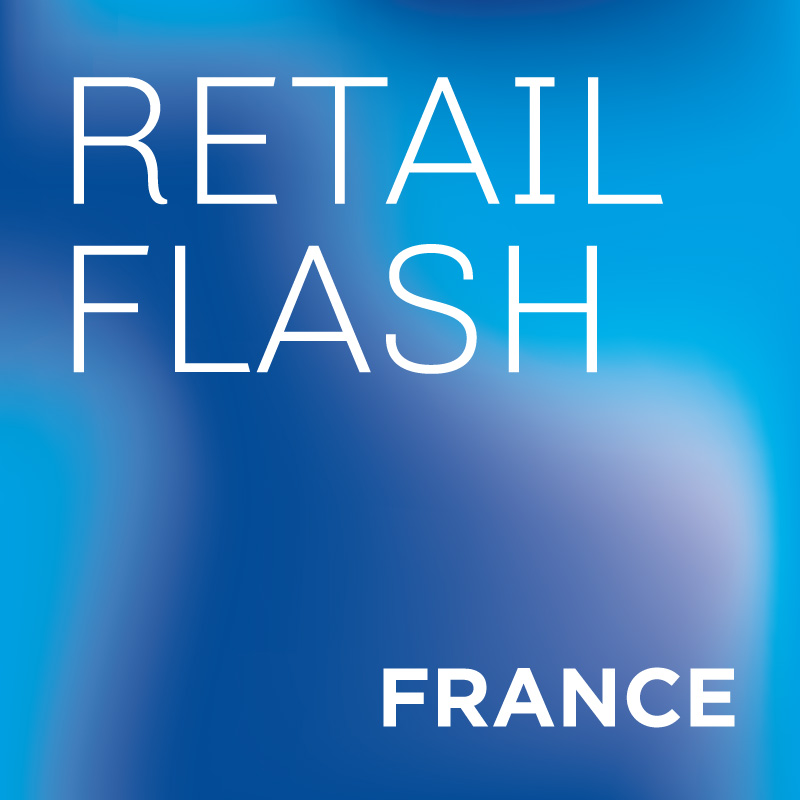 Although footwear retail sales in France have returned to pre-pandemic levels, the beginning of 2022 is being characterized by some uncertainty. Consumers' mood has become more volatile towards the end of 2021, reaching minus 8 points in January, and rising inflation has not spared the sector. Nonetheless, retailers are proving to be more confident than consumers, displaying some insensitivity towards risks
Is there a risk of a confidence downturn?
Data from the Eurostat shows that the French consumers' confidence improved continuously since February, reaching a minimum pessimism peak in June 2021 (a balance of minus 2.5 points). However, since then, the consumers' mood has become more volatile, and a more pessimist trend has become apparent. In January, amidst a pushing inflation and the rise of COVID-19 new infections due to the spread of the Omicron variant, consumers' confidence was at minus 8 points.





Retailers' confidence accompanied the consumer's one, but from a less pessimistic standpoint. They are expecting both health and price headwinds to be short-lived. Nonetheless, Emmanuel Le Roch, the general delegate of the Federation of Specialized Commerce in France (Procos), has stated that "the footwear (-20.3%) and clothing (-12.5%) sector are far from their pre-pandemic standards (…). The overall number of visits to points of sale in 2021 remains significantly down compared to 2019, at -19.4%. And even if no confinement is looming, we will not return to pre-crisis levels, given sustainable telework and the rise of omnichannel".





Moreover, he is predicting that "2022 is going to be a year of crushing margins and reducing profitability and the pressure on the business models of brands will be major because of the increase in their expenses (logistics, energy, etc.), which they will only be able to partially pass on to consumers, or risk scaring them away; while chains are also facing persistent recruitment problems, rising commercial rents, and yet are obliged to free up funds to finance their omnichannel and sustainable transformation".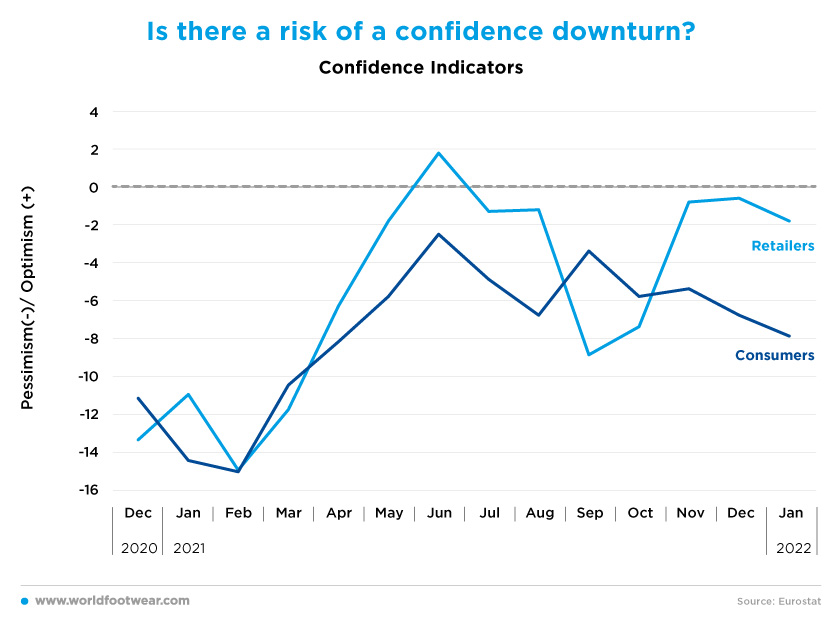 Footwear retail back to pre-pandemic scores
Perhaps some indecision might be felt until the coming Presidential election in April. Nonetheless, it is important not to discard the risks for retail, even if, according to the Banque de France (BdF) footwear retail index, footwear retail sales have shown to be quite insensitive to them in the second semester of 2021.





So far, the pre-pandemic scores are back to 80 percentage points of the (2010) base. Taking the Eurostat TCF (Textile Clothing and Footwear) Retail Index, instead, the 2015 baseline has been reached again.





The National Leather Council (CNC) has also reported that the majority of the segments in the sector returned in 2021 to their pre-crisis performance, the rebound being driven by overconsumption of major luxury brands with footwear jumping by 14% (lesechos.fr, February 2022).





However, there is a downside to the scenario: such optimism is mainly being driven by exports, in particular for non-European markets.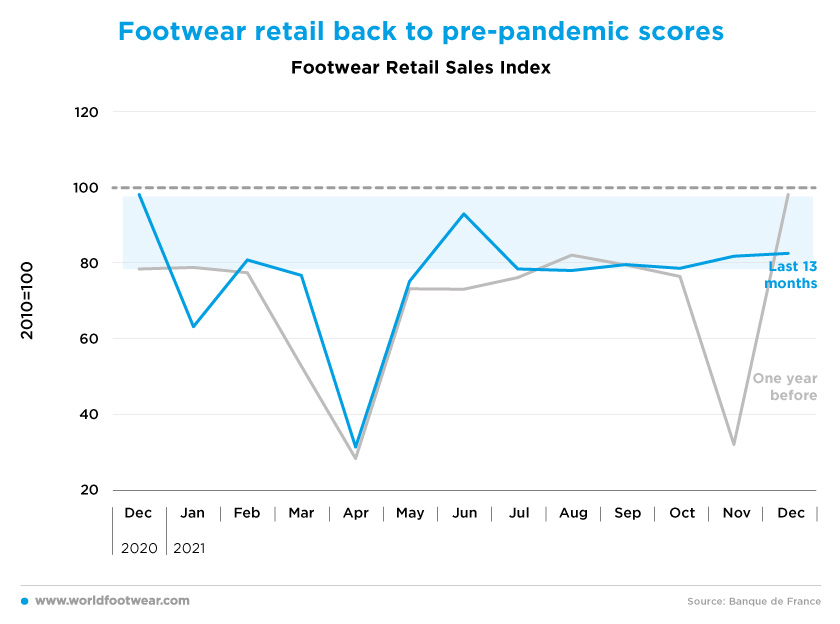 Sales not yet sensitive to footwear price hikes
Rising inflation has not spared the footwear sector. Footwear prices have been increasing since September 2021, where they have gone upside. As the year of 2021 closed, footwear prices were 5 percentage points above the baseline and more than 3 percentage points up from the previous year.





Yet, from December on, retail sales data in France has not given clear signs to whether the footwear retail is feeling the price pinch.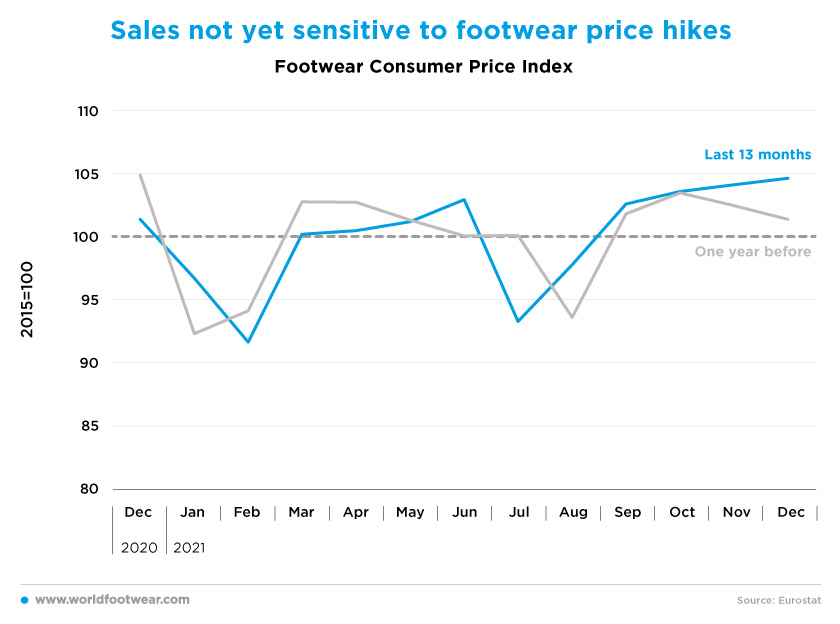 Imports down with stable retail
Looking backwards to footwear imports in France, it is puzzling to observe that imports have been plunging - by more than 20 percentage points from July through October - while retail sales have remained stable, not only in the same period, but also until the end of 2021.





However, the same seemingly paradox has also occurred both in the pandemic year of 2020 and the previous one, 2019. Possibly, we are facing a seasonal pattern of the footwear imports in this market. If it is true, it is quite risky for us to use footwear imports as safe predictor of present or future retail levels.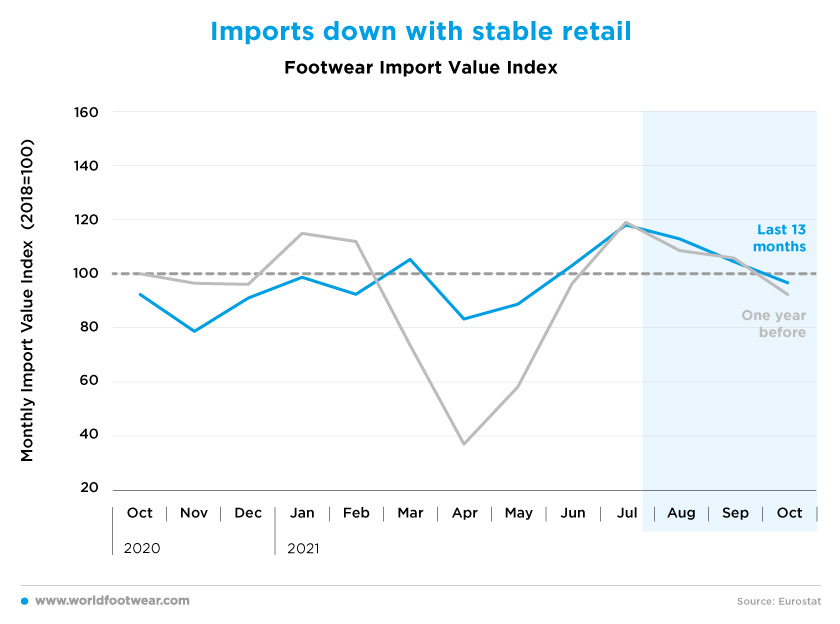 Online retail still winning
Considering that no online sales index is specifically available for footwear retail in France, we have opted to recur to the Eurostat Retail Sales Index Via Internet (or mail order houses), instead of the BdF distance selling, aware that footwear is a top category in both trades.





Discarding differences in the baseline and content, both indexes seem to support that online is not only a transient substitute for offline retail (that is, pending on eventual constrains imposed by the pandemic), but it is appropriating itself of these gains for the future.





Taking March 2019 as the starting point (approximately 150 percentage points with reference to the 2015 baseline), the internet index gain oscillated around 25 to 30 percentage points through November 2021 (July 2020 being a technical outlier). In the same period, the Eurostat TCF Retail Sales Index barely exceeded that baseline.