Register to continue reading for free
France Retail: Footwear Sales in Troubled Waters again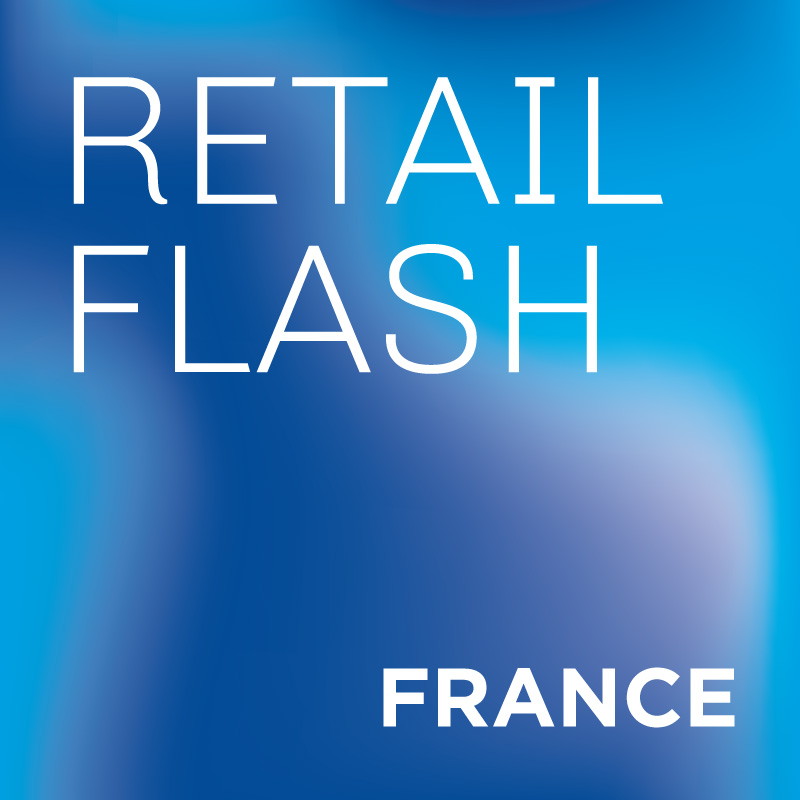 After a period of some return to normality, as reported in our previous Retail Flash for France, footwear retail in France plunged in November, to recover over the Christmas period. The up and down continued when we entered 2021. And the concern is raised: if 2020 was not good, and if other waves of the pandemic emerge, how will the footwear retail resist in 2021?
Footwear Sales in Troubled Waters again

After an apparent return to business as usual, from June through October last year, footwear retail in November came to remind us that "still waters run deep". With the COVID-19 daily deaths hitting then the highest level, in France, since April 2020, a second national lockdown has been announced in November by President Macron, and footwear sales sunk again some 47 points in a month. December brought goods news, but that didn't last much as the new year kicked in.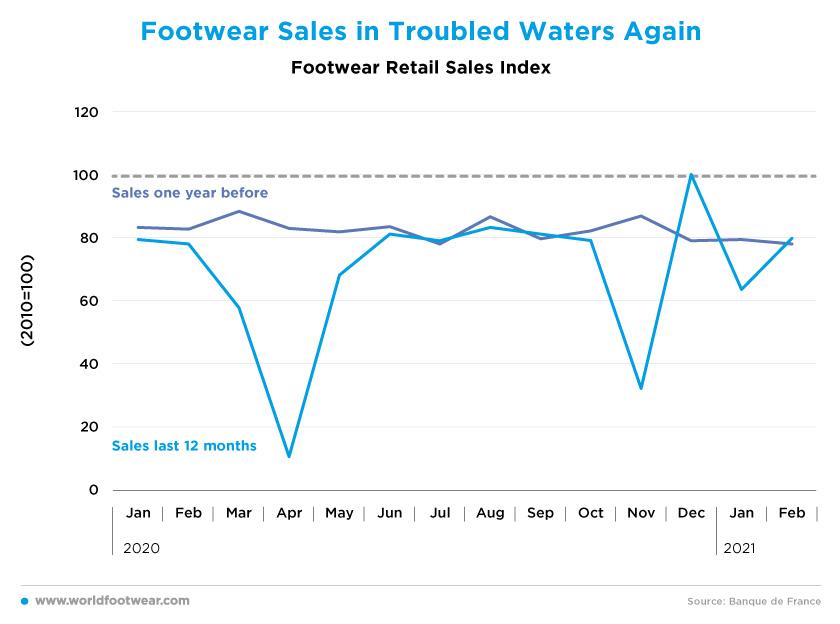 The balance for 2020 will inevitable be bad, and as read at Les Echos: "After the health crisis the shoe store trade is expected to plunge by around 20% in 2020. And with the store closures, some 10% to 20% of the workforce could be cut out of 40 000 jobs".

Upturn of Footwear Imports before 2021
Quite surprisingly, footwear sales boomed during Christmas, recovering about 78 points to reach the distant baseline of 2010. And footwear imports, which had been weakening more than usual since July, immediately reacted upwards anticipating inventory rebuilding for the beginning of 2021.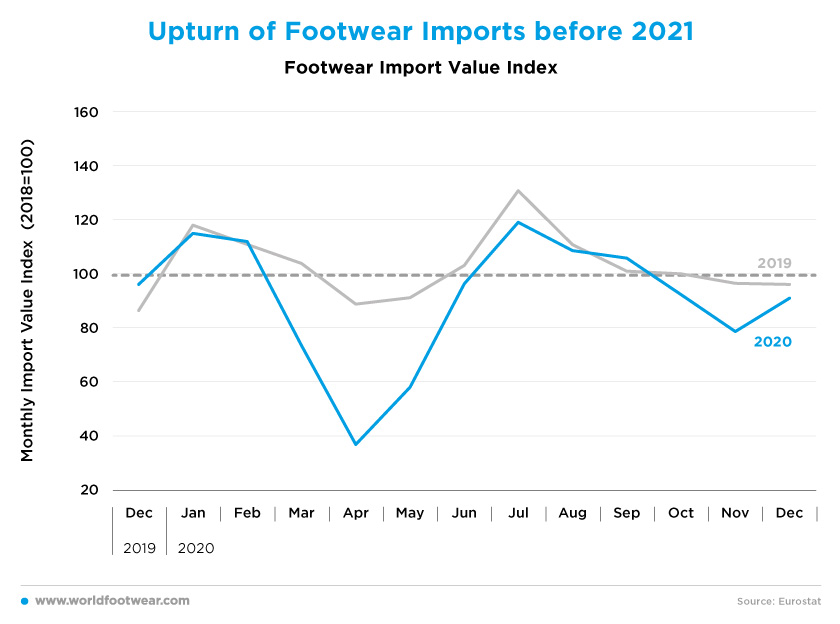 Is Distance Selling Loosing its Drive?


In the short run, when physical retail is more constrained, higher internet trade is expected. But back in December, online retail data was mixed: according to Eurostat, the overall retail index for France was still skyrocketing, while the distance selling index by the Banque de France (BdF) was going in the opposite direction. Apparently, the BdF online picture is consistent with a comeback of store retailing through January, but this has not been visible yet in the footwear store retail numbers.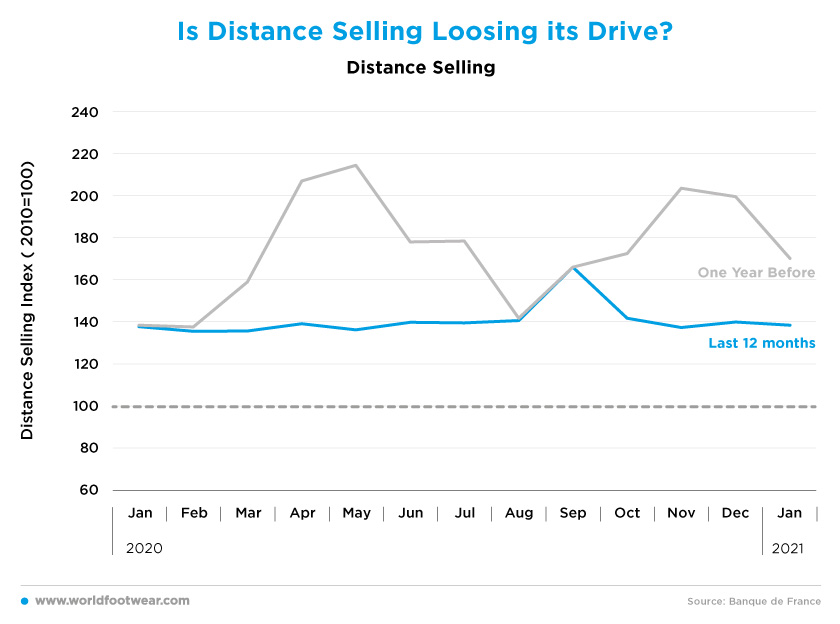 Confidence still on a roller coaster mode
Moreover, the
French consumers' confidence indicator has been deteriorating for two months after December 2020
. Despite the fact that consumers' confidence picked up in March, side by side with the retailers' confidence, it will probably be short-lived. That is why, Alain Griset, the French Minister in charge of small and medium enterprises, announced "nearly €200 million to be made available by the end of April or early May to about 35 000 retailers, including apparel and footwear", (as reported by shoeintelligence.com).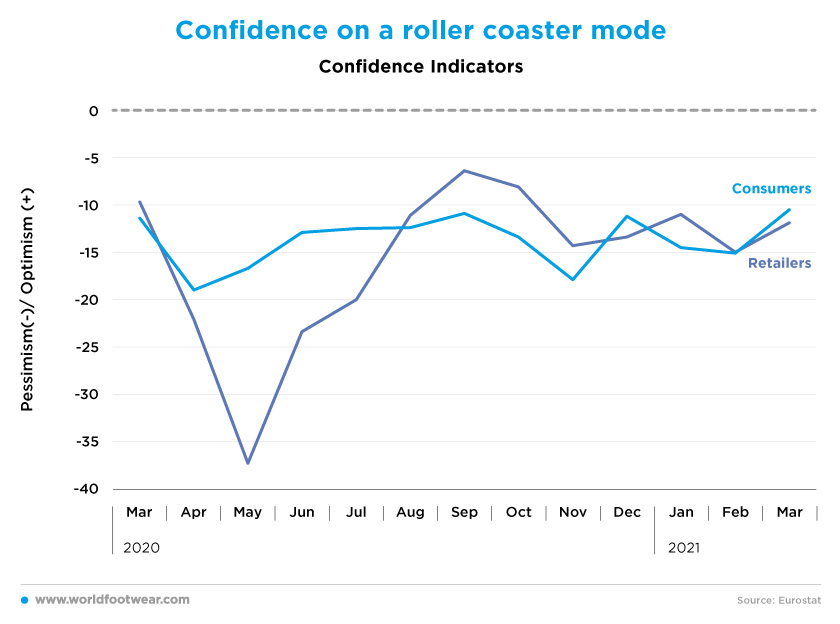 Worrying signs also come from other areas. Back in February, the Confederation of French Traders (CDF), registered a drop in turnover during the winter sales 2021 for 78% of their members.

As a new nationwide lockdown came into effect during early April 2021, the path of physical retail is expected to go downside, and online retail is likely to go up again.

Nevertheless, footwear retailer Besson Chaussures plans 12 new openings this year, of which six are scheduled in March, in line with the increase seen in 2020. The retailer, which was founded in 1982, currently has about 160 stores in France, mainly situated in retail parks, but has launched, last year, a new format of smaller shops located in city centres.

All considered, it is likely, that the ups and downs of footwear retail will not stop until vaccine deployment is widespread enough all over France.