Alexandra Moura reinvents Wock models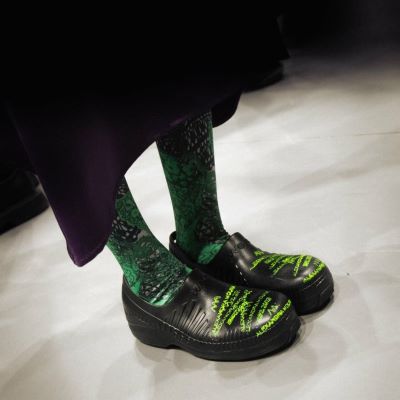 Following the success of the first collaboration, the Portuguese designer teamed up again with the Portuguese-based footwear professional company Wock to reinvent one of its models
A partnership between a professional footwear brand and a designer might seem unlikely, but it happened, and it was a success. Challenged by the designer Alexandra Moura, Wock accepted to see one of its products reinvented for the catwalk, first, in February at the Milan Fashion Week and then, at Portugal Fashion in May 2022. The chosen model was the technical footwear model SECURLITE, a safety shoe, with a toe cap, ideal for health professionals, among others.

The feedback was so positive that Alexandra Moura dared Wock to create together a new model. This time, the chosen model was WAYLITE. "To introduce the work-shoe in the high-end context, and bring it to the streets, Alexandra explored the deconstruction of the model for work, starting from its inherent features and making a study about them. Next, and following the models developed in the previous season, she created customization through a bas-relief that simulates a tangle of stamps of Alexandra Moura", explains Wock in a statement.

The result of this collaboration was a practical model that enables various solutions for wear, with a conceptual and contemporary side. The shoe will be presented and marketed in 3 colours, the classic's black and white and a highlight colour, blue.

Image Credits: pt.fashionnetwork.com