Fátima Lopes celebrates 30 years of career with Portuguese shoes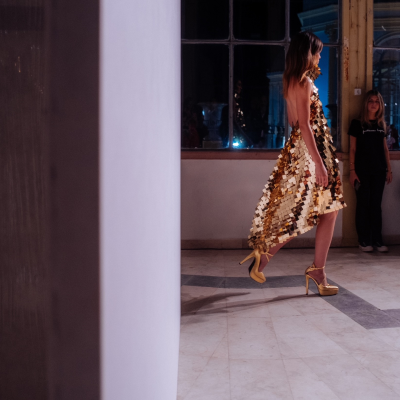 The renowned Portuguese fashion designer celebrated her 30-years-old career with a commemorative fashion runway in Lisbon in which the mannequins wore Reve de Flo shoes
A success story told on the runway. A total of 80 mannequins, from the oldest to the most recent, wore Fátima Lopes' proposals in a commemorative catwalk held at the Exhibition Pavilion of the Lisbon Agrarian. In addition, a retrospective exhibition recalled some of the designer's most iconic models. But Portuguese shoes were also in the spotlight.

The designer teamed up with the Portuguese footwear brand Reve de Flo, causing colourful and sculptural boots to invade the fashion runway. Pedro Pereira, from Reve de Flo, said that it was a very interesting partnership, advancing that "overall, we produced about 40 pairs between boots and shoes".

Fátima Lopes was born in Funchal, in the archipelago of Madeira, but moved to the Portuguese mainland to find new opportunities. In 1992, she opened a store, "Versus", in Lisbon. She launched the brand under her name and, a year later, opened the first store in Paris. In 1999, she became the first Portuguese designer to participate in the Paris Fashion Week. In 2000, Fátima walked the runway in a bikini covered in diamonds. The moment became iconic in the designer's career, as the piece in gold and diamonds was evaluated as the most expensive in the world, at the time worth one million euros.
Souce and Image Credits: portugueseshoes.pt