Tonal partners with Nordstrom to expand retail footprint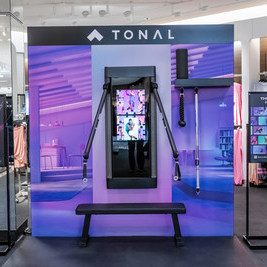 The home gym and personal trainer company announced that it partnered with Nordstrom to bring its intelligent strength training system to new customers across the country. With the partnership Tonal's retail footprint will increase to 40 stores across the US
Beginning in March, the experience will launch in the Women's Active department in 40 Nordstrom locations across 20 states in the US, including 12 states where Tonal had not yet had a physical location. The partnership will be brought to life through a 50 square foot concept where visitors can experience a full Tonal demo and try a workout first-hand.

Tonal is "pioneering intelligent fitness" and it has "more than 90% market share in the category". Using AI software, Tonal is using adaptive resistance technology that learns from the user, for a more personalized and more effective full-body workout.

"It's a natural fit for us to partner with one of the most respected retail brands in the world and introduce Tonal to Nordstrom customers across the country," We are excited for more people to experience the power of digital weight, and this partnership underscores our continued retail momentum and broadening our reach to new customers", commented Christopher Stadler, Tonal's Chief Marketing Officer.

"We know customers are looking for inspired workouts that elevate their wellness ambitions, and we're excited to offer them a dynamic new digital fitness experience through our partnership with Tonal. Our goal is to help customers discover the latest active gear for style, performance and everything in-between, and we look forward to making it easier than ever to discover everything in one place so they can look and feel their best", added said Lori Marten, Nordstrom Vice President and Divisional Merchandise Manager.

In December 2020, Nordstrom launched a new Active microsite responding to how customers shop for activewear, athleisure and gear throughout the year. The site enables customers to search for Active brands by activity or category for the whole family, in addition to finding fitness and wellness advice, expert tips and product and performance guides that support their fitness and wellness goals.