Zouri: footwear with apple peels in children's version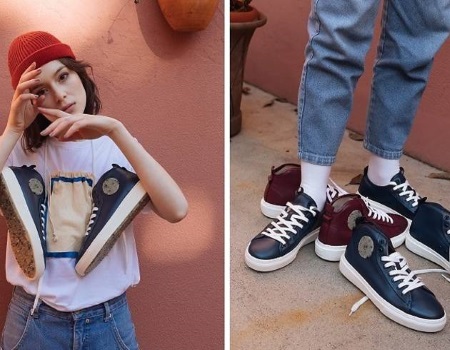 The Portuguese-based brand launched a new collection of footwear for children. This time Zouri is using apple peels as a material to make shoes
Adriana Mano's brand was born in 2019 with a very clear objective: presenting consumers with an environmentally friendly product while cleaning the beaches. The first models incorporated plastic collected from Portuguese beaches, but the brand's concerns with sustainability did not stop here. The insoles were also made from recycled materials and the upper with natural and biodegradable materials, such as organic cotton, linen or pinatex. More recently, Zouri launched a model made with raw material sourced from the apple industry.

And now Zouri wants to reach the little ones and that is why it launched Zouri from sizes 28 to 34. The children's line emerges as a natural evolution of the brand, especially in view of the awareness actions that Adriana Mano does in schools, trying to explain to children and young people that "waste can also be a raw material".

Adriana Mano's goal is to "massify sustainability" but the exercise is not easy, considering all the costs involved. "Consumers are not aware of the real costs. All this costs a lot of money and those who are in sustainability give up their margin to be able to be in the market", says the creator of Zouri. "Respecting animals, people, the oceans, practicing fair wages and fair trade rules and having a "competitive price" is a difficult puzzle. People must realize that they are not paying more, they are paying the right price for a shoe made in Portugal and not in Vietnam", explains Adriana Mano.