Zouri produces shoes with apple waste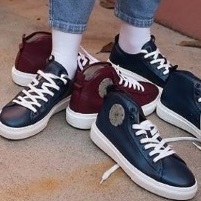 The brand of sneakers known for using plastic trash collected from the ocean in its productive process is now using apple waste in its products
Zouri is a Portuguese-based brand recognized for its use of plastic collected on the beaches, which are then transformed and incorporate the sole of each pair. To date, Zouri has collected about 4 tons of plastic on Portuguese beaches. The brand is since its inception focused on a differentiating position with regard to the use of environmentally friendly materials and now has taken a step forward in the use of fibres derived from industrial apple processing. Instead of being wasted and thrown away, these are collected and transformed into a new raw material.

The goal?
Reduce waste management costs
, have a
more sustainable product
and
reduce the costs of energy costs
in the manufacturing process.
All the brand's sneakers are produced in Guimarães, a city in the north of Portugal, and all materials and components are carefully chosen.
For more information about the Zouri please refer to the brand's website:
www.zouri-shoes.com