Kering sponsors renovation of the courtyard of the Palazzo Vecchio in Florence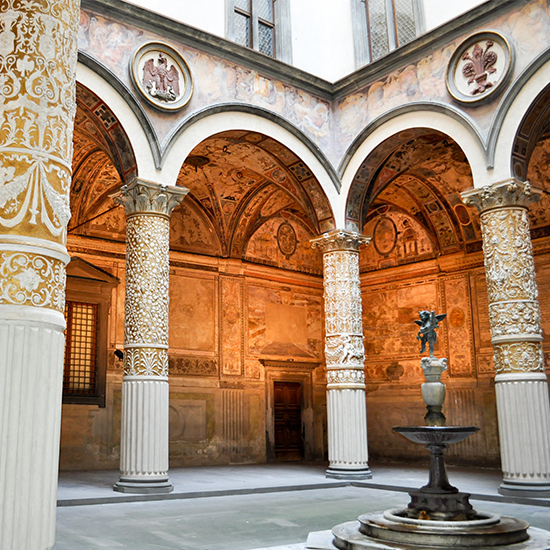 The France-based holding company Kering is sponsoring the renovation of the Michelozzo courtyard of the Palazzo Vecchio in Florence, an important symbol of the Renaissance capital
The Paris-based luxury group will contribute to the renovation of the lighting system in the courtyard of Palazzo Vecchio.
The main part of this intervention will be the famous Michelozzo patio, designed in 1453 and extensively transformed and embellished in the following century by Giorgio Vasari, the most widely read painter, architect and chronicler who became known for the biographies of the greatest Renaissance artists in his work The Lives
of the Artists.

"Exactly one year ago, when I was awarded the Fiorino d'Oro, I reiterated that Florence and Tuscany hold a particular significance for me and for the Group. Precisely for this reason, we genuinely wanted to help the city during a particularly difficult time, and decided to contribute to the enhancement of one of the many wonders of the Palazzo Vecchio, a symbol of Florence and its cultural heritage and artistic splendor", commented François-Henri Pinault, Chairman and CEO of Kering.

"I am very grateful to François-Henri Pinault, whom I have always esteemed as a farsighted and courageous entrepreneur", stated Mayor Dario Nardella. "Just a year ago, we awarded him the Fiorino d'Oro because he has always believed in our region, betting on the 'Made in Florence' brand and offering job opportunities and career development to many young people", the Mayor concluded.

The work supported by Kering forms part of the Rinasce Firenze Plan, an initiative launched by the Municipality of Florence last spring in the middle of the first phase of the pandemic. Its aim is to encourage a socio-economic renaissance of the city by providing help for the cultural, economic, educational and tourism sectors. The project provides further confirmation of the close link between Kering and the city of Florence city, where the French group continues to invest directly and through its brands. In recent years, in addition to the continued strengthening of Gucci's leadership team and investments in the relaunch of Richard Ginori, the area has also been chosen by Kering as its base for leather goods production for Saint Laurent and Balenciaga.