Inspiramais talks of design and sustainability in the fashion industry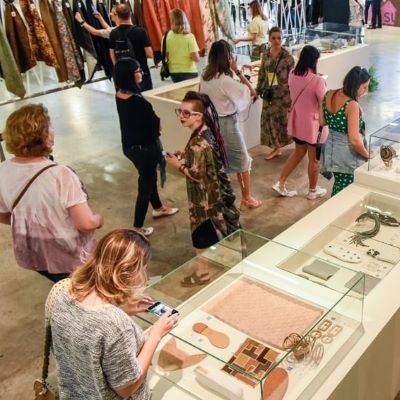 The latest edition of Inspiramais unveiled over a thousand innovative and sustainable materials while promoting significant discussions about sustainability and design in the fashion industry
Between the 24th and the 25th of January, Inspiramais launched more than a thousand materials for the footwear, clothing, furniture and jewellery industries, as well as facilitated business opportunities across the fashion production industry, while promoting fourteen lectures on topics ranging from design to sustainability.

From the design viewpoint, Walter Rodrigues, coordinator of Assintecal's Research and Design Centre, highlighted the research theme - Primal - which gave rise to the materials presented in the trade fair Creative Connection space. He stressed that from 2018 to now, the fashion industry has been focusing on textures such as leather and denim, bringing, especially for menswear, a mix of masculinity with fashion and behaviour references.

The theme legacy, instead, reinforced the importance of adopting sustainable practices, allied to the "rusticity" of the materials. Natural richness is to be considered a source of inspiration, but in symbiosis with technology, renewing materials and reusing stock. Through the concept of bionic, new possibilities were introduced for the exploration of new types of footwear, but with a touch of austerity that promises a return to the basics.



Footwear Industry
The second day counted with a footwear panel from Argentina, Spain, and Mexico.





Daniel Risafi, Vice President of the Argentinian Footwear Industries Chamber (CIC) said that the Argentine industry only recycles 6% of its waste, pointing out that there is now a "great social pressure" to advance further on this matter. Representing the Mexican industry, the President of the Footwear Industries Chamber of the State of Guanajuato (CICEG), in Mexico, Alfredo Padilla Villalpando, spoke of the post-COVID-19 recovery of the industry due to increasing domestic consumption, noting that "the Mexican consumer values products that are increasingly sustainable and that have durability, in which leather has an advantage".





On the other end, the Marketing and Business Development Director of the Spanish Footwear Industry Federation (FICE), Imanol Martinéz Gómez, highlighted that the Spanish industry works essentially with products of higher added value that can respect the environment, by promoting production processes that can the environmental impact, such as reducing waste and using renewable sources. "We have one of the most open economies in the world, but it is also demanding when it comes to sustainability", he added.



About Inspiramais
The Innovation and Design Exhibition Inspiramais is held twice a year to launch new materials for the footwear, clothing, furniture and jewellery segments. It is promoted by Assintecal (the Brazilian Association of Leather, Footwear and Goods Components), together with Abit (the Brazilian Textile and Apparel Industry Association), CICB (Centre for the Brazilian Tanning Industry), and Abimóvel. The event is planned By Brasil Components, Machinery, and Chemicals in partnership with Sebrae Nacional. The second 2023 edition will take place between the 11th and the 12th of July.








Image Credits: br.fashionnetwork.com