Inspiramais to be held in Porto Alegre in January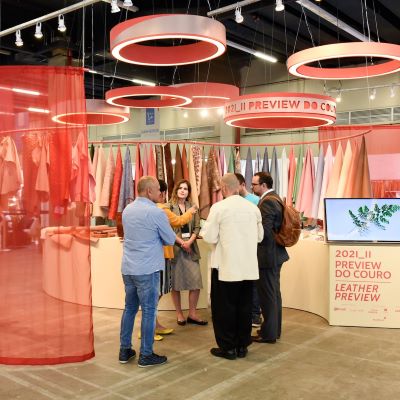 The exhibition dedicated to innovation and design will be held in its next edition, in hybrid format, on the 25th and 26th of January in Porto Alegre (southern Brazil)
About Inspiramais
Inspiramais is the Innovation and Design Exhibition for footwear components promoted by Assintecal, the Brazilian Association of Leather, Footwear and Goods Components, together with Apex-Brasil, the Brazilian Export and Investment Promotion Agency and with the project By Brasil Components, Machinery and Chemicals.

With two annual editions, the trade fair launches more than 600 materials for the footwear, clothing, furniture and jewellery segments: "This show is surprising for its originality, functionality and educational nature for artisans, designers and entrepreneurs in Brazil. Much of its success is based on the meticulous work of a team of renowned professionals in the fashion world, led by Walter Rodrigues and Lucius Vilar. This creative team analyses consumer behaviour, market changes and trends in every city around the world, to set the future trends for each season, launching all components and a range of colours that covers more than 30 shades", the organisers said.

The event also has a program of conferences and workshops given by experts, and will feature more than 150 exhibitors. An average of 10 000 national and international visitors are expected.



Sustainability
"Sustainability is not just an environmental issue. It's a much broader concept that also involves culture. It is essential that we take care of our ancestors, our crafts and traditions», explains Walter Rodrigues, says the coordinator of the Design and Research Nucleus of Assintecal Walter Rodrigues.

Among the novelties, the space dedicated to sustainability stands out, an evolution of the Sustainability Corridor. This space will also tour the main international fairs of the By Brasil Components, Machinery and Chemicals calendar in 2022 – Colombia, Peru, Mexico and Ecuador – thus presenting the sustainable cluster of Brazilian fashion to the foreign market.


"The Body" as the main trend
The Body is the theme of the fall-winter 2023/2024 season. According to the Inspiramais Research and Design Center, this theme was thought of as an archive of time. The record of human history. It is directly related to social, cultural, economic and behavioural aspects. «The body is extremely important in the times we live. It expresses our fragility and our strength to continue to project hope and life», explains Walter Rodrigues.