Hands-free shoe brand Kizik opens its first store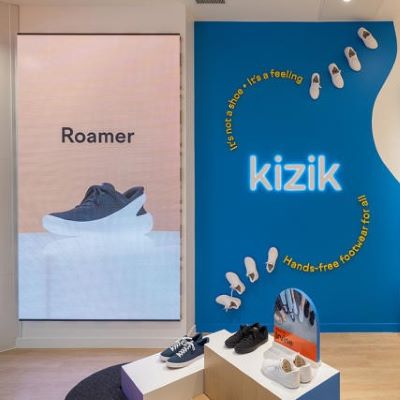 The Utah-based manufacturer of hands-free footwear opens today its first-ever brick-and-mortar store near Salt Lake City at Fashion Place Mall, one of the state's premier shopping centres
The announcement comes as the brand reported more than 250% growth last year, exceeding nine figures in sales. "This is a pivotal moment for Kizik. To be opening our flagship store right down the street from where it all began is humbling and signals a new chapter for the company. We've seen incredible consumer reception through our e-commerce platform and are excited to provide a point of entry for new adopters of the brand to touch and try on Kizik footwear in a brick-and-mortar setting for the first time", commented Kizik CEO Monte Deere.

The store, with an area of 1 293 square metres, aims to highlight Kizik's exclusive technologies, which are powered by the parent company HandsFreeLabs. To this end, the brand has designed an in-store try-on space so that customers can "experience the classic 'aha' moment that turns sceptics into believers" while trying on the free-hand shoes. This space was designed by the MG2/The Lionesque Group and includes a digital tile screen, 3D iconography and a retail theatre for passers-by.

From now on, the store will present the brand's portfolio of footwear for men, women and children in all sizes, as well as branded t-shirts for the whole family and footwear maintenance kits, and display new releases throughout the year.

Image Credits: yahoo.com