Christian Louboutin to launch a family-focused line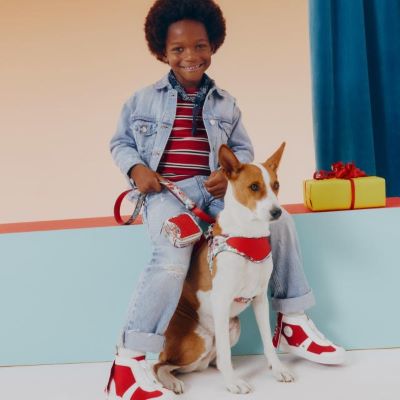 The luxury footwear and accessories brand announced the launch of LoubiFamily, a brand-new product category designed for every family's member, from adults to kids and pets
The collection will debut in dedicated pop-ups in London, New York, and Shanghai in early November, as well as online, showcasing the Loubifamily universe with specially designed cartoon superheroes, bold primary colours, whimsical furniture, and geometric shapes, before rolling out worldwide. This offering will also have its flagship in Paris, presumably in 2023, and the opening "promises to be a hit with the entire family".

This family-focused concept stems from a personal a place. "The idea for LoubiFamily was born during a lockdown. For the first time in a long time, I got the chance to spend several months in the same place with my closest friends, my daughters and our dog. I wanted to explore the idea of adulthood for children and childhood for adults, transposing fabrics and colours and playing with details", explained Christian Louboutin. "It's a family line because it's a whole universe, it's 360 degrees. Children want the shoes of their parents, but parents might also want the shoes of their children", he added in an exclusive interview.

The LoubiFamily collection will feature cartoon superheroes – Superloubi, Wonderloubi, and Pilou the Lemur, which represent the designer's imaginary childhood world of adventure and excitement – on three models of sneakers. Other highlights include mother and daughter mini-me moments with the Melodie Chick ballet pump, featuring the Hot Chick's cut-out topline, and, for dressier occasions, the Melodie Strass, which offers a junior take on the Maison's Follies Strass pump. Moreover, leather collars and harnesses festooned with a variety of Louboutin's signature studs will be available for dogs.

Source and Image Credits: sports.yahoo.com