adidas and Prada team up on first-ever football boot collection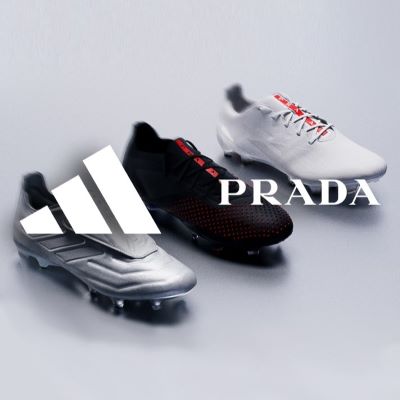 The German-based sportswear company and the Italian luxury house have unveiled the "adidas Football for Prada" collection, combining the unique features of their DNA
Dedicated to men and women, this collection reimagines adidas' iconic products – namely, the Predator Accuracy, the Copa Pure and the X Crazyfast – using the "luxury materials, meticulous craftsmanship and design details synonymous with Prada's Linea Rossa". Thus, all styles feature a leather lining and upper, Linea Rosso's iconography and a simple monochrome base in black, white and silver,

The "adidas Football for Prada" has been introduced in a line-up of some of the world's best football players, including Catarina Macario or Paulo Dybala in Copa Pure, Rafael Leão in X Crazyfast and Pedri in Predator Accuracy, among other players due to wearing the boots on-pitch. But the design codes of the boot collection will also be showcased through an exclusive kit for the FIFA 23 Ultimate Team TM video game, "transcending the partnership from the physical to the digital/gaming world".

The collection is already available on prada.com and selected stores of the luxury house.

Image Credits: footyheadlines.com