Digital FabLab Project has successfully come to an end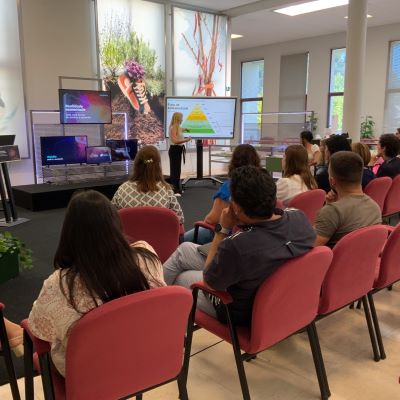 Launched in 2021 to contribute the rapid transformation of digital education in the footwear industry, the Erasmus+ Digital FabLab Project, implemented by partners from several European countries, has officially ended
Launched in March 2021, under the outreach of the COVID-19 pandemic, the project's aim was to contribute to the rapid transformation of digital education to enable the learning of practical topics. The result is the free Digital FabLab tool, developed by partners from Belgium, Cyprus, Italy, Poland, Portugal, Romania, and Spain, which includes joint international learning-by-doing training units using augmented and virtual reality tools to facilitate learning-by-doing in footwear manufacturing.

To introduce the digital FabLab to a wider community of stakeholders - added the European Confederation of the Footwear Industry (CEC) -, several multiplier events were physically held in the partners' countries to get feedback on this virtual footwear FabLab.

For instance, the Cyprus IT company HESO brought together international partners active in VET and adult education and IT experts working in the e-learning and gamified education industry to present the objectives and project results and demonstrate the courses offered by Digital FabLab. In Portugal, the Technological Footwear Centre (CTCP) organised the event "Augmented Reality - A new way of teaching and learning" composed of teaching and learning activities. The CTCR in Spain promoted an event that attracted a large audience with demonstrations of Collaborative Robotics, Exoskeletons and Augmented Reality.

In addition, CEC organised an international webinar to reach a wider audience from other EU countries, which included a presentation on Extended Reality tools, such as Augmented Reality, Virtual Reality and Mixed Reality, to clarify concepts and their use in educational contexts. The final live demonstration of the Digital FabLab enabled participants to experience the new technologies in footwear manufacturing.

According to the European organization, "
all stakeholders have in general provided positive feedback with a few adjustments that had to be done
", but the organization is calling for other interested education centres, trainers, students, and companies' employees and managers to try the FabLab and provide their feedback on the
following link
. Meanwhile, the digital FabLab and the training units in different languages are now available on the
project's website
.
Source and Image Credits: CEC