Portugal: students engage in Shoes Your Life activities using Virtual Reality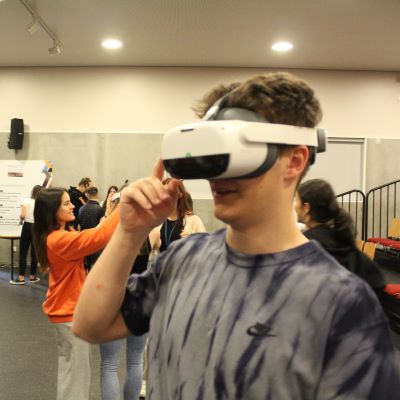 Twenty students participated in the Shoes Your Life learning and training activities in São João da Madeira, Portugal, where it was showcased the project's Virtual Reality App, designed to attract young people to STEAM Education
Between the 29th of May and the 2nd of June, twenty students from Portugal, Italy and Romania took part in a programme organized by the Portugal Footwear Technological Centre (CTCP) and the Oliveira Júnior School (AEOJ), in São João da Madeira, under the European-funded project Shoes Your Life. This activity's aim was to introduce Generation Z to the industry, inspiring them to pursue STEAM-based careers and equipping them with the necessary skills to contribute to the transformation and modernization of Industry 4.0 in Europe.

To that end, the participants engaged in various workshops about topics such as Virtual Reality (VR), Robotics, Industry 4.0, Programming, and Sustainability, among others, and visited prominent companies in the sector, including Kyaia, AMF, and Belcinto, as well as the Footwear Museum. They also undertook a practical activity in the Shoe FabLab of CTCP, where they developed customized belts. In addition, this programme fostered cultural exchange among participants, enabling them to learn about different approaches and traditions related to various industries in the three countries.



Using Virtual Reality
Leveraging young people's natural interest in games and technology, the Shoes Your Life project utilized Virtual Reality (VR) and gamification to attract them to the industry. An app that VR was therefore developed for the project, inviting students to immerse themselves in a virtual experience using specialized glasses. This VR-based app offers an interactive and immersive experience, enabling young people to explore three-dimensional virtual environments.





Through this tool, students are encouraged to experiment, learn, and interact with various areas such as Chemistry, Marketing, Design, 3D Printing, Mechanics, Sustainability, and History, while also gaining insights into the realities of the industry. The goal it to have schools implement this tool, with the Oliveira Júnior School being the first to adopt it as part of their partnership with the Shoes Your Life project.



About Shoes Your Life
The Shoes Your Life (SYL) project aims to develop a new educational approach to STEAM jobs and encourage Generation Z to choose STEAM-based occupations. To this end, the SYL consortium is developing an innovative educational programme, based on Virtual Reality and focused on traditional industries, which will highlight the modernisation and digital transformation occurring in these sectors.

The Shoes Your Life consortium comprises the Portuguese Footwear Technological Centre (CTCP), Agrupamento de Escolas Oliveira Júnior – AEOJ (Portugal), Istituto Omnicomprensivo Rosselli-Rasetti (Italy), Colegiul National Economic Gheorghe Chitu Craiova (Romania), byAR (Portugal) and ThinkYoung (Belgium).
Souce and Image Credits: CTCP