Inspiramais starts today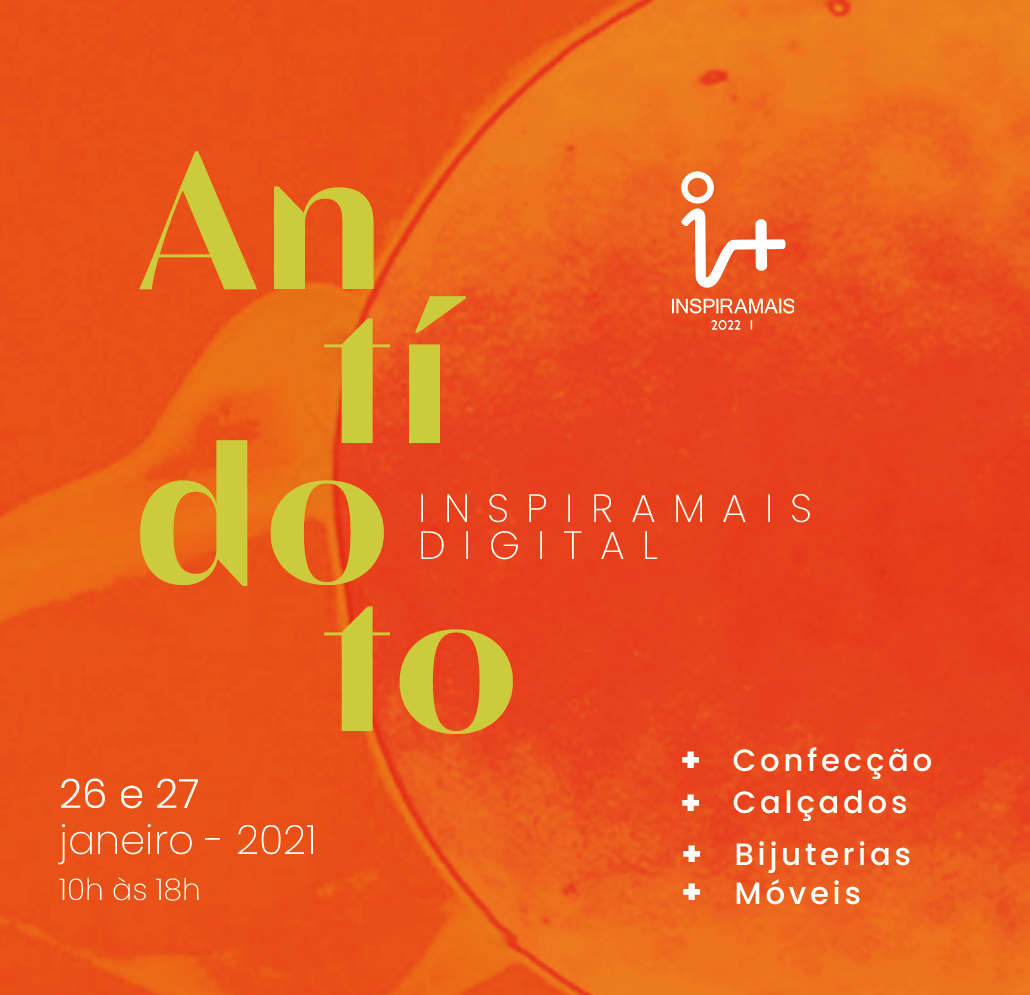 A new digital edition of Inspiramais is taking place today and tomorrow. With the theme Antidote, the design and material innovation program for the fashion world will present references for the 2022_I season, while reflecting on the changes caused by the pandemic
The design, innovation and sustainability program for materials for the world fashion, will be held in digital format, on the 26th and 27th of January, and will feature "another 30 days of inspiring attractions". "The Antidote theme is the result of a careful look at the reflexes of social distance: new points of view, more interaction with virtual tools, contemplation of nature, comfort and search for ways to get out of this moment that paralyzed the world", is how Inspiramais introduces this new edition.

"As Inmates, we turn our attention to our faith in search of appeasing feelings. We are looking for an antidote that will calm our fears and project our hopes", stated Walter Rodrigues, coordinator of the Design Center at Inspiramais. For him, the current challenging events require reinvention, "combining science, design, art, technology with principles of nature, transforming it into a source of creative inspiration, we will find subsidies to innovate".

An extensive survey conducted by the Research Center resulted in a series of inspirational references, in addition to the colour chart for the 2022_I season. These are elements that will serve as inspiration for the footwear and accessories, clothing, furniture and costume jewellery segments, which seek innovative fashion for their collections. The concepts Naturar and Cotidiano are linked to the main theme.



More information about the event
HERE
What is the Inspiramais Program
The program starts with the formatting of a behavioural research that will be the basis for the consultancy that the Inspiramais Design Center will carry out with the exhibiting companies, with the objective of assisting the development of materials, and the expansion of business with other fashion sectors. During the development of the materials, inspirational lectures are given to manufacturers of finished fashion products, anticipating the theme that will be presented in the days of the event. The presentation of materials developed based on research and more special projects that foster innovation and sustainability takes place during the event. Content to inspire visitors, such as lectures with specialists and national and international business rounds connecting buyers and exhibitors, is a key part Inspiramais

The first 100% digital edition of Inspiramais took place in August 2020, connecting material launches, innovative projects and renowned speakers with visitors from around the world.

Inspiramais has the promotion of the Brazilian Association of Companies of Components for Leather, Footwear and Manufactured Goods (Assintecal), of the Brazilian Association of the Textile and Clothing Industry (Abit), Centre for the Brazilian Tanning Industry (CICB), Brazilian Association of Indústrias do Mobiliário (Abimóvel), Brazilian Trade and Investment Promotion Agency (Apex-Brazil), through the project By Brazil, Components, Machinery and Chemicals and support from sectorial entities and partners, such as Abest, Abiacav, Abicalçados, In-Mod, IBGM, Instituto By Brazil (IBB), ABVTEX, Francal, Ápice, Jeans Wear Guide, Abrafati and Trans Rubber.