New Generation: meet Filipa Couto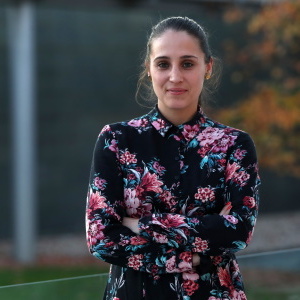 With a Bachelor Degree in Clinic Psychology and a Master in Business Management Filipa has choosen the challenge to take on her family business. An invitation from her father has made her the second generation working at Trofal
What made you accept this challenge?
Essentially, my dad felt there was no one for him to leave his legacy to. At some point, he challenged me to work in the company and grab this project. I accepted, of course, with the certainty that I'd always give my best. It already has been three very challenging, evolving and productive years.


What has fascinated you in the industry?
Designing and developing a shoe, see that it is perfect and feel that clients will have something that'll make them very happy.


In your opinion, what does the new generation of entrepreneurs has to offer to the industry?
We have concerns with our people, the people who work with us. To give you an example, I talk to each employee every day and I try to understand what they need to have a better day. Of course, this is also due to my background. I believe people should feel good at the workplace. I also believe sustainability is very important and the new generations are very devoted to such topics. Trofal was the first certificated company in Portugal and the first one to produce vegan footwear. My father was always a visionary.

How does Trofal distinguish itself?
Trofal produces footwear for a very high segment. Therefore, we invest in incredibly specialized equipment for these type of segments and products. Currently, we want to distinguish ourselves not only for the sustainability concerns that we have but also for customization. We're not a company with economy of scale, we're a detail business! And our path is to present customized luxury articles. on top of that, Trofal is constantly changing and looking for a continuous improvement of the products. At the moment, our main concern is to produce high quality, long lasting and comfortable ecofriendly products.


In what way do you think the footwear industry can evolve in the coming years?
In my opinion, the footwear industry will have to evolve to the production of increasingly sustainable articles, associated to the circular economy and, above all, focused on high quality. Since Trofal's certification, 25 years ago, we have been having a great environmental concern, as well as the wellbeing of our clients. This way, we have been looking in the market and, consequently, using ecological and free of harmful chemicals raw materials. I believe the future of the footwear industry will also have to pass on a message of "responsible choice" with high quality, sustainable, healthy, long lasting, comfortable articles with a great added value. This clearly contrasts with products that come from countries with high labour exploitation, no quality and that may be harmful for our health due to its component's chemical characteristics.


What piece of advice would you give to a youngster who is entering the industry?
In this industry, it's very important to know the development of the product, constantly be in the field, listen to people, understand their needs and improve together. I always start by going in the field and understand all the existing difficulties. It's necessary to know the whole production process before designing.