Portuguese Brands: Hugo Costa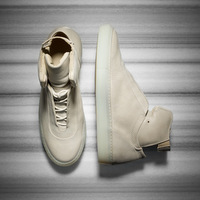 Get to know another Portuguese Brand. Today learn more about Hugo Costa
Hugo Costa has a degree in Fashion and Textile Design from the Higher School of Applied Arts of Castelo Branco. He began his career as a fashion designer in 2007, via the footwear sector, and has developed several collections since then.

Having participated in multiple competitions, the highlights go to his presence at the 2009 Acrobatic competition, where he won the prize for best male ensemble, and again in 2010, with the prizes for best collection and best male ensemble.

Still in 2010, he was invited to present his collection at Espaço Bloom, within Portugal Fashion, where he continued presenting every six months.

This entire path led him to a collaboration with the Armando Silva footwear company, where he developed his Sneakers collection and where he collaborates in design for the Metro Sneakers collection by Gino-B. Hugo Costa; that is the name of his brand, which is now kick-starting its internationalization process.