Portuguese Brands: Coqueterra and Common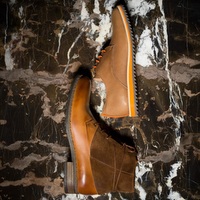 Two portuguese brands!
COQUETERRA
It attempts to combine tradition and innovation, with authentic details and functional attributes that give a strong identity to its eclectic collections.
Aimed at those who have a personal style in line with the latest trends and who are looking for a quality product, the concept of Coqueterra is defined by its creative interpretation of current trends and by creating contemporary styles. Uniquely and intelligently conceived to give its consumers an up-to-date and urban look, it is characterised by combining Northern European design with Portuguese materials and artisanal manufacture.
COMMON
The recently established Portuguese brand of men's footwear Common Cut has just presented its collection at ModaLisboa's Wonderoom.
The interest in fashion shown by two friends drove them to develop, since early on, the desire to create their own brand.The first steps were taken in March 2012, when they created the first customised pieces. It was the birth of Common Cut, the result of a great passion for fashion and of a devotion to the culture of differentiation.