Portuguese Brands: Lemon Jelly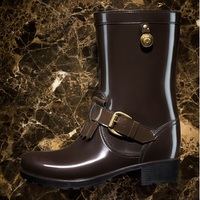 Today we bring you Lemon Jelly a new Portuguese brand
It is a highly specialised company in the production of footwear components. It is even one of the leading companies in the production of soles. Procalçado launched, at the MICAM, a new brand of footwear: Lemon Jelly.
José Pinto, CEO of the company, highlights the fact that "it is a new product, a new approach and even a new area of business." Procalçado "is a company that produces soles and provides a service of excellence in the footwear industry for over 40 years. Footwear components will continue to be the driving force behind our business."
As a complement, Procalçado launched the Lemon Jelly brand, which is associated to another bit bet, the brand Wock: "From an industry point of view and as a result from major technological breakthroughs, plastic has been growing in importance", commented José Pinto. For that reason, Procalçado began, in 2010, working on the injected footwear segment. The development of high-end plastic boots, for example, attracted the attention of prestigious international brands from the very start: "Lemon Jelly is a new project, it is innovative and it is a market trend."
Get to know Lemon Jelly better by following this
LINK
.