Visitors numbers up by 57% at Simac Tanning Tech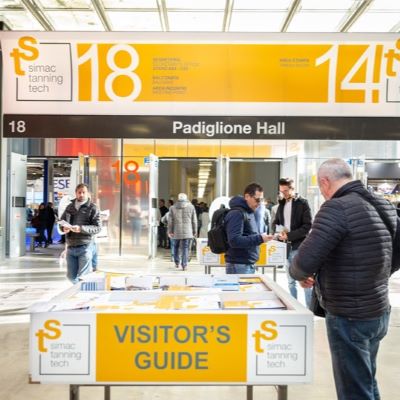 The 2022 edition of Simac Tanning Tech ended with "renewed trust and optimist in the near future", registering more 4 000 visitors than the last year's edition, which reflects an attendance growth of 57%
Held between the 20th and the 22nd of September, the international showcase of machinery and technologies for the footwear, leather goods and tanning industries hosted more than 280 exhibiting companies, across 13 thousand square meters of space at Fiera Milano Rho. According to the organizer of the event, ASSOMAC, the organization which represents the Italian manufacturers of machines and technologies, Italian companies were predominant, but "we can mention Turkey, France, Germany, Portugal, Brazil, Mexico, Spain and India between the 86 nations of origin of the visitors".

ASSOMAC highlighted the 57% growth in visitors numbers, as compared to the last year's edition, acknowledging the "powerful synergy" generated by all Milanese fashion fairs, namely, Micam, Mipel, TheOneMilano, Lineapelle, Homi, and DaTe. "The concurrence of these important fairs was a decisive factor which led to the success of the event, as well as the innovative products and applicative services presented in the multisectoral environment".

Additionally, this edition witnessed the progressive opening of international markets, except for China and the countries involved in the Ukrainian conflict. "After two years of pandemic restrictions, this edition of the fair is definitely something else with interested visitors from the major production hubs (excluding China) such as Vietnam, Cambodia and India", commented Alberto Paccagnella, President of OMAC to La Conceria. Gabriella Marchioni Bocca, CEO of Lamebo, an Italian producer of splitting band knives, pointed out the presence of South American countries.

The trade fair was also enriched by the networking opportunities promoted by ASSOMAC TALKS, whose purpose was to aggregate a series of contributions from prominent personalities who are part of the supply chain of the international manufacturing industry.

The balance of the event "is very good", stated Mauro Pellizzari, Gemata's CEO, despite the many global uncertainties. "One cannot see the horizon well and so, even those who would like to buy, prefer to stall. Actually, there are no big problems, but there are many and overlapping ones between the war in Europe, Covid in China, inflation, etc. And I think that at least for the next six months the situation will not change", added the CEO of the manufacture of leather finishing machines located in Vicenza, also to La Conceria.

Image Credits: news.simactanningtech.it