Lineapelle sends signs of positivity amidst worrying macroeconomic context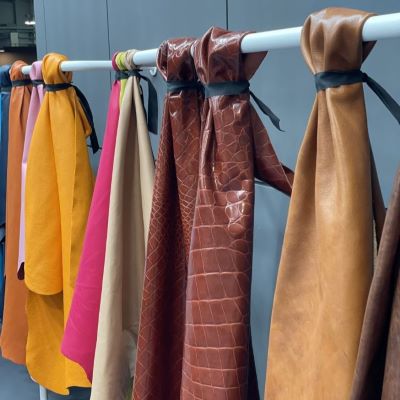 The 100th edition of the trade fair, held from the 20th to the 22nd of September, registered an attendance volume 32% higher than the one of the last edition, mainly due to the 73% growth in foreign visitors
"It was a beautiful, lively fair, rich in contents and prospects, with pavilions attended from the very first minute by a crowd of interested, convinced operators, coming, as in the past, from all over the world, and exhibitors who showed us all their satisfaction for the positive outcome of Lineapelle 100", stated Fulvia Bacchi, CEO of Lineapelle.

Drawing "unanimous" positive comments from the 1 134 exhibitors that were present at Fiera Milano Rho from the 20th to the 22nd of September, the international trade fair for leather, accessories and footwear components, leather goods, clothing, and furnishings welcomed visitors from 109 countries, which resulted in an increase of 32% in attendance volume due to the 73% growth in arrivals from abroad, as compared to the last February edition. Local visitors (from Italy) grew by 10%. The organization pointed out the strong expansion in entries from the US, India, Mexico, Turkey, and all main European markets, from France to the UK, and from Portugal to Spain, noting the "unavoidable absences" of Chinese buyers.

"It was a reassuring outcome for the entire supply chain, especially since the economic situation in which we are operating creates enormous worries and problems, starting with the exponential increases in energy costs, which are beyond the control of operators", added Lineapelle president Gianni Russo.

According to the organization, "there was a great interest in the many projects" at Lineapelle, namely: the Trend Areas, which included the new virtual and interactive dimension of the metaverse; the debut of the exhibition The Beauty of the Italian Tanning Industry, a project promoted by UNIC - Italian Tanneries that recounts the historical and innovative circular excellence of Italian leather; the Green Theatre talks focused on sustainability; and the Lineapelle Art space. The third edition of Mipel Lab, the Italian leather goods outsourcing hub of excellence organised by Assopellettieri in synergy with the trade fair, also generated "excellent feedback".

The 100th edition of Lineapelle took place alongside with the other Milanese fashion fairs, Micam, Mipel, TheOneMilano, Simac Tanning Tech, Homi, and DaTe, under the hashtag #finallytogether.
Image Credis: lineapelle-fair.it