VF Corp to boost EMEA region with expansion of Switzerland HQ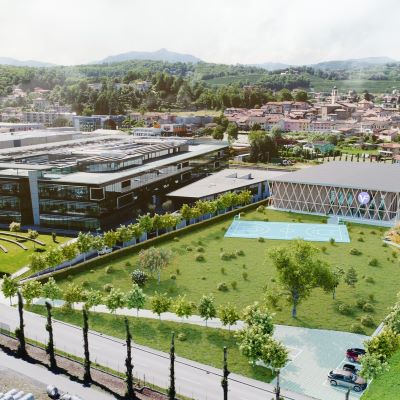 Following the double-digit growth recorded this year, the US-based footwear group announced the intention of expanding its Europe, Middle East and Africa headquarters in Stabio, Switzerland
VF Corp explained that the project for the construction on the land adjacent to the main VF Campus building will soon be submitted to the relevant authorities. In line with the company's commitment to sustainability, the new building will feature a more modern and sustainable design. This expansion, which will take about two years, will be done in partnership with the Swiss real estate group Swiss Prime Site Solutions AG.

The project follows a growth trajectory in Ticino, south of Switzerland, which began ten years ago, when the company arrived in Stabio in 2013, after a period in the Lugano region, employing about three hundred people in a single building. Today, the VF Campus consists of four buildings, where more than 1 100 employees of more than fifty nationalities work.

With a wide availability of green areas on the campus, the buildings have co-working spaces, design and product development laboratories, a fabric testing laboratory, and brands' showrooms, as well as a canteen and bistro run, areas for company events and training activities and an entire floor designed for employee well-being. The main campus building received the LEED Platinum certificate, which is a green building certification programme used worldwide.

"Our development path in Stabio continues, supporting the important growth of the business and the well-being of our employees. Double-digit growth in the EMEA region over the past year and a half and considerable growth in the number of employees working in our headquarters make it necessary to further reorganise our spaces. We are ready to present a beautiful project that we hope to be able to realise in the next two years, and we are proud to have attracted high-level investors in Ticino", commented Martino Scabbia Guerrini, Executive Vice President, President EMEA, APAC & Emerging Brands for VF.

Image Credits: porternovelli.app.box.com