ToWorkFor expands business to the apparel sector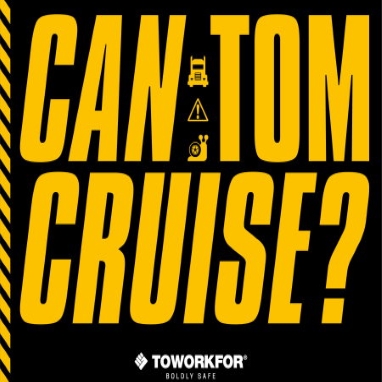 The Portuguese brand of safety footwear has launched a creative campaign that uses big international Hollywood names to promote its expansion into the apparel sector
Will Smith? Wesley Snipes? Can Tom Cruise? "When we can't afford big celebrities to raise our brands' awareness, we have to take risks". This is how ToWorkFor, a Portuguese footwear brand owned by AMF Safety Shoes, announced its bet in the apparel sector. In this "admittedly risky" campaign, three well-known names of the international cinema (Smith, Wesley and Tom) are associated with the brand ToWorkFor, but turned into challenging questions.

"ToWokFor" operates in a competitive market, together with brands with greater awareness and higher communication budgets, which forces us to 'make noise with less funding", explained the responsible for the company. "Everything we do must necessarily call attention. And that's good, since this daring, the challenger spirit, is part of the brand's DNA. ToWorkFor has always been bold in everything (…) but we needed to communicate and assume the same boldness in an original, humorous, and, above all, humanized way. To distinguish ourselves from the competition we must act differently, and the fact that no brand uses a language close to workers in factories, warehouses, workshops, construction, industries, among others, reinforced that this would be the path to lead us to differentiation", they highlighted

The brand has released in their digital channels three videos, "where one Anne Smith, one Wesley Fowler and one Tom Wilson, adequately protected with the new collection of safety apparel of ToWorkFor, are challenged to do something bold, such as the signature's brand Boldly Safe". "These videos are the starting point for a disruptive campaign, fun and sarcastic that it will continue in the tone and language that the brand will use to communicate the product" they added.

This release of the campaign overlaps with the launch of the new website and online store, which is part of a more digitally focused communication strategy, present in Google, Instagram, Facebook and Linkedin Ads. Nonetheless, the brand will continue to integrate diverse offline actions.

Source and Image Credits: portugueseshoes.pt