Skechers partners up with tokidoki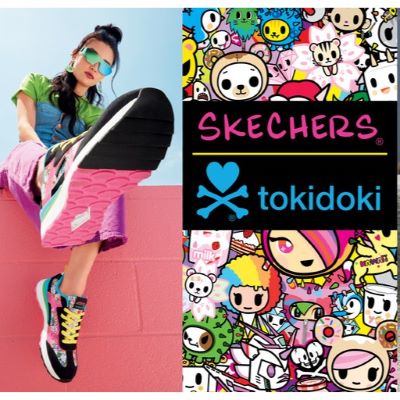 The US-based footwear company teamed up with the iconic lifestyle brand on a limited-edition collection for women with tokidoki's iconography
The Skechers x tokidoki line, comprised of four styles for women, features an all-star cast of colourful characters from the tokidoki universe, as well as its iconic heart and crossbones logo, across a range of the brand's sneakers, including the Skechers Uno. The goal is to reach consumers who wish to express themselves in a unique way. A second global fashion drop is already set to follow in September.

"The playfully inspired designs and iconography of tokidoki is a perfect match for our fashion sneaker collections. We work with creative and artistic brands like tokidoki to generate excitement among fashion-forward shoppers who seek out opportunities to express themselves in unique ways. These collaborations open the door to new consumers experiencing the unmatched style and comfort that is distinctly Skechers", commented Michael Greenberg, president of Skechers.

"It's exciting to debut this new collection that leverages the power of the tokidoki brand and our devoted fanbase, along with the reach of Skechers to fashionable consumers in key style markets. Skechers has been a truly amazing partner and this collaboration merging tokidoki's art and Skechers' footwear designs has resulted in styles that we know will resonate with tokidoki fans of all ages", added Pooneh Mohajer, co-founder and CEO of tokidoki.



About tokidoki
Founded in 2005, tokidoki, which translates to "sometimes" in Japanese, is an internationally recognized lifestyle brand based on the vision of Italian artist Simone Legno, who developed a deep love of Japan and a fascination with world cultures from an early age, and his partners, serial entrepreneurs Pooneh Mohajer and Ivan Arnold. tokidoki offers an extensive range of products, which includes apparel, handbags, cosmetics, accessories, toys and more.


Image Credits: businesswire.com