Prada to launch the eighth exclusive Timecapsule NFT Drop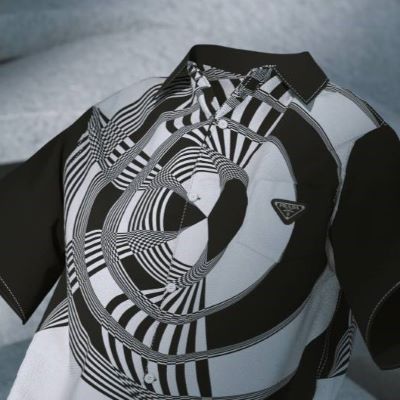 Dropping on the 5th of January with a corresponding gifted NFT, the launch follows a successful 2022 campaign in which Prada joined the Web3 community and reached new audiences
The luxury group announced that it will present in the first three months of the year a series of shirts featuring prints by Italian photographer Enzo Ragazzini from his archive from the late 60s and early 70s. The soon-to-be-released January shirt features the 'Interferenza Ottica Art Print By Enzo Ragazzini' design, made in 1969 on the occasion of the photographer's exhibition at the Institute of Contemporary Arts in London (ICA), with the optical interference technique, using mechanical devices of his invention (the "rotating plane" for the circular patterns and the "rotating drum" for horizontal patterns). This work was later digitized in 2017.

The poplin shirt's front pocket features the Prada enamelled triangle logo and it has a transfer on the back with the word 'JANUARY'. Each shirt is accompanied by its own gifted NFT, which serves as an invitation to join Prada's exclusive Crypted NFT community.

Like with their Spring/Summer fashion show, one Prada Timecapsule NFT Holder and a guest will be offered the opportunity to be hosted in Milan for a Prada exclusive experience, including an invitation to the Prada Menswear Fall/Winter 2023 fashion show on the 15th of January. The group will share more details on the Prada Crypted Community on Discord.

Image Credits: numeromag.nl