Portuguese Savana launches NEW.VE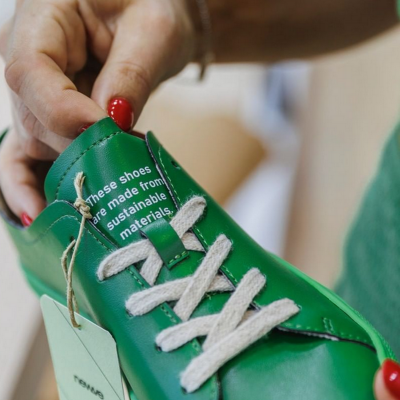 The company specialized in the production of children's footwear has just launched at the latest edition of Expo Riva the eco-friendly brand New.Ve (New Version of the World)
The latest edition of Expo Riva Schuh & Gardabags was the stage for the presentation of the new Savana's brand. "We decided to launch New.Ve, a new eco-friendly shoe brand of Savana. Our company has been in demand over the last few years to produce this type of product, and we have grown alongside our customers and partners. Therefore, we wanted to create a more environmentally friendly brand", commented Luísa Silva, from Savana.

Coffee bags and grounds, tennis balls, apples and Tencel, are some materials that the company already incorporates in its products. "The brand features key materials such as rubber soles that, being a natural product, can integrate easily new more sustainable ingredients. In this regard, we have a partnership with SBR, and we incorporate end-of-life tennis balls, coffee grounds, rice husks, cork and recycled soles, among others", adds Luísa Silva. "In terms of cutting, we can incorporate grape skins, apple skins, cactus skins, hemp and recycled materials like bottles that are collected from the ocean".

The model featured in Riva was produced with coffee bags. Coffee grounds have been incorporated into the sole, and a material with old coffee bags was developed on the upper part. The insole is made of bamboo with recycled foam and organic cotton, and the laces of jute.

Source and Image Credits: portugueseshoes.pt